printer friendly version
Self-locking RF connectors
28 July 2021
Interconnection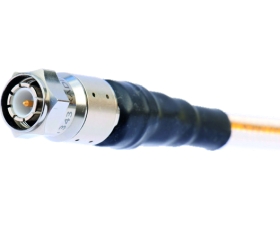 With all the antennas present on civil aircraft, cable assemblies for airborne electronic systems are still receiving plenty of development attention. Coaxial cables remain the transmission medium of choice – it is not uncommon for a single aircraft to contain several hundred coaxial cable assemblies. Often the connection is difficult to reach and even more difficult to secure with tie wire.
To expedite the installation of these assemblies into the aircraft, new self-locking connectors have been developed by Radiall. Eliminating the need for safety wires saves many hours during both the initial build cycle and whenever equipment is removed or replaced for service.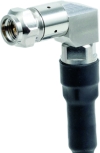 Despite the obvious advantage of eliminating tie wires, several constraints imposed by the aircraft manufacturers made this effort a challenge. The envelope dimensions and mass had to remain very similar to those of the original connectors. Although this increased the mechanical complexity for the new design, this requirement has been achieved.
Additionally, the ability to resist harsh environments has been maintained. The assemblies provide reliable performance over the -55°C to +125°C temperature range from below sea level to above 21 km altitude even when subjected to vibration levels up to 25 G. An internal engineering test and evaluation programme has shown that these designs still meet the stringent MIL-T-81490 and MIL-C-87104 requirements with the self-lock mechanism, all with limited increases in size and mass.
The self-locking design is intended to eliminate the need for lock-wiring the coupling nut in place with tie wire. The connector will still need to be tightened to the mating connector via the use of a torque wrench. The locking feature is achieved via a spring loaded, corrugated washer.
Self-locking SMA and N connectors are also available upon request in addition to the TNC and SMA 2.9 connectors illustrated. As shown by the TNC and SMA 2.9 connectors, the self-lock feature can be applied to straight connectors as well as 90° right-angle connectors.
Self-lock connectors are intermateable with any standard jack or female receptacle, without any change in performance. All electrical, mechanical and environmental specifications are preserved. With this solution, mating and unmating become faster, safer (no forgotten lock wire) and are proven to be more robust even in the harsh environment of an airplane bilge.
The self-lock connectors can be provided on any compatible cable size. The innovative crimp system attachment offers the opportunity for on-site assembly as well as ordering finished cable assemblies.
For more information contact Hiconnex, +27 12 661 6779, info@hiconnex.co.za, www.hiconnex.co.za
Credit(s)
Further reading:
Interconnect system with 1,0 mm centreline
27 October 2021, TRX Electronics , Interconnection
Mouser Electronics is now stocking the AMPMODU 1,0 mm centreline interconnect system from TE Connectivity (TE). This interconnect system offers an 85% space saving on the board when compared to the 
...
Read more...
---
Connector search spits out mated connector set in seconds
27 October 2021, Spectrum Concepts , Interconnection
Samtec has a multitude of ways to stack two or more boards together, thanks to a manufacturing process that allows it to position the plastic body on the terminal pin in increments of 0,13 mm on standard 
...
Read more...
---
Multi-coax quick-turn microwave connectors
27 October 2021, Conical Technologies , Interconnection
Chinese RF and microwave connector, cable and adaptor manufacturer, Anoison, announced the release of the latest addition to its selection of RF and microwave products with the release of the PA-5 range 
...
Read more...
---
Interconnect solutions for solar energy systems
27 October 2021, Hiconnex , Interconnection
Souriau is the chosen interconnect provider for some of the largest concentrated solar power (CSP) and photovoltaics (PV) projects in the world and is currently collaborating with new technology designs 
...
Read more...
---
Terminal blocks with lateral push-in connection
27 October 2021, Phoenix Contact , Interconnection
The PTV terminal blocks with lateral conductor connection from Phoenix Contact ensure clear wiring without bending radii. As a result, it is also easier to affix and read the connection and conductor 
...
Read more...
---
Micro connectors with backshells
25 August 2021, Hiconnex , Interconnection
At this year's DSEI exhibition, Nicomatic launched its new DBMM Series, a modification of the DMM 2 mm connectors to include fully integrated backshells. DBMM connectors save space, measuring only 15 mm 
...
Read more...
---
Terminal blocks for measuring transducers
25 August 2021, Phoenix Contact , Interconnection
The PTVME test-disconnect terminal blocks from Phoenix Contact are an extension to the PTV portfolio and can be used in all applications on the secondary wiring side of switching devices for transducers 
...
Read more...
---
Meeting the demands placed on connectors in automotive electronics
29 September 2021, TRX Electronics , Interconnection
A few decades ago, cars were purely mechanical machines, sophisticated in terms of their moving parts but simple in their electronics. This is no longer true.
Read more...
---
Millimetre-wave interconnect considerations
29 September 2021, RF Design , Interconnection
There has been a general trend of radio and sensing applications shifting to higher frequencies, either to avoid interference due to the growing use of RF and microwave spectrum or to take advantage of 
...
Read more...
---
Charging sockets with LED indicators and temperature measurement
29 September 2021, Phoenix Contact , Interconnection
The new generation of type-2 Charx connect charging sockets from Phoenix Contact offers AC home charger and charging station manufacturers and users simplified installation and maintenance, enhanced safety 
...
Read more...
---