printer friendly version
BLE module for system control and wireless communication
28 July 2021
Telecoms, Datacoms, Wireless, IoT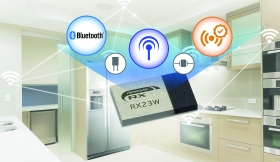 The RX23W Bluetooth 5.0 Low Energy (BLE) module from Renesas Electronics is certified according to the telecommunications laws in multiple countries and is Bluetooth SIG (Special Interest Group) certified. This module is equipped with an antenna, oscillator and custom-matched circuit, enabling users to complete RF development by simply laying the module onto a PCB, greatly shortening development time.
The very small 6,1 x 9,5 mm 83-pin LGA package makes it possible to design more compact devices with fewer external components, reducing the bill of material (BOM) cost and improving the development efficiency of IoT endpoint devices such as home appliances, healthcare and sports and fitness equipment.
The RX23W MCU (microcontroller) incorporated in the new module supports full Bluetooth 5.0 Low Energy communication including long-range and 2 Mbps data throughput, in addition to reception sensitivity of -105 dBm at 125 Kbps. Built around Renesas' RXv2 CPU core, the RX23W MCU provides advanced computing performance, operating at a maximum clock frequency of 54 MHz, together with high power efficiency.
The RX23W also incorporates Renesas' exclusive security function, Trusted Secure IP (TSIP), that provides robust protection against threats to IoT devices, such as eavesdropping, tampering and viruses. This is in addition to a rich set of peripheral functions that are indispensable to IoT devices, including touch key, USB and CAN functions.
The module utilises the same software development environment used for RX MCUs, which means developers can work on both system and communication control at the same time. The Smart Configurator enables developers to employ a GUI to generate driver code for peripheral functions and Bluetooth, as well as configuring pin settings.
'QE for BLE' enables developers to generate programs for custom Bluetooth profiles. The Bluetooth Test Tool Suite provides a GUI that allows developers to perform initial wireless characteristics evaluations and Bluetooth functionality verification. These tools are well suited to the various phases of development, providing support for developers from the initial stages through applied product development.
The RX23W module can be combined with Renesas' complementary analogue and power offerings to create comprehensive solutions for a variety of applications. These 'winning combinations' showcase the unique capabilities of the RX23W module and the breadth and depth of Renesas' product line up. Applications include a reference design for a medical patch that can monitor body temperature, oxygen saturation (SpO2) and heart rate over a Bluetooth connection using the RX23W and a 48 V mobility solution that can save mobility battery status and route history via a smartphone connection.
For more information contact Callie Lombard, Hi-Q Electronics, +27 11 894 8083 callie@hi-q.co.za, www.hi-q.co.za
Credit(s)
Further reading:
Embedded GNSS antenna with integrated LNA
RF Design Telecoms, Datacoms, Wireless, IoT
The HC990EXF from Tallysman is an extended-filter embedded GNSS helical antenna. This RHCP (right-hand circular polarised) antenna provides a peak gain of 3 dBi at full bandwidth and has an axial ratio 
...
Read more...
---
Wireless asset tag supporting Quuppa RTLS
EBV Electrolink Telecoms, Datacoms, Wireless, IoT
onsemi unveiled a new system solution that overcomes the main challenges associated with developing asset tracking tags. Battery life has been a major obstacle to asset tag adoption, particularly within 
...
Read more...
---
Wi-Fi SoCs with USB interface
iCorp Technologies Telecoms, Datacoms, Wireless, IoT
USB (Universal Serial Bus) is an industry standard that enables communication between a host controller and peripherals or other devices. A USB interface is integrated into Espressif Systems' ESP32-S 
...
Read more...
---
RS-485/422 differential transceivers
Hi-Q Electronics Telecoms, Datacoms, Wireless, IoT
Renesas has expanded its RS-485/422 portfolio with the RAA78815x family of 5 V differential transceivers with electrical fast transient (EFT) immunity of ±5000 V and ESD protection up to ±16 000 V, making 
...
Read more...
---
NB-IoT roll-out will rapidly increase adoption
Flickswitch Telecoms, Datacoms, Wireless, IoT
In today's ever-evolving world, catching the IoT wave is critical. Surveys show that four out of five businesses are investing in IoT, however, there are always questions when it comes to delivering long-term 
...
Read more...
---
Multi-mode LTE Cat. 4 module
iCorp Technologies Telecoms, Datacoms, Wireless, IoT
The SC200R-EM is a new-generation multi-mode LTE Cat. 4 smart module measuring 40,5 mm × 40,5 mm × 2,8 mm with built-in Android OS, based on Qualcomm's ARM Cortex-A53 64-bit quad-core processor and built-in 
...
Read more...
---
Tiny Bluetooth module fit for industrial applications
RF Design Telecoms, Datacoms, Wireless, IoT
The newly released ANNA-B4 is u-blox' smallest Bluetooth module to date, packed with features tailored to the needs of industrial applications. This comes at a time when smart factories have matured from 
...
Read more...
---
Multiprotocol, dual-processor wireless SoC
RF Design Telecoms, Datacoms, Wireless, IoT
Nordic Semiconductor's nRF5340 high-end multiprotocol system-on-chip (SoC) became the first member of its next generation of nRF5 Series SoCs. The nRF5340 builds on Nordic's proven and globally adopted 
...
Read more...
---
Cloud platform securely manages and connects edge devices
Avnet Silica Telecoms, Datacoms, Wireless, IoT
NXP Semiconductors' EdgeLock 2GO IoT service platform enables easy, secure deployment and management of IoT devices and services. The platform is integrated with NXP's Common Criteria (CC) EAL 6+ certified 
...
Read more...
---
200 MHz MCUs backed by TrustZone security
Hi-Q Electronics DSP, Micros & Memory
Renesas Electronics now offers a 200 MHz RA6E1 microcontroller (MCU) which uses a high-performance Arm Cortex M33 core and TrustZone. The device is built on a highly efficient 40 nm process and supported 
...
Read more...
---