printer friendly version
Automotive/industrial isolated buck converters
25 August 2021
Power Electronics / Power Management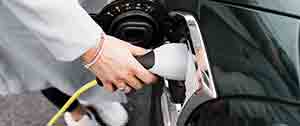 Optimised for isolated buck regulator designs, the STMicroelectronics A6986I and L6986I DC/DC converter ICs have a wide input voltage range and low quiescent current to ensure robust and energy-efficient operation in automotive and industrial applications up to 5 W.
The isolated buck topology lowers the bill of material in systems that require a regulated, non-isolated primary voltage and one or more isolated secondary voltages. The secondary voltage is governed by the transformer turns ratio and no optocoupler is needed for regulation. Common uses include powering gate drivers for SiC MOSFETs and IGBTs that require asymmetrical isolated power rails and powering isolated interfaces such as RS-232, I2C and SPI.
Typical applications for the AEC-Q100 Grade-1 qualified A6986I converters include automotive on-board chargers and hybrid/electric-vehicle traction drives. The industrial-grade L6986I is ideal in motor drives, solar power conditioning systems, uninterruptible power supplies (UPS) and welders.
The devices feature programmable soft-start to enhance reliability and pulse-by-pulse current sensing for constant-current protection on the primary side. A preset current-sense blanking time of 300 ns filters oscillations generated by the transformer leakage inductance and ensures greater stability during high-side switching transitions.
For more information contact Renaldo Fibiger, Altron Arrow, +27 11 923 9600, rfibiger@arrow.altech.co.za, www.altronarrow.com
Credit(s)
Further reading:
BLDC motor driver with integrated Hall sensor
NuVision Electronics Power Electronics / Power Management
The driver features a built-in, configurable speed curve function that is ideal for cooling fan applications which require flexible speed curve control.
Read more...
---
NFC/RFID demonstration kit
Altron Arrow Telecoms, Datacoms, Wireless, IoT
The boards are powered through their USB connectors and are supported by downloadable schematics, BOM, Gerber files, drivers and firmware sources.
Read more...
---
Power device analyser
Concilium Technologies Test & Measurement Power Electronics / Power Management
Keysight's new PD1550A is an advanced double-pulse tester that enables customers to test entire power modules quickly and easily.
Read more...
---
Absolute pressure sensor
Altron Arrow Analogue, Mixed Signal, LSI
The sensing element, which detects absolute pressure, consists of a suspended membrane manufactured using a special process developed by STMicroelectronics.
Read more...
---
2- and 4-output fanout clock buffers
Altron Arrow Analogue, Mixed Signal, LSI
Both devices support 2,5/3,3 V power supplies with separate input and output supply voltages for level shifting.
Read more...
---
N-channel super-junction MOSFETs
EBV Electrolink Power Electronics / Power Management
STMicroelectronics' STPOWER MDmesh M9 and DM9 N-channel super-junction, multi-drain silicon power MOSFETs are ideal for switched-mode power supplies (SMPS) in applications from data centre servers and 
...
Read more...
---
Evaluation board for MEMS devices
Altron Arrow Test & Measurement
The STEVAL-MKI220V1 is an adaptor board designed to facilitate the evaluation of MEMS devices in the LPS27HHTW product family.
Read more...
---
Arrow Electronics unveils new CEO
Altron Arrow News
Sean Kerins has been picked to succeed Michael Long as president and chief executive officer effective 1 June 2022.
Read more...
---
Dual gate drivers simplify SiC and IGBT switching circuits
EBV Electrolink Power Electronics / Power Management
Two new dual-channel, galvanically-isolated gate drivers for IGBTs and silicon-carbide (SiC) MOSFETs from STMicroelectronics promise to save space and ease circuit design in high-voltage power conversion 
...
Read more...
---
Vienna rectifier reference design for PFC
Altron Arrow Power Electronics / Power Management
The STDES-VRECTFD reference design is a complete solution for high-power, three-phase AC/DC rectifier applications based on the Vienna topology. It features full digital control through STMicroelectronics' 
...
Read more...
---