printer friendly version
Automotive/industrial isolated buck converters
25 August 2021
Power Electronics / Power Management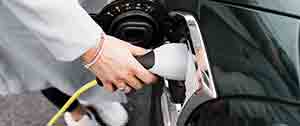 Optimised for isolated buck regulator designs, the STMicroelectronics A6986I and L6986I DC/DC converter ICs have a wide input voltage range and low quiescent current to ensure robust and energy-efficient operation in automotive and industrial applications up to 5 W.
The isolated buck topology lowers the bill of material in systems that require a regulated, non-isolated primary voltage and one or more isolated secondary voltages. The secondary voltage is governed by the transformer turns ratio and no optocoupler is needed for regulation. Common uses include powering gate drivers for SiC MOSFETs and IGBTs that require asymmetrical isolated power rails and powering isolated interfaces such as RS-232, I2C and SPI.
Typical applications for the AEC-Q100 Grade-1 qualified A6986I converters include automotive on-board chargers and hybrid/electric-vehicle traction drives. The industrial-grade L6986I is ideal in motor drives, solar power conditioning systems, uninterruptible power supplies (UPS) and welders.
The devices feature programmable soft-start to enhance reliability and pulse-by-pulse current sensing for constant-current protection on the primary side. A preset current-sense blanking time of 300 ns filters oscillations generated by the transformer leakage inductance and ensures greater stability during high-side switching transitions.
For more information contact Renaldo Fibiger, Altron Arrow, +27 11 923 9600, rfibiger@arrow.altech.co.za, www.altronarrow.com
Credit(s)
Further reading:
A UI to build better UIs
25 August 2021, Altron Arrow , Design Automation
TouchGFX Designer 4.17 has become available for download, the latest version of STMicroelectronics' user interface (UI) design software featuring a user interface overhaul to make the application more 
...
Read more...
---
MCUs for secure and connected automotive gateways
25 August 2021, Altron Arrow , DSP, Micros & Memory
The SPC58 Chorus H Line is part of STMicroelectronics' portfolio of general-purpose automotive power architecture microcontrollers (MCUs). It is designed for high-end body, networking and security applications 
...
Read more...
---
High-voltage resistors can replace standard resistor chains
25 August 2021, Altron Arrow , Passive Components
A new series of AEC-Q200 qualified thick-film chip resistors, with operating voltages up to 3 kV and in the 2010 and 2512 case sizes, has been introduced by Vishay. With their high operating voltages, 
...
Read more...
---
600 W convection cooled power supplies
25 August 2021, Vepac Electronics , Power Electronics / Power Management
Cosel announced the introduction of 600 W free-air convection cooling power supplies in the form of the AEA600F series. With demanding applications in mind, the AEA600F is able to deliver 300% peak power 
...
Read more...
---
Non-isolated step-down converters
25 August 2021, Accutronics , Power Electronics / Power Management
Capable of operating from an input voltage of 18 V to 32 V, the non-isolated step-down converters of TDK-Lambda's i7A series deliver an output voltage that can be adjusted from 3,3 to 18 V with an output 
...
Read more...
---
Network synchronisation chip for 5G radio access equipment
25 August 2021, Altron Arrow , Telecoms, Datacoms, Wireless, IoT
5G technology requires time sources to be synchronised throughout a packet-switched network 10 times more accurately than 4G requirements. Microchip Technology now makes it possible to achieve 5G performance 
...
Read more...
---
70 W brushless DC motor drivers
25 August 2021 , Power Electronics / Power Management
Texas Instruments (TI) has introduced the industry's first 70 W brushless DC (BLDC) motor drivers to provide code-free, sensorless trapezoidal and field-oriented control (FOC). The devices enable engineers 
...
Read more...
---
Rugged silicon carbide power devices
25 August 2021, EBV Electrolink , Power Electronics / Power Management
Today's energy-efficient electric charging systems powering commercial vehicle propulsion, as well as auxiliary power systems, solar inverters, solid-state transformers and other transportation and industrial 
...
Read more...
---
Amber taps Infineon for digital control of electricity
28 July 2021 , Power Electronics / Power Management
Infineon Technologies and Amber Solutions recently announced an alliance on a range of silicon opportunities anchored around Amber's digital control of electricity with embedded intelligence. The collaboration 
...
Read more...
---
Nvidia releases version 4.6 of its AI SDK
28 July 2021, Altron Arrow , Computer/Embedded Technology
Nvidia has rolled out version 4.6 of its JetPack SDK, a production release supporting the Jetson AGX Xavier series, Jetson Xavier NX, Jetson TX2, Jetson TX1 and Jetson Nano. JetPack 4.6 includes support 
...
Read more...
---