printer friendly version
Electronics News Digest
25 August 2021
News
South Africa
Defence technology company, Denel, has outlined an extensive restructuring plan to become a sustainable and profitable business within the next five years. Part of this plan includes reducing Denel's current operating divisions (plus one subsidiary) from six to two. One division will focus on engineering while the other focuses on manufacturing and maintenance, of which the latter is Denel's core business. The company's interim chief executive acknowledged the importance of efforts to alleviate the hardships imposed on employees by the ongoing short-paying of salaries and said that conservative estimates indicate that the sale of non-core or non-profit making assets will realise value of about R1,5 billion over the next five years.
Overseas
Business
Texas Instruments racked up $4,58 billion in revenue for its second fiscal quarter of 2021, resulting in net income of $1,93 billion and earnings per share of $2,05. In its core businesses, Analog revenue grew 6% and Embedded Processing grew 2% sequentially. From a year ago, Analog revenue grew 42% and Embedded Processing grew 43%.
For the third quarter of Infineon Technologies' 2021 fiscal year, group revenue rose by 22 million Euros compared to the preceding three-month period, reaching 2,72 billion Euros. The company's Automotive (-1%) and Power & Sensor Systems (-4%) segments saw a relative decline in revenue on a sequential basis, while the Industrial Power Control (+14%) and Connected Secure Systems (+5%) segments reported revenue growth.
Maxim Integrated Products reported net revenue of $720 million for its fourth quarter of fiscal 2021, an 8% increase over the prior quarter and a 32% increase from the same quarter of last year. This represented record revenue in the June quarter, with sequential growth in all end markets, led by Industrial, Automotive, and Comms & Data Centre business units. On the merger front, the company is seeking final regulatory clearance for its merger with Analog Devices.
NXP Semiconductors delivered second-quarter revenue of $2,6 billion, an increase of 43% versus the year-ago period and better than the midpoint of its guidance, but only 1% better than the preceding quarter. While the company expects the supply environment to remain challenging in the near-term, it has taken actions to increase supply which underpins its confidence to drive very robust growth for the remainder of 2021, as well as into 2022.
STMicroelectronics reported second-quarter net revenues of $2,99 billion and net income of $412 million or $0,44 diluted earnings per share. First-half net revenues increased 39,1% year-over-year, driven by growth in all product groups except the RF Communications sub-group. ST's third-quarter outlook, at the midpoint, is for net revenues of $3,20 billion, increasing year-over-year and sequentially by 20,0% and 7,0% respectively.
ON Semiconductor achieved record revenue of $1,67 billion for its second fiscal quarter of 2021, an increase of 38% year-over-year. Diluted earnings per share were $0,42 as compared to $0,00 in the same quarter a year ago. The company expects revenue to be in the $1,66 billion to $1,76 billion range for the third quarter, with diluted earnings per share of $0,53 to $0,63.
Industry
The Semiconductor Industry Association (SIA) announced that worldwide sales of semiconductors amounted to $44,5 billion in June 2021, an increase of 29,2% over the June 2020 total and 2,1% more than May 2021. Sales during the second quarter of 2021 were $133,6 billion, an increase of 29,2% over the second quarter of 2020 and 8,3% more than the first quarter of 2021. Regionally, month-to-month sales increased in the Americas (5,4%), Japan (2,5%), Europe (2,0%), China (1,1%) and Asia Pacific/All Other (1,0%).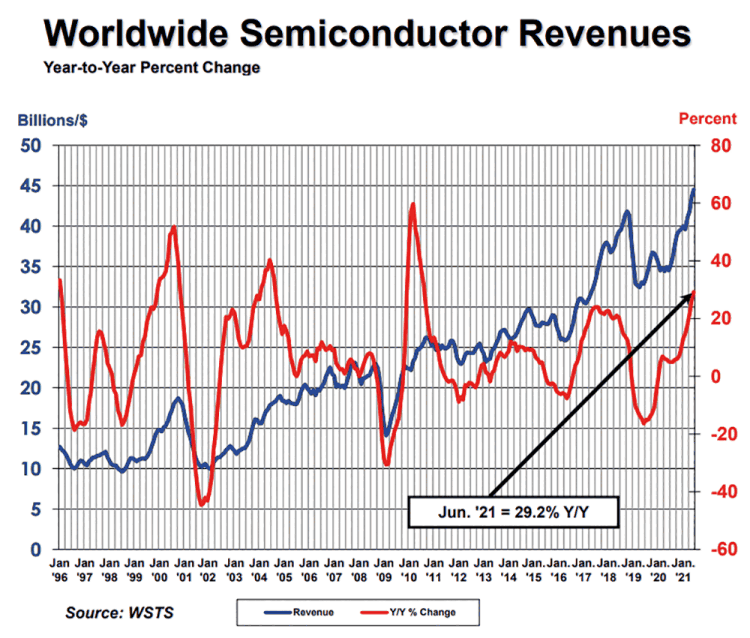 Further reading:
EBV Elektronik wins top distributor award
EBV Electrolink News
EBV Elektronik has been recognised by onsemi as its top distribution partner in the EMEA region during 2021.
Read more...
---
RS to showcase IoT and Food Safe products at NAMPO Harvest Day
RS Components (SA) News
Following a two-year hiatus, this year's event will take place over five days as opposed to four, to accommodate Covid-19 restrictions.
Read more...
---
Mouser and Wevolver team up to expose university innovation
News
The programme aims to empower people to create and innovate by providing access to engineering knowledge through a variety of media, including blogs and podcasts.
Read more...
---
Arrow Electronics unveils new CEO
Altron Arrow News
Sean Kerins has been picked to succeed Michael Long as president and chief executive officer effective 1 June 2022.
Read more...
---
Record number of national standards published in 2021
News
The SABS sees the information contained in SANS as fundamental to optimising the country's economic and industrial potential.
Read more...
---
Online dashboard for global semiconductor sales data
News
The Semiconductor Industry Association (SIA) launched a new Semiconductor Unit Sales Dashboard to provide regularly updated, publicly available sales data for a range of semiconductor products. Amid the 
...
Read more...
---
Samsung bolstering investment in SA's tech sector
News
Both globally and locally, there is clear consensus that investment in a country's technological advancement is intrinsically linked to economic growth. In recognition of this philosophy, Samsung South 
...
Read more...
---
Record-seeking sailboat uses Fischer Connectors for sensor data transmission
News Interconnection
The boat is setting out to reach a speed of 80 knots powered only by the wind, and thereby break the long-standing world sailing speed record of 65,45 knots.
Read more...
---
Mouser again sponsors FIRST Robotics Competition
News
Mouser Electronics announced its continued sponsorship of the FIRST Robotics Competition, which inspires innovation and fosters well-rounded life capabilities in tens of thousands of young people every 
...
Read more...
---
New resource site for Mouser's popular podcast series
News
A new resource site has come online, dedicated to Mouser Electronics' engaging podcast episodes. The site features all episodes from the Empowering Innovation Together podcast series, The Tech Between 
...
Read more...
---