printer friendly version
Electronics News Digest
25 August 2021
News
South Africa
Defence technology company, Denel, has outlined an extensive restructuring plan to become a sustainable and profitable business within the next five years. Part of this plan includes reducing Denel's current operating divisions (plus one subsidiary) from six to two. One division will focus on engineering while the other focuses on manufacturing and maintenance, of which the latter is Denel's core business. The company's interim chief executive acknowledged the importance of efforts to alleviate the hardships imposed on employees by the ongoing short-paying of salaries and said that conservative estimates indicate that the sale of non-core or non-profit making assets will realise value of about R1,5 billion over the next five years.
Overseas
Business
Texas Instruments racked up $4,58 billion in revenue for its second fiscal quarter of 2021, resulting in net income of $1,93 billion and earnings per share of $2,05. In its core businesses, Analog revenue grew 6% and Embedded Processing grew 2% sequentially. From a year ago, Analog revenue grew 42% and Embedded Processing grew 43%.
For the third quarter of Infineon Technologies' 2021 fiscal year, group revenue rose by 22 million Euros compared to the preceding three-month period, reaching 2,72 billion Euros. The company's Automotive (-1%) and Power & Sensor Systems (-4%) segments saw a relative decline in revenue on a sequential basis, while the Industrial Power Control (+14%) and Connected Secure Systems (+5%) segments reported revenue growth.
Maxim Integrated Products reported net revenue of $720 million for its fourth quarter of fiscal 2021, an 8% increase over the prior quarter and a 32% increase from the same quarter of last year. This represented record revenue in the June quarter, with sequential growth in all end markets, led by Industrial, Automotive, and Comms & Data Centre business units. On the merger front, the company is seeking final regulatory clearance for its merger with Analog Devices.
NXP Semiconductors delivered second-quarter revenue of $2,6 billion, an increase of 43% versus the year-ago period and better than the midpoint of its guidance, but only 1% better than the preceding quarter. While the company expects the supply environment to remain challenging in the near-term, it has taken actions to increase supply which underpins its confidence to drive very robust growth for the remainder of 2021, as well as into 2022.
STMicroelectronics reported second-quarter net revenues of $2,99 billion and net income of $412 million or $0,44 diluted earnings per share. First-half net revenues increased 39,1% year-over-year, driven by growth in all product groups except the RF Communications sub-group. ST's third-quarter outlook, at the midpoint, is for net revenues of $3,20 billion, increasing year-over-year and sequentially by 20,0% and 7,0% respectively.
ON Semiconductor achieved record revenue of $1,67 billion for its second fiscal quarter of 2021, an increase of 38% year-over-year. Diluted earnings per share were $0,42 as compared to $0,00 in the same quarter a year ago. The company expects revenue to be in the $1,66 billion to $1,76 billion range for the third quarter, with diluted earnings per share of $0,53 to $0,63.
Industry
The Semiconductor Industry Association (SIA) announced that worldwide sales of semiconductors amounted to $44,5 billion in June 2021, an increase of 29,2% over the June 2020 total and 2,1% more than May 2021. Sales during the second quarter of 2021 were $133,6 billion, an increase of 29,2% over the second quarter of 2020 and 8,3% more than the first quarter of 2021. Regionally, month-to-month sales increased in the Americas (5,4%), Japan (2,5%), Europe (2,0%), China (1,1%) and Asia Pacific/All Other (1,0%).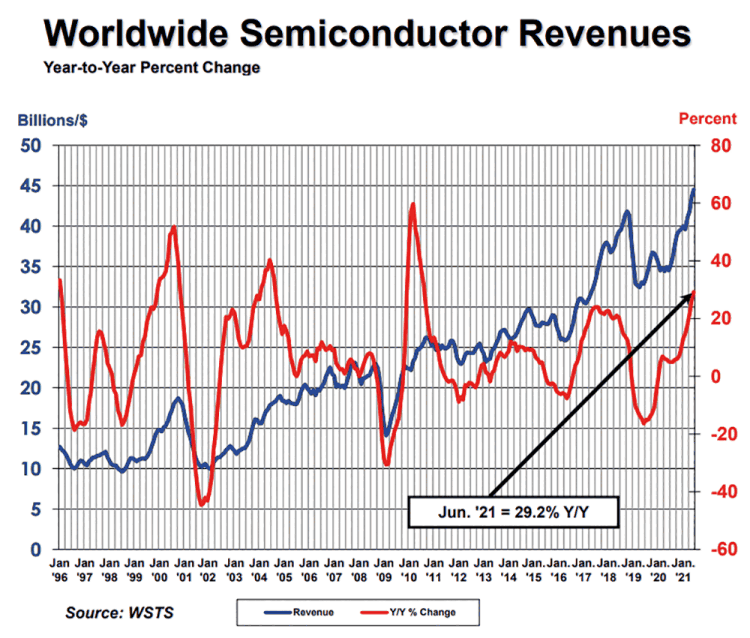 Further reading:
Bumper sales quarter restores Samsung's lead over Intel
25 August 2021 , News
IC Insights has released its August update to the 2021 McClean Report, which includes a review of the top 25 semiconductor sales leaders for the second quarter of calendar year 2021 (2Q21). ICs and optoelectronics, 
...
Read more...
---
RFiber adds high-reliability supplier to its stable
25 August 2021, RFiber Solutions , News
RFiber Solutions has expanded its portfolio by establishing a distribution channel for X-REL Semiconductor's offering into the South African market. RFiber says it is optimistic about the solutions 
...
Read more...
---
ON Semiconductor shortens its name to onsemi
25 August 2021 , News
ON Semiconductor, a well-known name in the IC vendor landscape over many years, has changed its trading name to onsemi and says it has refreshed its brand as a next step in the company's evolution to 
...
Read more...
---
Online sensor technologies and resources content
25 August 2021 , News
Mouser Electronics is helping to empower today's design engineers with insightful content around exciting new sensor technologies enabling the latest design solutions. The global authorised distributor 
...
Read more...
---
Semiconductor market records 29% year-on-year gains
25 August 2021 , News
The Semiconductor Industry Association (SIA) announced that global semiconductor industry sales were $45,4 billion in the month of July 2021, an increase of 29% over the July 2020 total of $35,2 billion 
...
Read more...
---
ICASA launches inquiry into signal distribution services
25 August 2021 , News
ICASA has published notice of its intention to conduct an inquiry into competition in signal distribution services and is inviting questions from the public on clarity by 4 October 2021. The purpose of 
...
Read more...
---
Advanced warehouse automation at the heart of Mouser's success
25 August 2021 , News
Mouser Electronics continues to invest heavily in state-of-the-art automation in its global distribution centre to increase order processing, accuracy and speed, helping customers further reduce time-to-market. As 
...
Read more...
---
New GlobalFoundries fab to be built in Singapore
28 July 2021 , News
GlobalFoundries (GF) is expanding its global manufacturing footprint with the construction of a new semiconductor fabrication plant (fab) on its Singapore campus.  The global demand for semiconductor 
...
Read more...
---
Events
25 August 2021 , News
Nepcon Vietnam
15-17 September 2021 Hanoi, Vietnam Covers SMT, testing technologies, equipment and supporting industries for electronics manufacturing. The event will bring together technologies and 
...
Read more...
---
iCorp Technologies – 'We don't sell components, we provide solutions'
25 August 2021, iCorp Technologies , News
"In a year, around 1 trillion electronic chips are made and for every person on the planet, there are 128 chips produced. An ever-increasing demand for a connected world has led to an increase in demand, 
...
Read more...
---