printer friendly version
EBV helps bring long-life tracker to market
25 August 2021
Telecoms, Datacoms, Wireless, IoT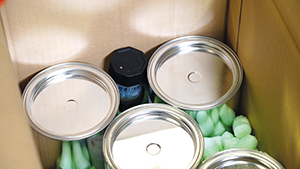 General Mechatronics, a Budapest-based company, enlisted the support of EBV Elektronik to devise an award-winning smart sensor device designed for use in asset tracking systems and applications.
Designed to operate for years without external power or charging, the company's NaBi Solo is a special battery-powered long-life tracker product that enables the collection of GPS location with any kind of sensor data, for example, for a variety of devices in a wide range of use cases – from the location of a piece of machinery or a gas bottle to the internal temperature of a food transport container.
The use of low-power transmission technology and its highly flexible configurability mean the NaBi can monitor any assets without electricity. There was no feasible solution before the deployment of 5G technology to GPS-track an excavator bucket or a traffic sign for many years.
A Red Dot award winner in 2021 in the 'smart product' category, the NaBi is a configurable smart sensor device that employs narrowband Internet of Things (NB-IoT) – a standards-based LPWAN (low-power wide-area network) technology. Leveraging the use of the 5G mobile network, NB-IoT enables the transmission of relatively small amounts of data while using extremely low levels of power.
The device enables the sending of data to cloud-based data analytics processing software, which can then be used by organisations to optimise processes and significantly reduce or even eliminate costs, as well as potentially creating completely new business opportunities. The collected data can be read by customers via web interface, mobile app or a REST API.
From the beginning of the project, a local team of engineers from EBV worked closely with the NaBi design team at General Mechatronics. The EBV team helped with the selection and sourcing of many components, especially those devices that provided the compute power and wireless connectivity for the NaBi Solo, including the powerful STM32 family of microcontrollers from STMicroelectronics and an antenna from Taoglas.
"The EBV support team delivered a really high level of technical support, together with strong and responsive customer care," said Géza Szayer, owner and founder of General Mechatronics. "EBV also has strong relationships with manufacturers' engineering teams, thus giving us a great overview about preliminary-state products and the future of semiconductor trends. This enables our company to keep ahead by designing tech products beyond state-of-the-art."
For more information contact EBV Electrolink, +27 21 402 1940, [email protected], www.ebv.com
Credit(s)
Further reading:
RF laminates specifically designed for industrial radar applications
RF Design Telecoms, Datacoms, Wireless, IoT
The RO4835IND Lo Pro from Rogers Corporation are thermoset RF laminates that are specifically designed for radar applications in the 60 to 81 GHz range.
Read more...
---
High-power semiconductor solutions for green hydrogen electrolyser applications
EBV Electrolink News
Gain insights into AC- and DC-coupled electrolyser applications and learn about Infineon's best-in-class semiconductor solutions in the upcoming webinar.
Read more...
---
Take advantage of Wi-Fi 6, 6E
Altron Arrow Telecoms, Datacoms, Wireless, IoT
Infineon has provided a host of online resources to learn more about the technology and benefits involved with Wi-Fi 6.
Read more...
---
Qorvo announces new satcom MMIC power amp
RF Design Telecoms, Datacoms, Wireless, IoT
The QPA1724 SiC 20 W power amplifier operates in the Ku-K band and is aimed at defence and commercial satellite applications.
Read more...
---
NXP releases real-time processors for automotive platforms
EBV Electrolink DSP, Micros & Memory
NXP has introduced real-time microcontrollers for automotive electronic control units as part of its S32 range of controllers.
Read more...
---
40 GHz RF switch from Marki Microwave
RF Design Telecoms, Datacoms, Wireless, IoT
The MSW2-1001ELGA is a reflective SPDT switch that operates in the frequency range from 100 MHz to 40 GHz.
Read more...
---
Power amplifier operates from 17,3 to 21,2 GHz
RF Design Telecoms, Datacoms, Wireless, IoT
The new QPA1724 power amplifier from Qorvo delivers a saturated output power of 20 W over the full frequency range.
Read more...
---
Helium mining – Popular hype or real business opportunity? – Part 2
Otto Wireless Solutions Editor's Choice Telecoms, Datacoms, Wireless, IoT
"I would say it is really easy to get into, but you need to be aware of the exchange rates and you need to have a solid and stable Internet network."
Read more...
---
Embedded voice control via the STM32Cube
EBV Electrolink DSP, Micros & Memory
STMicroelectronics and Sensory collaborate to enable mass-market adoption of embedded voice control through the STM32Cube software ecosystem.
Read more...
---
Digital ambient light sensor
EBV Electrolink Opto-Electronics
The device is a highly sensitive light-to-digital converter that transforms light intensity into a digital signal output through an I
2
C digital interface.
Read more...
---