printer friendly version
iCorp Technologies – 'We don't sell components, we provide solutions'
25 August 2021
News
"Opportunity is never in the moment, it's in the preparation that leads you to that moment," says Bradley Agallio, iCorp Technologies' CEO. "The Internet of Things is creating a new quantifiable and measurable world, a world where people and businesses can manage their assets in a more informed way, taking both safety and health into consideration. The world is evolving at such a fast pace that there is a huge demand for products such as machine-to-machine (M2M), wearables, gaming, computers, entertainment systems and smartphones. Simply put: if you're not connected you're offline. There is an ever-increasing demand for connectivity in the marketplace.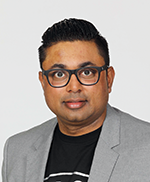 Bradley Agallio, CEO of iCorp Technologies.
"In a year, around 1 trillion electronic chips are made and for every person on the planet, there are 128 chips produced. An ever-increasing demand for a connected world has led to an increase in demand, however the current Covid-19 pandemic has had a direct effect on supply due to major allocation issues on chips and other components. The lead time for high-end semiconductors, which is usually long, has increased drastically from 12 weeks to 36 weeks plus. Electronics firms like AMD, Qualcomm, Sony and others have also been facing chip shortages. With electronics companies working on increasing production, there is no sign that the demand for semiconductors is going to slow down in 2021."
Over the last 14 years iCorp has grown steadily and acquired significant market share in its competing segments. As part of its Digital Transformation (DX) drive and Continuous Next initiative, the company has strategically partnered with world-leading connectivity manufacturers to offer technologies and products which showcase its IoT, NB-IoT and IIoT footprint, inter alia GSM, GPS, Wi-Fi, Bluetooth, Sigfox, LoRa, Ubiscale cloud services and other innovative offerings. From the design-in phase or a product concept, iCorp's offering to its customers can assist them in creating intelligent M2M and IoT devices that connect and communicate smarter, quicker and securely.
As part of its drive to expand its portfolio, the company has secured new distribution agreements with SG Micro and CML Microcircuits.
SG Micro specialises in high-performance, high-quality analog IC design, marketing and sales, and offers innovative solutions for a broad range of applications in wireless communication, consumer, medical, automotive and industrial markets.
SG Micro has introduced more than 1500 analog IC products with high reliability and consistency, including precision signal conditioning products such as amplifiers, buffers, comparators, switches and interface products, as well as energy-efficient power management ICs with improved performance such as longer battery life, fewer peripheral components, smaller PCB space and lower cost.
CML Microcircuits is a leader in the design, development and supply of low-power analog, digital and mixed-signal semiconductors for telecommunications systems globally. Focusing on narrowband communications, its ICs are found in digital/analog PMR/LMR, wireless data, satellite communications and marine radio applications, such as TETRA, DMR, dPMR, scada systems and AIS. The CML portfolio provides components supporting both RF and baseband functionality, encompassing both leading-edge digital and legacy analog systems.
Apart from the above, iCorp also added the following product lines to offer its customers a wide selection for their solutions:
• Beijing OnMicro Electronics is a high-tech enterprise established in 2012 and located in Zhongguancun Science and Technology Park in Beijing, China. The company is focused on the development of mobile RF front-end ICs, RF SoCs and Bluetooth chips. OnMicro is committed to developing core technologies and solutions for the IoT. The company's products are applied in the fields of smartphones, feature phones, tablets, personal computers, wireless mouses, keyboards and smart home products.
• Shenzhen Heiman Technology is a high-tech enterprise which specialises in research and development of security products including PIR detectors, IR detectors, smoke detectors, gas leakage detectors, security alarm systems, magnetic switches, buttons, alarm sirens, etc. With advanced equipment, specialised engineers and versatile service, the company's ODM/OEM and direct sales services are provided to customers around the world.
• Founded in 2015, Shenzhen Sonoff Technologies is a solution provider of smart home devices. Integrating R&D, production, sales and after-sales service, its products have been exported to over 120 countries and served over 2 million people. With 44 R&D; engineers and over 130 employees, Sonoff is committed to promoting the development of the smart home industry by providing more easy-to-use, safe, personalised and creative IoT products for end users. And now, Sonoff has grown into a major force in the smart home industry together with Philips Hue and Samsung Smartthings.
• Shenzhen Bestech Electronics is a professional manufacturer specialising in the production and sales of security products. The company's research and development department places great emphasis on current market needs and product development. Its product range includes intelligent infrared high-speed domes, laser infrared speed domes, intelligent medium-speed domes, matrix switchers and other related products.
Credit(s)
Further reading:
Bumper sales quarter restores Samsung's lead over Intel
25 August 2021 , News
IC Insights has released its August update to the 2021 McClean Report, which includes a review of the top 25 semiconductor sales leaders for the second quarter of calendar year 2021 (2Q21). ICs and optoelectronics, 
...
Read more...
---
RFiber adds high-reliability supplier to its stable
25 August 2021, RFiber Solutions , News
RFiber Solutions has expanded its portfolio by establishing a distribution channel for X-REL Semiconductor's offering into the South African market. RFiber says it is optimistic about the solutions 
...
Read more...
---
ON Semiconductor shortens its name to onsemi
25 August 2021 , News
ON Semiconductor, a well-known name in the IC vendor landscape over many years, has changed its trading name to onsemi and says it has refreshed its brand as a next step in the company's evolution to 
...
Read more...
---
Online sensor technologies and resources content
25 August 2021 , News
Mouser Electronics is helping to empower today's design engineers with insightful content around exciting new sensor technologies enabling the latest design solutions. The global authorised distributor 
...
Read more...
---
Semiconductor market records 29% year-on-year gains
25 August 2021 , News
The Semiconductor Industry Association (SIA) announced that global semiconductor industry sales were $45,4 billion in the month of July 2021, an increase of 29% over the July 2020 total of $35,2 billion 
...
Read more...
---
ICASA launches inquiry into signal distribution services
25 August 2021 , News
ICASA has published notice of its intention to conduct an inquiry into competition in signal distribution services and is inviting questions from the public on clarity by 4 October 2021. The purpose of 
...
Read more...
---
Advanced warehouse automation at the heart of Mouser's success
25 August 2021 , News
Mouser Electronics continues to invest heavily in state-of-the-art automation in its global distribution centre to increase order processing, accuracy and speed, helping customers further reduce time-to-market. As 
...
Read more...
---
New GlobalFoundries fab to be built in Singapore
28 July 2021 , News
GlobalFoundries (GF) is expanding its global manufacturing footprint with the construction of a new semiconductor fabrication plant (fab) on its Singapore campus.  The global demand for semiconductor 
...
Read more...
---
Electronics News Digest
25 August 2021 , News
South Africa
Defence technology company, Denel, has outlined an extensive restructuring plan to become a sustainable and profitable business within the next five years. Part of this plan includes reducing 
...
Read more...
---
Events
25 August 2021 , News
Nepcon Vietnam
15-17 September 2021 Hanoi, Vietnam Covers SMT, testing technologies, equipment and supporting industries for electronics manufacturing. The event will bring together technologies and 
...
Read more...
---