printer friendly version
Low-power DDR4X memory IC
25 August 2021
DSP, Micros & Memory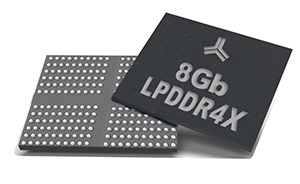 Alliance Memory has expanded its offering of high-speed CMOS mobile low-power SDRAMs with a new LPDDR4X device featuring on-chip ECC. Offering an extension to the company's fourth-generation LPDDR4 SDRAMs, the 8 Gb AS4C256M32MD4V-062BAN offers ~50% lower power ratings in the 200-ball FBGA package for higher power efficiency.
With low-voltage operation of 0,6 V – compared to 1,1 V for LPDDR4 SDRAMs – the device increases battery life in portable electronics for the consumer, commercial and industrial markets, including smartphones, smart speakers and other IoT devices utilising AI and 5G technologies.
Providing increased efficiency for advanced audio and ultra-high-resolution video in embedded applications, the LPDDR4X SDRAM delivers fast clock speeds of 1,6 GHz for extremely high transfer rates of 3,2 Gbps. For automotive applications – including ADAS systems – the AEC-Q100-qualified devices operate over a temperature range of -40°C to +105°C.
The AS4C256M32MD4V-062BAN is organised as two channels per device, with individual channels consisting of eight banks of 16 bits. The component offers fully synchronous operation; programmable read and write burst lengths of 16, 32 and on-the-fly; and selectable output drive strength. An on-chip temperature sensor controls the self-refresh rate.
Alliance Memory's LPDDR4X SDRAM provides a reliable drop-in, pin-for-pin-compatible replacement for numerous similar solutions in high-bandwidth, high-performance memory system applications – eliminating the need for costly redesigns and part requalification.
Credit(s)
Further reading:
MCU evaluation and development kits
25 August 2021, RS Components (SA) , DSP, Micros & Memory
RS Components announced availability of a new range of evaluation and development kits for Infineon Technologies' AURIX family of microcontrollers (MC), which are based on the manufacturer's 32-bit TriCore 
...
Read more...
---
MCUs for real-time control, analytics and networking
28 July 2021 , DSP, Micros & Memory
Brand new from Texas Instruments (TI) comes a high-performance microcontroller (MCU) portfolio that advances real-time control, networking and analytics applications at the edge. With new Sitara AM2x 
...
Read more...
---
Cloud tools ecosystem for PIC and AVR microcontrollers
23 June 2021, EBV Electrolink , DSP, Micros & Memory
Microcontroller (MCU) design is being simplified with the new MPLAB cloud tools ecosystem available for PIC and AVR devices from Microchip Technology. The free, all-in-one cloud platform combines easy, 
...
Read more...
---
Development boards for MCU-powered embedded systems
23 June 2021, Dizzy Enterprises , DSP, Micros & Memory
MikroElektronika has launched SiBRAIN, a standard for add-on development boards that facilitates the simple installation and exchanging of a microcontroller (MCU) on a development board equipped with 
...
Read more...
---
16-bit general-purpose microcontroller
26 May 2021, Hi-Q Electronics , DSP, Micros & Memory
Renesas Electronics has launched and begun mass production of its 16-bit general-purpose RL78/G23 microcontroller (MCU), further strengthening its RL78 family of 8-bit and 16-bit MCUs for a broad range 
...
Read more...
---
32-bit MCU for IoT edge applications
28 April 2021, NuVision Electronics , DSP, Micros & Memory
Silicon Labs announced the launch of the EFM32PG22 (PG22) 32-bit microcontroller (MCU), a low-cost, high-performance solution with an optimised combination of energy efficiency, performance and security. 
...
Read more...
---
MCUs for low-power industrial and IoT applications
31 March 2021, Hi-Q Electronics , DSP, Micros & Memory
Renesas Electronics has expanded its RA4 Series microcontrollers (MCUs) with 12 new RA4M2 Group parts. The new devices deliver an exceptional combination of very low power consumption, high performance 
...
Read more...
---
Low-power MCUs with advanced cybersecurity
31 March 2021, Future Electronics , DSP, Micros & Memory
STMicroelectronics has announced a new generation of extreme power-saving microcontrollers (MCUs), the STM32U5 series, to meet the most demanding power/performance requirements for smart applications 
...
Read more...
---
NXP unveils advanced i.MX applications processors
26 February 2021, EBV Electrolink , DSP, Micros & Memory
NXP Semiconductors announced the expansion of its EdgeVerse portfolio with its crossover applications processors, including i.MX 8ULP and i.MX 8ULP-CS (cloud secured) Microsoft Azure Sphere-certified 
...
Read more...
---
ST ups the ante with new high-end MCUs
25 November 2020, Altron Arrow , DSP, Micros & Memory
STMicroelectronics has revealed record-breaking STM32 microcontrollers (MCUs) with embedded Flash that bring high-end features such as rich graphics, AI, and state-of-the-art cyber-protection to cost-sensitive 
...
Read more...
---