printer friendly version
Ethernet PHYs for industrial networking
25 August 2021
Telecoms, Datacoms, Wireless, IoT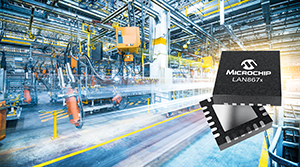 Smart manufacturing is driving efficiencies in automation as digital networks increasingly connect machines, production line equipment and robotics. Operation technology (OT) and information technology (IT) networks that are critical to the Industrial Internet of Things (IIoT) rely on Ethernet for interoperability and to speed data transmission and ensure security.
The LAN867x family of 10BASE-T1S PHYs, a new solution available from Microchip Technology, expands Ethernet connectivity to the very edges of industrial networks, simplifying architectures and reducing risk for designers. The Ethernet physical layer (PHY) transceivers are high-performance, small-footprint devices enabling connections to standard system devices including sensors and actuators that previously required their own communication systems.
With the LAN867x devices, all-Ethernet infrastructures in OT and IT systems can be expanded to the edges of the network. The devices eliminate the need for gateways that in the past were needed to interconnect incompatible communication systems. The single pair of wires reduces cost, while the multidrop bus architecture reduces the need for expensive switches and enhances scalability. Several nodes can operate on the same bus line with high data throughput.
Microchip's LAN8670, LAN8671 and LAN8672 Ethernet PHYs are the industry's first designed and validated to the new 10BASE-T1S standard for single-pair Ethernet released by the IEEE, according to the company. 10BASE-T1S addresses the challenges of creating all-Ethernet architectures for industrial applications such as process controls, building automation and consolidation of systems with multiple interconnection technologies. The configuration enables a multidrop (bus line) topology, fewer cables, development on printed circuit boards, with up to at least eight nodes and up to at least a 25 metre range.
All-Ethernet infrastructures simplify architectures by using well-known communication and security mechanisms. This reduces cost and risk when designing new systems. Additional advantages of Ethernet include use of the same protocol independent from physical layer speed and operation within established security infrastructures and ecosystems.
The LAN8670, LAN8671 and LAN8672 are available for volume orders in 32-pin, 24-pin and 36-pin VQFN packages.
Credit(s)
Further reading:
Flexible 4G/LTE PCB antenna
RF Design Telecoms, Datacoms, Wireless, IoT
The new 4G/LTE antenna from Taoglas is a flexible antenna operating over the frequency range from 698 MHz to 3 GHz, and which provides a peak gain of 5 dBi.
Read more...
---
Qorvo announces fully integrated UWB module
RF Design Telecoms, Datacoms, Wireless, IoT
Qorvo has announced the DWM3001C, a fully integrated ultra-wideband (UWB) module that enables robust UWB implementation in factory, warehouse, automation and safety systems.
Read more...
---
Earn helium when devices connect to your hotspot
Otto Wireless Solutions Telecoms, Datacoms, Wireless, IoT
Otto Wireless Solutions has announced the A150000 RAK Hotspot Helium Miner v2 which earns helium when devices connect as well as for validating wireless coverage delivered by peers on the network.
Read more...
---
Connectivity for the future with new SIMCom modules
Otto Wireless Solutions Telecoms, Datacoms, Wireless, IoT
With the global phasing out of 2G, SIMCom's new low-cost 4G modules are looking to future-proof your designs by replacing the older 2G modules.
Read more...
---
Cellular module with embedded SIM
RF Design Telecoms, Datacoms, Wireless, IoT
The SARA-R500E LTE-M module from u-blox has an embedded SIM and offers product developers an integrated, robust, and secure solution to connect IoT applications to the cellular network.
Read more...
---
Qualcomm AI stack: a unified AI software solution
Future Electronics Computer/Embedded Technology
Qualcomm has bundled all its AI software offerings into a single package called the Qualcomm AI Stack which will assist developers in deploying AI applications.
Read more...
---
5G-CARMEN project creates 600 km corridor
Telecoms, Datacoms, Wireless, IoT
The project has demonstrated the capability of autonomous vehicles to leverage the 5G cellular network to provide a multi-tenant platform with the goal of enabling self-driving cars.
Read more...
---
GNSS receiver module to extend runtime by 500%
iCorp Technologies Telecoms, Datacoms, Wireless, IoT
Antenova has announced the GNSSNOVA M20071 GNSS receiver module with power consumption reduced five-fold to enable smaller tracker designs, and trackers that could run five times longer.
Read more...
---
Wideband amplifiers operating from 35 to 95 GHz
Conical Technologies Telecoms, Datacoms, Wireless, IoT
Mini-Circuits announced the expansion of lineup of connectorised high-frequency amplifiers to provide support even deeper into the e-band range.
Read more...
---
u-blox antenna offers low-power solution
RF Design Telecoms, Datacoms, Wireless, IoT
The u-blox SAM-M10Q antenna module is tailored to the needs of applications such as industrial tracking and telematics, automation and monitoring and small UAVs.
Read more...
---