printer friendly version
LEDs for indoor lighting market
25 August 2021
Opto-Electronics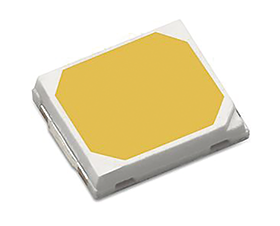 Lumileds introduced its new Luxeon 2835 Commercial LEDs engineered and designed to support the growing demand for a high-volume, high-efficacy mid-power LED to serve commercial indoor lighting applications.
"The architectural and commercial luminaire and lighting fixture markets have their own needs and characteristics," recognises product and marketing manager, Ryan Dong. "Manufacturers of commercial lighting prioritise lumens per Watt and lumens per Dollar over almost everything else and we deliver both in a package providing the quality and robustness expected of Luxeon LEDs." Common commercial indoor applications include troffers, panels, high-bay and many other formats; for these applications Luxeon 2835 Commercial is an ideal fit.
Many billions of 2835 mid-power LEDs are sold annually, making them one of the largest selling packages in terms of volume and revenue. The breadth of luminaires from industrial and offices, to retail and hospitality, require different levels of performance, quality of light and longevity – demonstrating clearly that the 2835 LED market is not a one-size-fits-all market.
The new Luxeon 2835 Commercial LEDs will stand alongside Lumileds' existing, broad portfolio of 2835 LEDs which are being renamed Luxeon 2835 Architectural.
Compared to other 2835 packages on the market, Luxeon v2835 Commercial has high flux, colour consistency and anti-corrosion capability. With these new parts, Lumileds can support any manufacturer's full range of luminaires, from offices and box stores to high-end retail and hospitality.
Credit(s)
Further reading:
Time-of-flight multi-zone ranging sensor
25 August 2021, EBV Electrolink , Opto-Electronics
STMicroelectronics has announced the first multi-zone FlightSense time-of-flight sensor to be offered for general-purpose applications, bringing sophisticated distance sensing to the full spectrum of 
...
Read more...
---
Colour registration mark sensor
28 July 2021, Vepac Electronics , Opto-Electronics
SmartEye Colormark ll registration mark sensors from Tri-Tronics combine unique colour perception ability with very high-speed response. Many important features have been incorporated into the design 
...
Read more...
---
Ethernet PHYs for industrial networking
25 August 2021, Future Electronics , Telecoms, Datacoms, Wireless, IoT
Smart manufacturing is driving efficiencies in automation as digital networks increasingly connect machines, production line equipment and robotics. Operation technology (OT) and information technology 
...
Read more...
---
Lidar sensors for numerous use cases
25 August 2021, TRX Electronics , Opto-Electronics
Mouser Electronics has signed a global distribution agreement with LightWare LiDAR, a manufacturer of light detection and ranging (lidar) technology. According to the agreement, Mouser will offer customers 
...
Read more...
---
Touchscreen display for tough environments
25 August 2021, Vepac Electronics , Opto-Electronics
Topcon Positioning Group announced a pre-series release of its new OPUS B-Series display available for the developer, systems integrator and manufacturer market for user-interface design and implementation 
...
Read more...
---
LCD modules with per-pixel memory
25 August 2021, iCorp Technologies , Opto-Electronics
Multi-Inno's range of 'memory' LCD modules feature a 1-bit embedded memory in each pixel, which results in minimal power usage from the display's single supply, even while updating images. A lightweight 
...
Read more...
---
New laser sensor technology detects difficult targets
25 August 2021, Omron Electronics , Opto-Electronics
Omron has launched a new E3AS-HL CMOS Laser Sensor with sensing technology that significantly improves detection capability using an industry-first Laser Class 1 CMOS laser sensor equipped with an FPGA. 
...
Read more...
---
Microchip achieves JEDEC qualification for rad-tolerant FPGA
28 July 2021, Future Electronics , Programmable Logic
Developers of small-satellite constellations and other systems used in 'New Space' missions must deliver both high reliability and radiation protection while meeting stringent cost and scheduling requirements. 
...
Read more...
---
Waterproof photoelectric sensors
28 July 2021, Vepac Electronics , Opto-Electronics
Low in cost and high in value, Mini-Eye is a full line of economical, miniature photoelectric sensors for general sensing tasks. These rugged sensors are waterproof and enclosed in high-impact plastic 
...
Read more...
---
LED drivers supporting visible-light communication
28 July 2021, EBV Electrolink , Opto-Electronics, Power Electronics / Power Management
ON Semiconductor has announced two new devices designed to enhance the performance of connected lighting systems. The NCL31000 and NCL31001 LED drivers allow manufacturers to develop LED luminaires with 
...
Read more...
---