printer friendly version
LEDs for indoor lighting market
25 August 2021
Opto-Electronics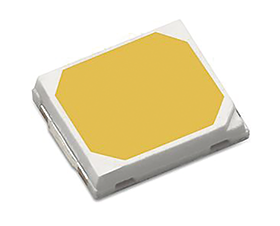 Lumileds introduced its new Luxeon 2835 Commercial LEDs engineered and designed to support the growing demand for a high-volume, high-efficacy mid-power LED to serve commercial indoor lighting applications.
"The architectural and commercial luminaire and lighting fixture markets have their own needs and characteristics," recognises product and marketing manager, Ryan Dong. "Manufacturers of commercial lighting prioritise lumens per Watt and lumens per Dollar over almost everything else and we deliver both in a package providing the quality and robustness expected of Luxeon LEDs." Common commercial indoor applications include troffers, panels, high-bay and many other formats; for these applications Luxeon 2835 Commercial is an ideal fit.
Many billions of 2835 mid-power LEDs are sold annually, making them one of the largest selling packages in terms of volume and revenue. The breadth of luminaires from industrial and offices, to retail and hospitality, require different levels of performance, quality of light and longevity – demonstrating clearly that the 2835 LED market is not a one-size-fits-all market.
The new Luxeon 2835 Commercial LEDs will stand alongside Lumileds' existing, broad portfolio of 2835 LEDs which are being renamed Luxeon 2835 Architectural.
Compared to other 2835 packages on the market, Luxeon v2835 Commercial has high flux, colour consistency and anti-corrosion capability. With these new parts, Lumileds can support any manufacturer's full range of luminaires, from offices and box stores to high-end retail and hospitality.
Credit(s)
Further reading:
Green laser diode for industrial applications
Future Electronics Opto-Electronics
ams OSRAM has introduced a green laser diode which is a brighter, more reliable and cost-competitive replacement for red lasers in applications such as levelling, scanning, biosciences and dot projection. 
...
Read more...
---
Multizone time-of-flight sensors
TRX Electronics Opto-Electronics
Mouser Electronics is now offering the TMF8820, TMF8821 and TMF8828 multizone time-of-flight sensors from ams Osram. The high-performance direct time-of-flight (dToF) sensors achieve a 5 m detection range, 
...
Read more...
---
Small wire-to-board connector with automotive quality
Future Electronics Interconnection
Hirose Electric has developed the GT50 Series, a 1 mm pitch, small and robust wire-to-board connector. This product can be used safely for automotive applications due to its high heat resistance up to 
...
Read more...
---
MCU boasts innovative sensing, enhanced security
Future Electronics DSP, Micros & Memory
Enabled with Bluetooth Low Energy wireless connectivity, onsemi's new low-power RSL15 microcontroller (MCU) addresses the growing demand of connected industrial applications for security without sacrificing 
...
Read more...
---
LED driver expansion board for STM32 Nucleo
Altron Arrow Opto-Electronics
STMicroelectronics' X-NUCLEO-LED12A1 LED driver expansion board for STM32 Nucleo features four LED1202 devices that can drive up to 48 LEDs. The LED1202 is a 12-channel, low quiescent current LED driver 
...
Read more...
---
Power stack reference design leverages Microchip SiC devices
Future Electronics Power Electronics / Power Management
E-mobility and renewable energy systems require power management solutions that drive performance and cost efficiencies in addition to speeding up development time. To keep pace with these requirements, 
...
Read more...
---
Port protection IC for MCUs tailored to USB-C dual-role power
Future Electronics Circuit & System Protection
The STMicroelectronics TCPP03-M20 USB Type-C port protection IC is tailored for Dual-Role Power (DRP) applications, simplifying the design of products that can act as a power source for connected devices 
...
Read more...
---
GaN power components for slim, energy-efficient power supplies
Future Electronics Power Electronics / Power Management
STMicroelectronics has revealed a new family of GaN power semiconductors in the STPOWER portfolio that can significantly reduce energy use and enable slimmer designs in a broad variety of electronic products. 
...
Read more...
---
Front-end modules for 5G MIMO infrastructure
Future Electronics Telecoms, Datacoms, Wireless, IoT
NXP Semiconductors has announced the new BTS6302U/6201U pre-drivers and BTS7203/5 dual-channel receive (RX) front-end modules (FEM) for 5G massive multi-input multi-output (MIMO) infrastructure. These 
...
Read more...
---
Power delivery solution for AI processors wins WEAA award
Future Electronics Power Electronics / Power Management
The 2021 World Electronics Achievement Award (WEAA) for innovative product of the year, in the power management/voltage converter category, was awarded to Vicor for its FPA (Factorised Power Architecture) 
...
Read more...
---