printer friendly version
RISC-V SoC for ultra-low-power IoT
25 August 2021
Telecoms, Datacoms, Wireless, IoT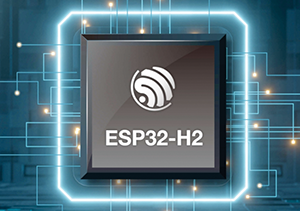 Espressif Systems announced the upcoming release of the ESP32-H2 SoC (system-on-chip) with IEEE 802.15.4 and Bluetooth 5.2 (LE) connectivity, operable in the 2,4 GHz band. It enhances Espressif's SoC portfolio further beyond Wi-Fi and Bluetooth connectivity by adding IEEE 802.15.4 connectivity as well. This SoC comes with an integrated DC-DC converter that enables ultra-low-power, energy-efficient operation.
The device combines two important connectivity technologies. IEEE 802.15.4 radio connectivity is important to support a mesh architecture with low power consumption. The availability of Thread and Zigbee protocols addresses a variety of application use cases. Bluetooth LE supports point-to-point, broadcast and mesh communication topologies, while it also enables direct communication between a smartphone and the device.
Additionally, the ESP32-H2 takes advantage of Bluetooth 5.2 technology and supports its new features. Bluetooth 5.2 provides LE isochronous channel support that enables building devices for LE Audio, the next generation of Bluetooth Audio. Not only will LE Audio enhance Bluetooth audio performance, but it will also add support for broadcasting audio and enabling audio sharing. The LE power control and enhanced attribute protocol of Bluetooth 5.2 also improve device efficiency even further. The ESP32-H2 also provides full support for the Bluetooth mesh protocol and will support the upcoming Bluetooth mesh 1.1.
The combined availability of IEEE 802.15.4 and Bluetooth LE connectivity enables the building of devices for the upcoming Matter protocol that intends to bring interoperability for smart home devices. With ESP32-H2 and other SoCs in its portfolio, Espressif can offer the full spectrum of Matter protocol solutions for endpoints with Wi-Fi or Thread connectivity, as well as for border router implementations using a combination of SoCs.
The ESP32-H2 has a single-core, 32-bit RISC-V microcontroller that can be clocked up to 96 MHz, a 256 KB SRAM and works with external flash. It has 26 programmable GPIOs with support for ADC, SPI, UART, I2C, I2S, RMT, GDMA and PWM. Hardware security features include ECC-based secure boot, AES-128/256-XTS-based Flash encryption, digital signature and an HMAC peripheral for identity protection, as well as cryptographic accelerators for improved performance.
The ESP32-H2 will support Thread version 1.x and Zigbee 3.x.
Credit(s)
Further reading:
4-channel programmable attenuator
27 October 2021, Conical Technologies , Telecoms, Datacoms, Wireless, IoT
Mini-Circuits' RC4DAT-8G-120H is a 4-channel programmable attenuator suitable for a wide range of signal-level control applications from 200 MHz to 8 GHz. Each independently controlled channel provides 
...
Read more...
---
Locally produced LoRa pressure node
27 October 2021, Otto Wireless Solutions , Telecoms, Datacoms, Wireless, IoT
LoRa devices and wireless RF technology are making it easy and economical for consumers to dive into the Internet of Things (IoT). The affordable sensors and gateways can also experience the same IoT 
...
Read more...
---
Deep learning APIs for Espressif SoCs
27 October 2021, iCorp Technologies , Design Automation
ESP-DL, recently introduced by Espressif Systems, provides APIs for neural network (NN) inference, image processing, maths operations and deep learning (DL) models. With ESP-DL, developers can use Espressif's 
...
Read more...
---
Magnetic-mount external GPS antenna
27 October 2021, RF Design , Telecoms, Datacoms, Wireless, IoT
The Magma X AA.178.301111 from Taoglas is an active, external magnetic-mount GPS antenna that operates in the L1/L5 band from 1176,45 to 1575,42 MHz. This linearly polarised antenna delivers a peak 
...
Read more...
---
RF power GaN transistor
27 October 2021, TRX Electronics , Telecoms, Datacoms, Wireless, IoT
Mouser Electronics is now stocking the A3G26D055N Airfast RF power gallium nitride (GaN) transistor from NXP Semiconductors. The transistor is designed for cellular base station applications requiring 
...
Read more...
---
Multi-mode LPWAN module
27 October 2021, iCorp Technologies , Telecoms, Datacoms, Wireless, IoT
The BG600L-M3 is a multi-mode LPWAN module which supports LTE Cat-M1, Cat-NB2, EGPRS and integrated GNSS and meets the 3GPP Release 14 specification. It is compatible with Quectel's GSM/GPRS/GNSS module 
...
Read more...
---
Standalone GNSS antenna module
27 October 2021, Electrocomp , Telecoms, Datacoms, Wireless, IoT
The LS2003C-G from Locosys is a complete standalone GNSS smart antenna module, including embedded patch antenna and GNSS receiver circuits. The module can simultaneously acquire and track multiple satellite 
...
Read more...
---
LPWAN markets and applications
27 October 2021, Avnet Silica, EBV Electrolink, Technews Publishing , Telecoms, Datacoms, Wireless, IoT
In South Africa, the large installed base of IoT devices using legacy telecommunication protocols is a hindrance to the advancement of LPWAN and the continued kerfuffle over radio frequency spectrum is hampering this market.
Read more...
---
Flight-proven video and telemetry transmitters
27 October 2021, Sivan Electronic Supplies , Telecoms, Datacoms, Wireless, IoT
IMC Microwave Industries offers a line of flight-proven synthesised video and telemetry digital transmitters, used primarily to relay telemetry data and video to a remote location. The transmitters are 
...
Read more...
---
433 MHz LoRaWAN module
27 October 2021, iCorp Technologies , Telecoms, Datacoms, Wireless, IoT
The Ra-06 LoRa module from AI-Thinker is an embedded wireless data transmission module based on LoRa spread-spectrum technology. It uses the LoRa network to provide users with wireless data transmission 
...
Read more...
---