printer friendly version
RISC-V SoC for ultra-low-power IoT
25 August 2021
Telecoms, Datacoms, Wireless, IoT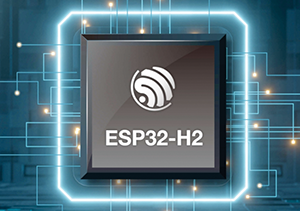 Espressif Systems announced the upcoming release of the ESP32-H2 SoC (system-on-chip) with IEEE 802.15.4 and Bluetooth 5.2 (LE) connectivity, operable in the 2,4 GHz band. It enhances Espressif's SoC portfolio further beyond Wi-Fi and Bluetooth connectivity by adding IEEE 802.15.4 connectivity as well. This SoC comes with an integrated DC-DC converter that enables ultra-low-power, energy-efficient operation.
The device combines two important connectivity technologies. IEEE 802.15.4 radio connectivity is important to support a mesh architecture with low power consumption. The availability of Thread and Zigbee protocols addresses a variety of application use cases. Bluetooth LE supports point-to-point, broadcast and mesh communication topologies, while it also enables direct communication between a smartphone and the device.
Additionally, the ESP32-H2 takes advantage of Bluetooth 5.2 technology and supports its new features. Bluetooth 5.2 provides LE isochronous channel support that enables building devices for LE Audio, the next generation of Bluetooth Audio. Not only will LE Audio enhance Bluetooth audio performance, but it will also add support for broadcasting audio and enabling audio sharing. The LE power control and enhanced attribute protocol of Bluetooth 5.2 also improve device efficiency even further. The ESP32-H2 also provides full support for the Bluetooth mesh protocol and will support the upcoming Bluetooth mesh 1.1.
The combined availability of IEEE 802.15.4 and Bluetooth LE connectivity enables the building of devices for the upcoming Matter protocol that intends to bring interoperability for smart home devices. With ESP32-H2 and other SoCs in its portfolio, Espressif can offer the full spectrum of Matter protocol solutions for endpoints with Wi-Fi or Thread connectivity, as well as for border router implementations using a combination of SoCs.
The ESP32-H2 has a single-core, 32-bit RISC-V microcontroller that can be clocked up to 96 MHz, a 256 KB SRAM and works with external flash. It has 26 programmable GPIOs with support for ADC, SPI, UART, I2C, I2S, RMT, GDMA and PWM. Hardware security features include ECC-based secure boot, AES-128/256-XTS-based Flash encryption, digital signature and an HMAC peripheral for identity protection, as well as cryptographic accelerators for improved performance.
The ESP32-H2 will support Thread version 1.x and Zigbee 3.x.
Credit(s)
Further reading:
Flexible 4G/LTE PCB antenna
RF Design Telecoms, Datacoms, Wireless, IoT
The new 4G/LTE antenna from Taoglas is a flexible antenna operating over the frequency range from 698 MHz to 3 GHz, and which provides a peak gain of 5 dBi.
Read more...
---
Quectel masterclass: IoT device application development
iCorp Technologies News
Quectel has announced the latest masterclass in a series of technical webinars titled "Accelerate wireless IoT device application development with Azure RTOS on STM32 MCUs".
Read more...
---
Qorvo announces fully integrated UWB module
RF Design Telecoms, Datacoms, Wireless, IoT
Qorvo has announced the DWM3001C, a fully integrated ultra-wideband (UWB) module that enables robust UWB implementation in factory, warehouse, automation and safety systems.
Read more...
---
Earn helium when devices connect to your hotspot
Otto Wireless Solutions Telecoms, Datacoms, Wireless, IoT
Otto Wireless Solutions has announced the A150000 RAK Hotspot Helium Miner v2 which earns helium when devices connect as well as for validating wireless coverage delivered by peers on the network.
Read more...
---
Connectivity for the future with new SIMCom modules
Otto Wireless Solutions Telecoms, Datacoms, Wireless, IoT
With the global phasing out of 2G, SIMCom's new low-cost 4G modules are looking to future-proof your designs by replacing the older 2G modules.
Read more...
---
Cellular module with embedded SIM
RF Design Telecoms, Datacoms, Wireless, IoT
The SARA-R500E LTE-M module from u-blox has an embedded SIM and offers product developers an integrated, robust, and secure solution to connect IoT applications to the cellular network.
Read more...
---
5G-CARMEN project creates 600 km corridor
Telecoms, Datacoms, Wireless, IoT
The project has demonstrated the capability of autonomous vehicles to leverage the 5G cellular network to provide a multi-tenant platform with the goal of enabling self-driving cars.
Read more...
---
GNSS receiver module to extend runtime by 500%
iCorp Technologies Telecoms, Datacoms, Wireless, IoT
Antenova has announced the GNSSNOVA M20071 GNSS receiver module with power consumption reduced five-fold to enable smaller tracker designs, and trackers that could run five times longer.
Read more...
---
New Espressif MCU embeds Wi-Fi 6
iCorp Technologies DSP, Micros & Memory
Espressif Systems has introduced the ESP32-C5, their first dual-band 2,4 and 5 GHz Wi-Fi 6 and Bluetooth 5 low-energy microcontroller unit.
Read more...
---
Wideband amplifiers operating from 35 to 95 GHz
Conical Technologies Telecoms, Datacoms, Wireless, IoT
Mini-Circuits announced the expansion of lineup of connectorised high-frequency amplifiers to provide support even deeper into the e-band range.
Read more...
---