printer friendly version
Battery simulation test solution
25 August 2021
Test & Measurement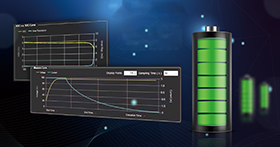 With the development of battery technology, battery weight and energy density are being further improved while their cost is reducing, making batteries widely used in new energy vehicles, photovoltaic energy storage and consumer electronics products. To fully verify the performance of the product in different states-of-charge of the battery, engineers need to conduct many tests in the early stage of R&D; to continuously optimise the product design or select a more suitable battery.
Itech Electronics' BSS2000 series of professional battery simulation software has been designed to fulfil this task. It is compatible with Itech's bidirectional DC power supply models IT6000B, IT6000C, IT-M3600 and IT-M3400 and provides battery simulator solutions up to 2250 V/1152 kW.
The software greatly reduces the difficulty of battery curve simulation through the establishment of the battery's mathematical model and provides four battery simulation editing modes. This professional software suite gets around the problems of low efficiency, high cost and complicated wiring associated with real battery tests.
The BSS Pro software has the built-in ability to test various battery types and supports importing of user-defined battery characteristic curves, making it possible to create custom battery setups.
For more information contact Conical Technologies, +27 66 231 1900, daniel.haywood@conical.co.za, www.conical.co.za
Credit(s)
Further reading:
Modular, portable 5G RF spectrum analyser
RF Design Test & Measurement
The HC990EXF from Tallysman is an extended-filter embedded GNSS helical antenna. This RHCP (right-hand circular polarised) antenna provides a peak gain of 3 dBi at full bandwidth and has an axial ratio 
...
Read more...
---
Software links oscilloscopes with the cloud
RS Components (SA) Test & Measurement
Tektronix' TekDrive became the first native oscilloscope-to-cloud software solution to facilitate global data collaboration directly on an oscilloscope, PC, phone or tablet. Created to enable ultimate 
...
Read more...
---
RF receiver for spectrum regulators
Measuretest Test & Measurement
CRFS announced the launch of a new high-performance RF receiver, the RFeye Node 40-8, specifically designed to meet the needs of communications regulators. With a 40 MHz instantaneous bandwidth and 9 kHz 
...
Read more...
---
Single-instrument test solution for 5G IoT verification
Coral-i Solutions Test & Measurement
Anritsu has introduced the radio communication test station MT8000A 5G entry model, a single-instrument solution that supports multiple radio access technologies (RATs) of LTE through 5G NR. The 5G entry 
...
Read more...
---
Mixed-signal oscilloscopes with flexible resolutions
Comtest Test & Measurement
Pico Technology released the PicoScope 6000E Series FlexRes oscilloscopes, featuring eight channels with 500 MHz bandwidth, 16 digital channels and resolution of 8, 10 or 12 bits. The products work with 
...
Read more...
---
Critical airborne system testing from a single device
Measuretest Test & Measurement
New from Viavi Solutions is the AVX-10K flight line test set, enabling comprehensive performance verification testing of critical airborne systems from a simple-to-use device. The instrument helps avionics 
...
Read more...
---
PTP wander measurement for improved 5G network synchronisation
Coral-i Solutions Test & Measurement
Anritsu has added a function for PTP wander – a metric for evaluating frequency variations as low as 10 Hz with respect to the PTP (precision time protocol) network time synchronisation error – to the 
...
Read more...
---
4-channel programmable attenuator
Conical Technologies Telecoms, Datacoms, Wireless, IoT
Mini-Circuits' RC4DAT-8G-120H is a 4-channel programmable attenuator suitable for a wide range of signal-level control applications from 200 MHz to 8 GHz. Each independently controlled channel provides 
...
Read more...
---
Multi-coax quick-turn microwave connectors
Conical Technologies Interconnection
Chinese RF and microwave connector, cable and adaptor manufacturer, Anoison, announced the release of the latest addition to its selection of RF and microwave products with the release of the PA-5 range 
...
Read more...
---
Thermal management in high-performance RF and microwave PCBs
Conical Technologies Editor's Choice Manufacturing / Production Technology, Hardware & Services
One of the many roles that a PCB has to perform is to channel heat from the underside of semiconductor devices through to the chosen heatsinking scheme as efficiently and effectively as possible.
Read more...
---