printer friendly version
Chip-scale atomic clock for military and industrial systems
25 August 2021
Analogue, Mixed Signal, LSI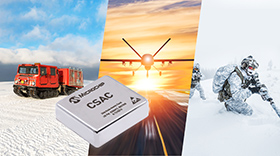 Advanced military platforms, ocean-bottom survey systems and remote sensing applications all require precise timing for mission success. Chip-scale atomic clocks (CSACs) ensure stable and accurate timing even when global navigation satellite system (GNSS) time signals are unavailable. Helping industrial and military system designers to meet this requirement, Microchip Technology announced its new SA65 CSAC, providing precise timing accuracy and stability in extreme environments.
The device is an embedded timing solution with improved environmental ruggedness, delivering higher performance than the previous SA.45s CSAC, including double the frequency stability over a wider temperature range and faster warm-up at cold temperatures. The SA65 has an operating temperature range of -40°C to 80°C and a storage temperature range of -55°C to 105°C. The warm-up time of two minutes at -40°C is 33% faster than that of the SA.45s.
Together, these SA65 CSAC performance improvements benefit designers of highly portable solutions for military applications such as Assured Position, Navigation and Timing (A-PNT) and command, control, communications, computers, cyber, intelligence, surveillance and reconnaissance (C5ISR) requiring precise frequencies generated by a low size, weight and power (SWaP) atomic clock. Improvements such as fast warm-up to frequency after cold start, temperature stability over a wide operating range and frequency accuracy and stability enabling extended operation while GNSS is denied, help to ensure mission success in conflict environments.
The SA65 CSAC is the world's lowest-power commercial atomic clock and provides precise timing for portable and battery-powered applications requiring continuous operation and holdover in GNSS-denied environments. It is form-, fit- and function-compatible with the SA.45s, which minimises risk and redesign costs for the system developer while improving performance and environmental insensitivity.
Credit(s)
Further reading:
Mixed-signal oscilloscopes with flexible resolutions
27 October 2021, Comtest , Test & Measurement
Pico Technology released the PicoScope 6000E Series FlexRes oscilloscopes, featuring eight channels with 500 MHz bandwidth, 16 digital channels and resolution of 8, 10 or 12 bits. The products work with 
...
Read more...
---
Capacitive touchscreen controllers
27 October 2021, EBV Electrolink , Analogue, Mixed Signal, LSI
Microchip Technology is adding two new members to its family of IEC/UL 60730 Class B certified touchscreen controllers. The new MXT448UD-HA and MXT640UD-HA extend the Class B portfolio of devices beyond 
...
Read more...
---
High-precision voltage reference IC
27 October 2021, Future Electronics , Analogue, Mixed Signal, LSI
Extended temperature-range voltage reference ICs for automotive and industrial applications require low drift, high reliability and high performance. A new high-precision voltage reference (Vref) IC from 
...
Read more...
---
Clamp meters for 1500 V solar power tests
29 September 2021, Comtest , Test & Measurement
Fluke has announced the launch of a new clamp meter designed to measure solar installation voltages at the new standard of 1500 V, while offering high safety specifications and being easy to use in congested 
...
Read more...
---
Liquid flow sensor evaluation kits
25 August 2021, Electrocomp , Analogue, Mixed Signal, LSI
The LD20 single-use liquid flow sensor series from Sensirion is suitable for fast, precise and reliable measurements of the lowest flow rates in biomedical applications. An evaluation kit for the LD20-0600L 
...
Read more...
---
Low-latency contactless angle sensor
25 August 2021, NuVision Electronics , Analogue, Mixed Signal, LSI
The MA734 is a MagAlpha digital angle sensor that detects the absolute angular position of a permanent magnet (typically a diametrically magnetised cylinder on a rotating shaft). Fast data acquisition 
...
Read more...
---
Ultra low-pressure gauge and differential sensors
25 August 2021, Electrocomp , Analogue, Mixed Signal, LSI
The SM9000 series from TE Connectivity comprises digital, ultra low-pressure sensors utilising state-of-the-art MEMS pressure transducer technology and CMOS mixed-signal processing technology to produce 
...
Read more...
---
Broadband mixed-signal front-ends
28 July 2021, TRX Electronics , Analogue, Mixed Signal, LSI
Analog Devices' AD9081 and AD9082 mixed-signal front-ends (MxFE) are now available for shipping from Mouser Electronics. These two versatile RF converter platforms combine high-performance analog and 
...
Read more...
---
High-speed SAR ADCs
23 June 2021 , Analogue, Mixed Signal, LSI
Texas Instruments has expanded its portfolio of high-speed data converters with a broad new family of successive-approximation register (SAR) analog-to-digital converters (ADCs) that enable high-precision 
...
Read more...
---
Machine learning capable motion sensors
23 June 2021, Altron Arrow , Analogue, Mixed Signal, LSI
Qeexo, the developer of the Qeexo AutoML automated machine learning (ML) platform that accelerates the development of tinyML models for the edge and STMicroelectronics announced the availability of ST's 
...
Read more...
---