printer friendly version
Chip-scale atomic clock for military and industrial systems
25 August 2021
Analogue, Mixed Signal, LSI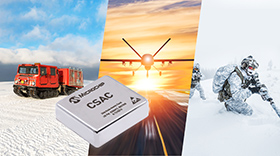 Advanced military platforms, ocean-bottom survey systems and remote sensing applications all require precise timing for mission success. Chip-scale atomic clocks (CSACs) ensure stable and accurate timing even when global navigation satellite system (GNSS) time signals are unavailable. Helping industrial and military system designers to meet this requirement, Microchip Technology announced its new SA65 CSAC, providing precise timing accuracy and stability in extreme environments.
The device is an embedded timing solution with improved environmental ruggedness, delivering higher performance than the previous SA.45s CSAC, including double the frequency stability over a wider temperature range and faster warm-up at cold temperatures. The SA65 has an operating temperature range of -40°C to 80°C and a storage temperature range of -55°C to 105°C. The warm-up time of two minutes at -40°C is 33% faster than that of the SA.45s.
Together, these SA65 CSAC performance improvements benefit designers of highly portable solutions for military applications such as Assured Position, Navigation and Timing (A-PNT) and command, control, communications, computers, cyber, intelligence, surveillance and reconnaissance (C5ISR) requiring precise frequencies generated by a low size, weight and power (SWaP) atomic clock. Improvements such as fast warm-up to frequency after cold start, temperature stability over a wide operating range and frequency accuracy and stability enabling extended operation while GNSS is denied, help to ensure mission success in conflict environments.
The SA65 CSAC is the world's lowest-power commercial atomic clock and provides precise timing for portable and battery-powered applications requiring continuous operation and holdover in GNSS-denied environments. It is form-, fit- and function-compatible with the SA.45s, which minimises risk and redesign costs for the system developer while improving performance and environmental insensitivity.
Credit(s)
Further reading:
Low power 36 V operational amplifier
EBV Electrolink Analogue, Mixed Signal, LSI
The TSB622 is a general-purpose, dual operational amplifier featuring an extended supply voltage operating range of 2,7 to 36 V and rail-to-rail output
Read more...
---
Quad-output buck regulator
Altron Arrow Analogue, Mixed Signal, LSI
The LTM4673 from Analog Devices is a quad-output µmodule buck regulator which has a wide input voltage range and built-in digital power system management.
Read more...
---
All-in-one documenting process calibrators
Comtest Test & Measurement
The multifunction calibrators perform sourcing, simulation and measurement of pressure, temperature and electrical signals.
Read more...
---
Avoiding safety hazards during solar PV installations
Comtest Test & Measurement
Safety levels during solar panel commissioning and installation have been strengthened by Fluke's CAT III 1500 V true-RMS clamp meter.
Read more...
---
u-blox' smallest ever GNSS module
RF Design Analogue, Mixed Signal, LSI
Designing an anomaly detection library with AI learning capability is possible with minimal data and with no specific data-science skills needed.
Read more...
---
Evaluation board for MEMS accelerometers
Altron Arrow Analogue, Mixed Signal, LSI
The board is designed to facilitate fast system prototyping and device evaluation of MEMS devices in ST's ASM330LHHX product family.
Read more...
---
Efficient cold chain management with high-accuracy temperature sensors
Analogue, Mixed Signal, LSI
Choosing the correct system of temperature sensing in cold chain management is vital to ensure quality and product safety for the consumer.
Read more...
---
Tiny CO2 sensor employs photoacoustic spectroscopy
TRX Electronics Analogue, Mixed Signal, LSI
The device uses a high-sensitivity MEMS microphone to detect the pressure change generated by CO
2
molecules within the sensor cavity.
Read more...
---
Self-learning AI sensor for fitness tracking
TRX Electronics Analogue, Mixed Signal, LSI
The Bosch BHI260AP is ideal for always-on sensor applications like wrist wearables, hearables, smartphones, AR/VR headsets and controller device.
Read more...
---
Sensor nodes for reliable air quality data
TRX Electronics Analogue, Mixed Signal, LSI
The advanced sensors offer easy integration, fully calibrated outputs with a digital interface, and optimal measurement of vital air quality parameters.
Read more...
---