printer friendly version
HLS tool suite for PolarFire FPGAs
25 August 2021
Programmable Logic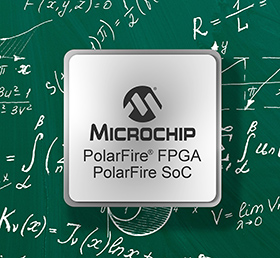 The need to combine performance with low power consumption in edge compute applications has driven demand for field programmable gate arrays (FPGAs) to be used as power-efficient accelerators while also providing flexibility and speeding time to market. However, a large majority of edge compute, computer vision and industrial control algorithms are developed natively in C++ by developers with little or no knowledge of underlying FPGA hardware.
To enable this important development community, Microchip Technology has added a high-level synthesis (HLS) design workflow, called SmartHLS, to its PolarFire FPGA families that greatly enhances productivity and ease of design by allowing C++ algorithms to be directly translated to FPGA-optimised Register Transfer Level (RTL) code.
"SmartHLS enhances our Libero SoC design tool suite and makes the vast benefits of our award-winning mid-range PolarFire and PolarFire SoC platforms accessible to a diverse community of algorithm developers without them having to become FPGA hardware experts," said Bruce Weyer, vice president of Microchip's FPGA business unit. "Together with our VectorBlox Neural Network Software Development Kit, these tools will greatly improve designers' productivity in creating cutting-edge solutions using C/C++ based algorithms for applications such as embedded vision, machine learning, motor control and industrial automation using FPGA-based hardware accelerators."
Based on the open-source Eclipse integrated development environment (IDE), the SmartHLS design suite uses C++ software code to generate an HDL IP component for integration into Microchip's Libero SmartDesign projects. This enables engineers to describe hardware behaviour at a higher level of abstraction than is possible with traditional FPGA RTL tools.
It further improves productivity while reducing development time through a multi-threading application programming interface (API) that executes hardware instructions concurrently and simplifies the expression of complex hardware parallelism compared to other HLS offerings.
The SmartHLS tool requires up to 10 times fewer lines of code than an equivalent RTL design, with the resultant code being easier to read, understand, test, debug and verify. The tool also simplifies exploration of hardware microarchitecture design trade-offs and enables a developer's pre-existing C++ software implementations to now be used with PolarFire FPGAs and FPGA SoCs.
Developers can initiate designs now using the SmartHLS v2021.2 tool, which is available on the Microchip website. It is part of the recently released Libero SoC V2021.2 design suite and can also be used as standalone software.
Credit(s)
Further reading:
Making Matter provisioning secure and easy
EBV Electrolink Telecoms, Datacoms, Wireless, IoT
Integrated solution of CommScope's PKIWorks platform with STMicroelectronics' STM32WB wireless microcontroller enables IoT security for Matter device development.
Read more...
---
Driver amplifiers for wireless infrastructure
EBV Electrolink Telecoms, Datacoms, Wireless, IoT
The BGA7P320 is a 3,3 to 4,2 GHz mid-band driver amplifier that can be used as pre-driver or driver in RF applications, from MIMO 5G base stations to small cells and access points.
Read more...
---
Vishay honours EBV with distributor award
EBV Electrolink News
Vishay has honoured EBV Elektronik with the 'Semiconductor Distributor of the Year – 2022' award based on the company's outstanding contribution, design activities, overall process excellence and performance throughout EMEA.
Read more...
---
Chip extends battery life
EBV Electrolink Power Electronics / Power Management
Nexperia's new DC-DC converter IC has been designed to extend the life of 3V coin cells in IoT applications.
Read more...
---
Advanced power supply design automation
EBV Electrolink Power Electronics / Power Management
Power Integrations and SnapMagic have announced that PI Expert, Power Integrations' robust, online design tool, now features schematic and netlist export, made possible by SnapMagic's new schematic export technology.
Read more...
---
Microchip's 28 nm memory in production
EBV Electrolink DSP, Micros & Memory
GlobalFoundries and Microchip have announced that Microchip's 28 nm SuperFlash embedded flash memory solution is in production. The widely deployed non-volatile memory (NVM) solution is optimised for microcontrollers, smart cards and IoT chips.
Read more...
---
All-in-one chips for automotive applications
EBV Electrolink Power Electronics / Power Management
STMicroelectronics' SPSB081 automotive power-management IC' s features include a main fixed-voltage low-dropout regulator (LDO), a secondary programmable LDO, four high-side drivers, a CAN FD transceiver, and an optional LIN transceiver.
Read more...
---
EBV Electronik wins best distributor award
EBV Electrolink News
EBV Elektronik has been recognised by STMicroelectronics as its '2022 Best Performing Distributor in EMEA', after showing the highest POS growth and best demand creation results.
Read more...
---
Arm Cortex-A53-based applications processors
EBV Electrolink DSP, Micros & Memory
NXP's i.MX 8M Nano family of applications processors provide cost-effective integration and affordable performance for smart, connected, power-efficient devices requiring graphics, vision, voice control, intelligent sensing, and general-purpose processing.
Read more...
---
Pressure sensor with NextNav certification
EBV Electrolink Analogue, Mixed Signal, LSI
STMicroelectronics' LPS22DF pressure sensor has received a NextNav certification, which guarantees performance and reliability for geolocation and other types of applications.
Read more...
---