printer friendly version
HLS tool suite for PolarFire FPGAs
25 August 2021
Programmable Logic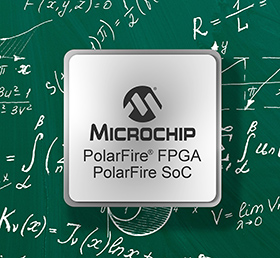 The need to combine performance with low power consumption in edge compute applications has driven demand for field programmable gate arrays (FPGAs) to be used as power-efficient accelerators while also providing flexibility and speeding time to market. However, a large majority of edge compute, computer vision and industrial control algorithms are developed natively in C++ by developers with little or no knowledge of underlying FPGA hardware.
To enable this important development community, Microchip Technology has added a high-level synthesis (HLS) design workflow, called SmartHLS, to its PolarFire FPGA families that greatly enhances productivity and ease of design by allowing C++ algorithms to be directly translated to FPGA-optimised Register Transfer Level (RTL) code.
"SmartHLS enhances our Libero SoC design tool suite and makes the vast benefits of our award-winning mid-range PolarFire and PolarFire SoC platforms accessible to a diverse community of algorithm developers without them having to become FPGA hardware experts," said Bruce Weyer, vice president of Microchip's FPGA business unit. "Together with our VectorBlox Neural Network Software Development Kit, these tools will greatly improve designers' productivity in creating cutting-edge solutions using C/C++ based algorithms for applications such as embedded vision, machine learning, motor control and industrial automation using FPGA-based hardware accelerators."
Based on the open-source Eclipse integrated development environment (IDE), the SmartHLS design suite uses C++ software code to generate an HDL IP component for integration into Microchip's Libero SmartDesign projects. This enables engineers to describe hardware behaviour at a higher level of abstraction than is possible with traditional FPGA RTL tools.
It further improves productivity while reducing development time through a multi-threading application programming interface (API) that executes hardware instructions concurrently and simplifies the expression of complex hardware parallelism compared to other HLS offerings.
The SmartHLS tool requires up to 10 times fewer lines of code than an equivalent RTL design, with the resultant code being easier to read, understand, test, debug and verify. The tool also simplifies exploration of hardware microarchitecture design trade-offs and enables a developer's pre-existing C++ software implementations to now be used with PolarFire FPGAs and FPGA SoCs.
Developers can initiate designs now using the SmartHLS v2021.2 tool, which is available on the Microchip website. It is part of the recently released Libero SoC V2021.2 design suite and can also be used as standalone software.
For more information contact EBV Electrolink, +27 21 402 1940, capetown@ebv.com, www.ebv.com
Credit(s)
Further reading:
Wireless asset tag supporting Quuppa RTLS
EBV Electrolink Telecoms, Datacoms, Wireless, IoT
onsemi unveiled a new system solution that overcomes the main challenges associated with developing asset tracking tags. Battery life has been a major obstacle to asset tag adoption, particularly within 
...
Read more...
---
Crossover MCU with 3D camera
EBV Electrolink DSP, Micros & Memory
NXP Semiconductors has announced the expansion of its NXP EdgeReady solution portfolio, adding a solution for secure face recognition that leverages a high-performance 3D structured light module (SLM) 
...
Read more...
---
Totem pole PFC controller
EBV Electrolink Power Electronics / Power Management
A new addition was made to ON Semiconductor's solution set for ultra-high density offline power supplies in the form of the NCP1680, a dedicated critical conduction mode totem pole PFC controller. It 
...
Read more...
---
Compact offline switcher ICs
EBV Electrolink Power Electronics / Power Management
Power Integrations introduced LinkSwitch-TNZ, a new switching power supply IC that combines offline power conversion, lossless zero-crossing detection and optionally, X-capacitor discharge functions in 
...
Read more...
---
Capacitive touchscreen controllers
EBV Electrolink Analogue, Mixed Signal, LSI
Microchip Technology is adding two new members to its family of IEC/UL 60730 Class B certified touchscreen controllers. The new MXT448UD-HA and MXT640UD-HA extend the Class B portfolio of devices beyond 
...
Read more...
---
LPWAN markets and applications
Avnet Silica EBV Electrolink Technews Publishing Telecoms, Datacoms, Wireless, IoT
In South Africa, the large installed base of IoT devices using legacy telecommunication protocols is a hindrance to the advancement of LPWAN and the continued kerfuffle over radio frequency spectrum is hampering this market.
Read more...
---
Time-of-flight multi-zone ranging sensor
EBV Electrolink Opto-Electronics
STMicroelectronics has announced the first multi-zone FlightSense time-of-flight sensor to be offered for general-purpose applications, bringing sophisticated distance sensing to the full spectrum of 
...
Read more...
---
Baseless power modules qualified for aerospace use
EBV Electrolink Power Electronics / Power Management
In the race to reduce aircraft emissions, developers are increasingly moving toward more efficient designs, including electrical systems that replace today's pneumatics and hydraulics powering everything 
...
Read more...
---
Rugged silicon carbide power devices
EBV Electrolink Power Electronics / Power Management
Today's energy-efficient electric charging systems powering commercial vehicle propulsion, as well as auxiliary power systems, solar inverters, solid-state transformers and other transportation and industrial 
...
Read more...
---
EBV helps bring long-life tracker to market
EBV Electrolink Telecoms, Datacoms, Wireless, IoT
General Mechatronics, a Budapest-based company, enlisted the support of EBV Elektronik to devise an award-winning smart sensor device designed for use in asset tracking systems and applications.  
...
Read more...
---