printer friendly version
Fast-acting chip fuse for automotive applications
25 August 2021
Circuit & System Protection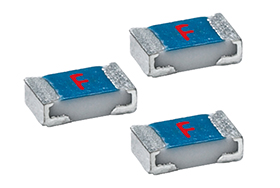 Vishay introduced a new, very fast-acting thin film chip fuse. For automotive applications, the Vishay Beyschlag MFU 0603 AT is AEC-Q200 qualified and features current ratings from 0,5 A to 5,0 A.
The device will be used in electric (EV) and hybrid electric (HEV) vehicles, where it will provide protection for voltage sensing circuits in battery management systems, in addition to circuit protection for small loads. For these applications, the fuse's highly controlled thin film manufacturing process guarantees outstanding stability of fusing characteristics.
Offering a robust design, the MFU 0603 AT consists of a homogeneous metal alloy film deposited on a high-grade ceramic substrate, with fuse elements covered by a protective coating designed for electrical, mechanical and climatic protection. The device offers advanced sulphur resistance in accordance with
ASTM B 809 and withstands 85°C/85% R.H. for 1000-hour biased humidity testing and testing for thermal shock.
Offered in the 0603 case size, the fuse features a rated voltage of up to 63 V, breakdown capacity of 50 A and operating temperature range of -55°C to +125°C.
For more information contact Willem Schmidt, Altron Arrow, +27 11 923 9600, wschmidt@arrow.altech.co.za, www.altronarrow.com
Credit(s)
Further reading:
High-current feedthrough filters
25 August 2021, Conical Technologies , Circuit & System Protection
HPR Series feedthrough filters from NexTek are designed and built to provide rugged EMI filtering for high-current lines, no matter the application details or environmental requirements. These feedthrough 
...
Read more...
---
A UI to build better UIs
25 August 2021, Altron Arrow , Design Automation
TouchGFX Designer 4.17 has become available for download, the latest version of STMicroelectronics' user interface (UI) design software featuring a user interface overhaul to make the application more 
...
Read more...
---
Compact X2 capacitors for noise suppression
25 August 2021, Electrocomp , Circuit & System Protection
A new series of very compact EPCOS X2 capacitors for noise suppression, rated for 275 V a.c. and covering a capacitance range from 33 nF to 1 µF, has been released by TDK. Depending on the capacitance 
...
Read more...
---
MCUs for secure and connected automotive gateways
25 August 2021, Altron Arrow , DSP, Micros & Memory
The SPC58 Chorus H Line is part of STMicroelectronics' portfolio of general-purpose automotive power architecture microcontrollers (MCUs). It is designed for high-end body, networking and security applications 
...
Read more...
---
High-voltage resistors can replace standard resistor chains
25 August 2021, Altron Arrow , Passive Components
A new series of AEC-Q200 qualified thick-film chip resistors, with operating voltages up to 3 kV and in the 2010 and 2512 case sizes, has been introduced by Vishay. With their high operating voltages, 
...
Read more...
---
Network synchronisation chip for 5G radio access equipment
25 August 2021, Altron Arrow , Telecoms, Datacoms, Wireless, IoT
5G technology requires time sources to be synchronised throughout a packet-switched network 10 times more accurately than 4G requirements. Microchip Technology now makes it possible to achieve 5G performance 
...
Read more...
---
Automotive/industrial isolated buck converters
25 August 2021, Altron Arrow , Power Electronics / Power Management
Optimised for isolated buck regulator designs, the STMicroelectronics A6986I and L6986I DC/DC converter ICs have a wide input voltage range and low quiescent current to ensure robust and energy-efficient 
...
Read more...
---
Dual-channel capacitive isolators
25 August 2021, Conical Technologies , Circuit & System Protection
The SCM3721ASA and SCM3723ASA belong to a family of digital isolators based on unique capacitive pulse isolation technology. Capacitive pulse isolation is a new-generation digital isolator technology 
...
Read more...
---
Nvidia releases version 4.6 of its AI SDK
28 July 2021, Altron Arrow , Computer/Embedded Technology
Nvidia has rolled out version 4.6 of its JetPack SDK, a production release supporting the Jetson AGX Xavier series, Jetson Xavier NX, Jetson TX2, Jetson TX1 and Jetson Nano. JetPack 4.6 includes support 
...
Read more...
---
Sensor selection guide
25 August 2021, Altron Arrow , Technical Literature
Infineon Technologies' 'XENSIV – sensing the world' selection guide lets readers explore the company's portfolio of sensing technologies, complemented by application solutions, smallest 2GO kits, simulation 
...
Read more...
---