printer friendly version
Liquid flow sensor evaluation kits
25 August 2021
Analogue, Mixed Signal, LSI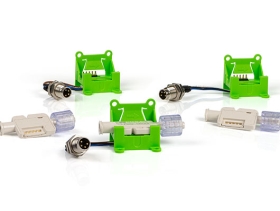 The LD20 single-use liquid flow sensor series from Sensirion is suitable for fast, precise and reliable measurements of the lowest flow rates in biomedical applications. An evaluation kit for the LD20-0600L version is now also available for quick and easy initial evaluations and proof-of-concept prototype tests in small quantities.
The LD20-0600L liquid flow sensor is based on Sensirion's proven CMOSens technology and optimises costs by simplifying the design without sacrificing easy fluidic, electrical and mechanical connections. Luer lock fittings ensure safe and secure integration into the fluidic line and the straight and unobstructed flow channel design has no moving parts. Medical-grade wetted materials provide outstanding chemical resistance and excellent media compatibility. While it can provide bidirectional measurement of ultra-low flow rates up to 20 ml/h, the sensor can also be used to detect common failure modes such as occlusion, air in line or free flow with unprecedented speed and sensitivity.
Credit(s)
Further reading:
Self-learning AI sensor for fitness tracking
TRX Electronics Analogue, Mixed Signal, LSI
The Bosch BHI260AP is ideal for always-on sensor applications like wrist wearables, hearables, smartphones, AR/VR headsets and controller device.
Read more...
---
Sensor nodes for reliable air quality data
TRX Electronics Analogue, Mixed Signal, LSI
The advanced sensors offer easy integration, fully calibrated outputs with a digital interface, and optimal measurement of vital air quality parameters.
Read more...
---
High-resolution magnetic position sensor
TRX Electronics Analogue, Mixed Signal, LSI
Featuring a 14-bit sensor array and analog front-end, the sensor uses a differential measurement method to compensate for external stray magnetic fields.
Read more...
---
Absolute pressure sensor
Altron Arrow Analogue, Mixed Signal, LSI
The sensing element, which detects absolute pressure, consists of a suspended membrane manufactured using a special process developed by STMicroelectronics.
Read more...
---
2- and 4-output fanout clock buffers
Altron Arrow Analogue, Mixed Signal, LSI
Both devices support 2,5/3,3 V power supplies with separate input and output supply voltages for level shifting.
Read more...
---
Wire-to-board connectors with 0,8 mm pitch
Electrocomp Interconnection
An extensive array of circuit sizes (2 to 20 circuits) enables the extension of device functionality and features to meet product development needs.
Read more...
---
Regional edition of Degson catalogue
Electrocomp Technical Literature
Electrocomp has released a special regional edition of Degson's short-form general catalogue. The 8-page catalogue summarises Degson's range of PCB terminal blocks, DIN-rail terminal blocks, heavy-duty 
...
Read more...
---
Type-C connectors for USB 2.0
Electrocomp Interconnection
The USB4105 Type-C USB 2.0 connectors from GCT (Global Connector Technology) offer a 5 A current rating, 100 MΩ insulation resistance and 3,31 mm profile. They feature 16 contacts with a top-mount position 
...
Read more...
---
Dual-port PoE++ transformer
Electrocomp Passive Components
Bourns' Magnetics product division is introducing the new Model SM13143EL dual-port LAN 10/100/1000 Base-T PoE++ transformer for Ethernet applications. This part is IEEE 802.3bt Type 3 (also known as 
...
Read more...
---
Range of passive and active antennas
Electrocomp Telecoms, Datacoms, Wireless, IoT
Kyocera AVX' antennas are available in standard and custom configurations, using a wide variety of materials to ease antenna integration and maximise performance. The company's passive antennas boast 
...
Read more...
---