printer friendly version
Power supplies and electronic loads for testing fuel cells
25 August 2021
Test & Measurement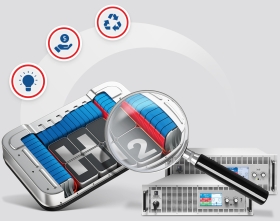 In response to demand for growing hydrogen fuel cell development and testing, EA Elektro-Automatik offers a series of powerful bidirectional DC power supplies and regenerative DC loads ideal for fuel cell stack testing.
Fuel cell performance requires adherence to a variety of specifications, so test engineers must conduct a series of characterisation, performance and durability tests. Fuel cells are characterised by determining their resistance and their performance is usually indicated via polarisation curves by measuring their voltage and current. A durability test is the test after a fuel cell stack reaches operating conditions – the stack is subjected to a continuous series of charge/discharge cycles to ensure that it will work safely and reliably in the field.
Both the PSB power supplies and the ELR electronic loads have built-in function generators that include arbitrary waveform generation, which simplifies characterisation, performance and durability testing of fuel cells and the devices the fuel cells will power. Unlike other loads that need a separate AC instrument, the ELR load, with its built-in waveform generator, can perform the perturbation test to determine fuel cell resistance. In addition, both the PSB supplies and the ELR loads, with their built-in waveform generators, can subject the fuel cell-under-test to dynamic load variations for performance and durability testing. The PSB supply can add ripple and noise onto its output to determine how well a fuel-cell powered device can perform under a wide range of conditions.
The PSB DC supply also has an internal X-Y generator that allows the supply to simulate the output of a fuel cell. At various voltages, the PSB supply can vary its output resistance to generate a current characteristic of the fuel cell at the programmed voltage. Thus, the PSB supply can emulate the three phases of a fuel cell's characteristic output.
Both the PSB series supplies and the ELR loads offer true auto-ranging performance. The PSB supplies have a constant power characteristic output that allows for a wider range of voltage and current output with one instrument. The supplies can have ranges from 0-60 V or 0-2000 V. Current outputs can be up to 1000 A at 30 V with the 30 kW supply. Similarly, the ELR loads can sink up to 2000 V or 1000 A with the 30 kW load.
Auto-ranging power supplies and loads enable users to obtain higher voltages and currents without having to oversize the supply or the load. Thus, one instrument provides a wider range of testing capacity and versatility for use in multiple test applications. The PSB supplies and ELR loads save test costs and test rack space compared with fixed-range instruments.
The PSB series supplies and the ELR loads have USB and Ethernet as standard interfaces. Furthermore, a number of optional interfaces allow control from a PC or a programmable controller. Some of the optional interfaces include RS-232, Profibus, CAN bus and ModBus. With the CAN interface, the instruments can interface to an automotive control system.
The PSB series power supplies have the added value of being a 2-quadrant instrument. These supplies, therefore, can function as both a source and a load. As a load, both the PSB supplies and the ELR loads are regenerative loads and can return the absorbed power to the grid with more than 96% efficiency. That significantly reduces the cooling requirements on the instrument. Less cooling enables space-saving with a smaller instrument for a given power capacity and saves on power consumption costs. Fan noise is also significantly reduced. With high-power loads, such as kW loads, regenerative energy recovery offers substantial savings on utilities, smaller-sized instruments and longer instrument life with less thermally stressed components.
The supplies and the load have a multi-coloured touchscreen display that shows all programmed and measured values and have only two control knobs.
Credit(s)
Further reading:
Power device analyser
Concilium Technologies Test & Measurement Power Electronics / Power Management
Keysight's new PD1550A is an advanced double-pulse tester that enables customers to test entire power modules quickly and easily.
Read more...
---
Evaluation board for MEMS devices
Altron Arrow Test & Measurement
The STEVAL-MKI220V1 is an adaptor board designed to facilitate the evaluation of MEMS devices in the LPS27HHTW product family.
Read more...
---
USB-attachable vector network analyser
Conical Technologies Test & Measurement
Mini-Circuits announced the release of its new eVNA-63, a high-quality and affordable test instrument with a bandwidth from 300 kHz to 6 GHz. The unit has a typical dynamic range of 132 dB, a trace noise 
...
Read more...
---
Dedicated logger for energy surveys and load studies
Comtest Test & Measurement
Designed for energy-conscious consumers of electricity, the Fluke 1730 three-phase electrical energy logger simplifies the task of discovering sources of wasted energy. Its ability to profile energy usage 
...
Read more...
---
Compact test fixtures for small PCB volumes
Electronic Industry Supplies Test & Measurement
In order to offer the market a space-saving option, Ingun's manual test fixtures MA 350/F, MA 360/F, MA 260/F and MA 160/F were designed for testing small volumes of printed circuit boards (PCB). These 
...
Read more...
---
Programmable power supplies and electronic loads
Vepac Electronics Power Electronics / Power Management
EA Elektro-Automatik is now offering the 10000-Series enhanced and expanded line of EA-PS and EA-PSI programmable DC power supplies, EA-PSB bidirectional DC power supplies and EA-ELR regenerative DC electronic 
...
Read more...
---
Precision current loop calibrators
Comtest Test & Measurement
The Fluke 709 and 709H mA loop calibrators are built around a user-friendly interface with a quick-set rotary encoder knob.
Read more...
---
IO Ninja cuts through Modbus analysis complexity
RF Design Test & Measurement
There is no need to translate every bit of the packet manually – the user just adds the layer to the pipeline and everything is automatically parsed for them.
Read more...
---
Heavy-duty incremental and absolute encoders
Vepac Electronics Switches, Relays & Keypads
Wachendorff Automation now offers a heavy-duty variant, in a very compact 36 mm design, as part of its range of incremental encoders in the WDGP series, as well as absolute encoders in the WDGA series. 
...
Read more...
---
Open-frame 100 W power supplies
Vepac Electronics Power Electronics / Power Management
The FCB100 series of AC-DC power supplies from XP Power is certified to medical (including BF), ITE and household standards for Class I and II operation (no ground connection). With Class B conducted 
...
Read more...
---