printer friendly version
Compact X2 capacitors for noise suppression
25 August 2021
Circuit & System Protection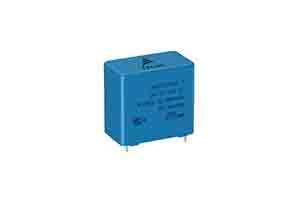 A new series of very compact EPCOS X2 capacitors for noise suppression, rated for 275 V a.c. and covering a capacitance range from 33 nF to 1 µF, has been released by TDK. Depending on the capacitance value, the interference suppression components have lead spacings of 10 mm (B32921X*/Y*), 15 mm (B32922X*/Y*) and 22,5 mm (B32923X*/Y*).
Particularly noteworthy are the very compact dimensions ranging from only 4,0 x 9,0 x 13,0 mm (33 nF) to 10,5 x 16,5 x 26,5 mm (1 µF). The capacitors are UL and EN approved and the case and potting materials comply with UL94 V-0. They are also certified to IEC 60384-14:2013 and have a maximum operating temperature of 110°C.
Thanks to their very compact dimensions, the new RoHS-compliant capacitors are suitable for household appliances and consumer electronics in indoor applications.
Credit(s)
Further reading:
Clearing the Static: ESD training and compliance in the workplace
Actum Group Circuit & System Protection
ESD (electrostatic discharge) can change the electrical characteristics of a semiconductor device by degrading or destroying it entirely. ESD can potentially damage electronic systems, causing equipment 
...
Read more...
---
Digital flow sensor for respiratory devices
Electrocomp Analogue, Mixed Signal, LSI
The compact SFM3119 digital flow meter is the successor to Sensirion's SFM3100 mass flow meter. Compared to its predecessor, the SFM3119 comes with a digital I
2
C output as well as improved specifications.  
...
Read more...
---
Liquid flow sensor in small planar package
Electrocomp Analogue, Mixed Signal, LSI
With a tiny footprint of only
10 x 10 mm
, Sensirion's LPG10-1000 liquid flow sensor provides optimal performance and speed in measuring liquid flow in a planar microfluidic glass substrate, with down-mount 
...
Read more...
---
Evaluation kit for formaldehyde sensor
Electrocomp Design Automation
The SEK-SFA30 evaluation kit has been designed for easy evaluation of Sensirion's SFA30 formaldehyde sensor. The SFA30 is designed for easy integration into air purifiers, demand-controlled ventilation 
...
Read more...
---
Lightning current protection for four-conductor systems
Phoenix Contact Circuit & System Protection
The Termitrab complete product family from Phoenix Contact provides narrow surge protective devices for measurement and control technology. With immediate effect, the TTC-6P-4… protective devices for 
...
Read more...
---
Tiny 5 W to 150 W power modules
Electrocomp Power Electronics / Power Management
TDK's series of µPOL DC-DC converters, with their compact size and high power density, are ideal point-of-load solutions for applications such as big data, machine learning (ML), artificial intelligence 
...
Read more...
---
Standalone GNSS antenna module
Electrocomp Telecoms, Datacoms, Wireless, IoT
The LS2003C-G from Locosys is a complete standalone GNSS smart antenna module, including embedded patch antenna and GNSS receiver circuits. The module can simultaneously acquire and track multiple satellite 
...
Read more...
---
Clearing the Static: ESD cleaning
Actum Group Circuit & System Protection
To avoid ESD damage to electronic assemblies or components, they must be manufactured, handled, packaged and stored in an ESD protected environment.       It is essential that these ESD protected workplace 
...
Read more...
---
RFID tags in different frequency ranges
Electrocomp Telecoms, Datacoms, Wireless, IoT
Transponders in different frequency ranges are used in a variety of applications and technical sectors. Neosid offers RFID transponders and antenna devices for the following frequency ranges:   
• LF - 
...
Read more...
---
20 mm higher pin heatsink provides 20% better performance
Sivan Electronic Supplies Circuit & System Protection
With an overall height of 65 mm, the new PO 98-98-65-AL pin heatsink from Alutronic exceeds the established maximum standard height of 45 mm. In the case of the PO 98-98-65-AL, the additional 20 mm improves 
...
Read more...
---