printer friendly version
Bumper sales quarter restores Samsung's lead over Intel
25 August 2021
News
IC Insights has released its August update to the 2021 McClean Report, which includes a review of the top 25 semiconductor sales leaders for the second quarter of calendar year 2021 (2Q21). ICs and optoelectronics, sensors and discretes (O-S-Ds) are included in these figures.

Figure 1. 2Q21 top 10 semiconductor sales leaders ($M, including foundries).
Focusing on the top 10 semiconductor sales leaders, the list in Figure 1 includes six suppliers headquartered in the US, two in South Korea and two in Taiwan and consists of four fabless companies (Qualcomm, Nvidia, Broadcom and MediaTek) and one pure-play foundry (TSMC).
It took $4,3 billion in semiconductor sales to be ranked as a top-10 semiconductor supplier in the period under review. Collectively, these 10 suppliers saw their 2Q21 sales rise 10% to $95,5 billion, outpacing the 8% growth for the total semiconductor industry.
Driven by surging demand and rising prices for DRAM and Flash memory, Samsung, the world's largest memory supplier, saw its total semiconductor sales increase 19% to $20,3 billion, moving it past Intel and into first place to become the world's largest semiconductor supplier for 2Q21 (Figure 2). Samsung was previously ranked as the top semiconductor supplier through much of 2017 and 2018 when the memory market experienced its last cyclical upturn and the company last enjoyed quarterly sales in excess of $20 billion in 2018 during the peak of the previous memory upturn. Demand for memory ICs is forecast to continue this quarter with Samsung's semiconductor sales projected to rise another 10% to $22,3 billion in 3Q21, further widening its lead over Intel.
Also moving up in the 2Q ranking were Nvidia and MediaTek. Nvidia's 14% second quarter increase came on the strength of continued growth of the company's important data centre and gaming segments. Meanwhile, MediaTek's sales increased 17% in 2Q21, continuing an impressive sales upturn driven by strong demand for 5G smartphones and consumer multimedia systems that first ramped up during the Covid-19 virus pandemic in 2020. Memory suppliers SK Hynix and Micron also enjoyed strong quarterly sales increases of 21% and 16%, respectively, though their positions in the top 10 remained unchanged.
Meanwhile, sales at Intel, TSMC and Qualcomm grew by a rather unremarkable 3% in 2Q21 and Broadcom's sales increased only 1%. Intel's semiconductor sales were $19,3 billion in 2Q21, far greater than most others, but its 3% growth rate was far smaller than some of its key rivals (AMD was ranked just outside the top 10 list with sales that increased 12% in 2Q21).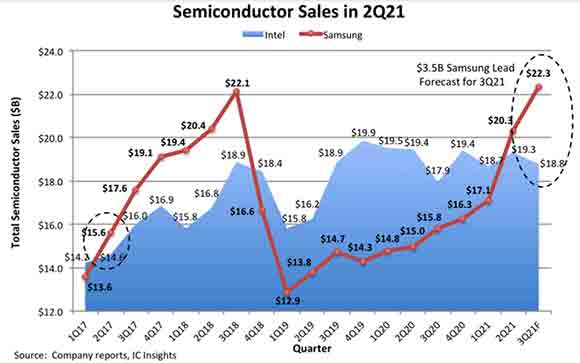 Figure 2. Samsung displaces Intel again for top spot in semiconductor sales in 2Q21.
The top 10 semiconductor companies also released their sales guidance for 3Q21, with sales expectations ranging from -3% at Intel to +12% for Qualcomm. These expectations continue to support IC Insights' forecast for at least a 23% increase in the worldwide semiconductor market this year.
For more information visit www.icinsights.com
Further reading:
Innovation Summit 2021 showcases SA's top tech entrepreneurs
27 October 2021 , News
The bar for tech innovation was set high when investors, industry experts and entrepreneurs from all corners of the globe joined the Innovation Summit's first ever three-day hybrid event, held at the 
...
Read more...
---
PICMG ratifies IoT.1 firmware specification
27 October 2021 , News
PICMG, a leading consortium for the development of open embedded computing specifications, announced the ratification of the IoT.1 specification defining a communication standard between sensors/effecters 
...
Read more...
---
STEM programme takes African students closer to space
27 October 2021 , News
Intelsat, operator of the world's largest integrated satellite and terrestrial network, is expanding its partnership with MaxIQ Space (formerly Xinabox) in delivering its Xinabox Space STEM (science, 
...
Read more...
---
Company profile: ChipOnBoard
27 October 2021, ChipOnBoard , News
From a tweezer to automatic pick-and-place machines ChipOnBoard sprang into existence in 2007 in the suburb of Phoenix, 25 km northwest of Durban Central in KwaZulu-Natal.
Read more...
---
From the editor's desk: China's growing hunger for chips
27 October 2021, Technews Publishing , News
No, this column is not about the chips you eat, I'm talking about the chips we in the electronics industry know and love best – those of the semiconductor variety. In light of China's escalating aggression 
...
Read more...
---
Renesas/Dialog synergy delivers winning combinations
29 September 2021, Hi-Q Electronics , News
Renesas Electronics and Dialog Semiconductor have officially joined forces, resulting in an immediate benefit to customers as Renesas announces 39 new 'Winning Combinations'. These expert designs showcase 
...
Read more...
---
Prototype chip decodes any type of data sent across a network
29 September 2021 , Editor's Choice, News
The silicon chip can decode any error-correcting code through the use of a novel algorithm known as Guessing Random Additive Noise Decoding (GRAND).
Read more...
---
RFiber adds high-reliability supplier to its stable
25 August 2021, RFiber Solutions , News
RFiber Solutions has expanded its portfolio by establishing a distribution channel for X-REL Semiconductor's offering into the South African market. RFiber says it is optimistic about the solutions 
...
Read more...
---
ON Semiconductor shortens its name to onsemi
25 August 2021 , News
ON Semiconductor, a well-known name in the IC vendor landscape over many years, has changed its trading name to onsemi and says it has refreshed its brand as a next step in the company's evolution to 
...
Read more...
---
Online sensor technologies and resources content
29 September 2021 , News
Mouser Electronics is helping to empower today's design engineers with insightful content around exciting new sensor technologies enabling the latest design solutions. The global authorised distributor 
...
Read more...
---