printer friendly version
Bumper sales quarter restores Samsung's lead over Intel
25 August 2021
News
IC Insights has released its August update to the 2021 McClean Report, which includes a review of the top 25 semiconductor sales leaders for the second quarter of calendar year 2021 (2Q21). ICs and optoelectronics, sensors and discretes (O-S-Ds) are included in these figures.

Figure 1. 2Q21 top 10 semiconductor sales leaders ($M, including foundries).
Focusing on the top 10 semiconductor sales leaders, the list in Figure 1 includes six suppliers headquartered in the US, two in South Korea and two in Taiwan and consists of four fabless companies (Qualcomm, Nvidia, Broadcom and MediaTek) and one pure-play foundry (TSMC).
It took $4,3 billion in semiconductor sales to be ranked as a top-10 semiconductor supplier in the period under review. Collectively, these 10 suppliers saw their 2Q21 sales rise 10% to $95,5 billion, outpacing the 8% growth for the total semiconductor industry.
Driven by surging demand and rising prices for DRAM and Flash memory, Samsung, the world's largest memory supplier, saw its total semiconductor sales increase 19% to $20,3 billion, moving it past Intel and into first place to become the world's largest semiconductor supplier for 2Q21 (Figure 2). Samsung was previously ranked as the top semiconductor supplier through much of 2017 and 2018 when the memory market experienced its last cyclical upturn and the company last enjoyed quarterly sales in excess of $20 billion in 2018 during the peak of the previous memory upturn. Demand for memory ICs is forecast to continue this quarter with Samsung's semiconductor sales projected to rise another 10% to $22,3 billion in 3Q21, further widening its lead over Intel.
Also moving up in the 2Q ranking were Nvidia and MediaTek. Nvidia's 14% second quarter increase came on the strength of continued growth of the company's important data centre and gaming segments. Meanwhile, MediaTek's sales increased 17% in 2Q21, continuing an impressive sales upturn driven by strong demand for 5G smartphones and consumer multimedia systems that first ramped up during the Covid-19 virus pandemic in 2020. Memory suppliers SK Hynix and Micron also enjoyed strong quarterly sales increases of 21% and 16%, respectively, though their positions in the top 10 remained unchanged.
Meanwhile, sales at Intel, TSMC and Qualcomm grew by a rather unremarkable 3% in 2Q21 and Broadcom's sales increased only 1%. Intel's semiconductor sales were $19,3 billion in 2Q21, far greater than most others, but its 3% growth rate was far smaller than some of its key rivals (AMD was ranked just outside the top 10 list with sales that increased 12% in 2Q21).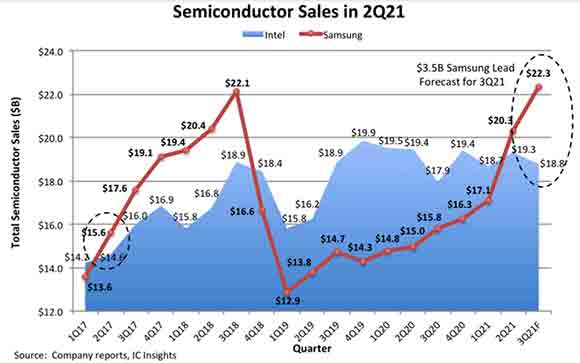 Figure 2. Samsung displaces Intel again for top spot in semiconductor sales in 2Q21.
The top 10 semiconductor companies also released their sales guidance for 3Q21, with sales expectations ranging from -3% at Intel to +12% for Qualcomm. These expectations continue to support IC Insights' forecast for at least a 23% increase in the worldwide semiconductor market this year.
For more information visit www.icinsights.com
Further reading:
Quectel masterclass: IoT device application development
iCorp Technologies News
Quectel has announced the latest masterclass in a series of technical webinars titled "Accelerate wireless IoT device application development with Azure RTOS on STM32 MCUs".
Read more...
---
ST announces status of common share repurchase programme
News
The repurchase programme took place over the period from 11 to 15 July 2022 and saw ST repurchasing 210 462 ordinary shares.
Read more...
---
Actum Group leads in the interconnect industry
Actum Electronics News
Actum Group is a specialist importer and distributor of industrial and electronic products in Southern Africa and a leader in the interconnect industry.
Read more...
---
From the editor's desk: Do we have the power?
Technews Publishing News
On a recent trip to Grahamstown in the Eastern Cape I was reminded, quite rudely and abruptly to be honest, of the load shedding that has plagued South Africa for the last few years. Living in KZN, we 
...
Read more...
---
Top five MPU suppliers strengthen market dominance
Editor's Choice News
The new ranking shows that long-time leader in microprocessor units, Intel, has moved downwards closer to half the total worldwide sales in microprocessors.
Read more...
---
New meta-lens revolutionises vacuum UV optics
News
A research team co-led by City University of Hong Kong have successfully developed a novel vacuum ultra-violet (VUV) meta-lens which can generate and focus the UV light.
Read more...
---
Electronics news digest
Technews Publishing Electronic News Digest News
The Semiconductor Industry Association (SIA) has announced global semiconductor industry sales were $51,8 billion in the month of May 2022, an increase of 18,0% over the May 2021 total of $43,9 billion 
...
Read more...
---
EVENTS
Events News
IFA Berlin
2-6 September Berlin, Germany This event aims to present the latest products and innovations in the commercial electronics industry. It will offer a comprehensive overview of the international 
...
Read more...
---
Going beyond with HONOR
MyKay Tronics Editor's Choice News
The tempo of business in China is lightning fast. But if you are responsive and go a step beyond, the rewards can be great. In just 15 days, Mycronic delivered 30 dispensing systems to HONOR.
Read more...
---
Global cellular IoT connections increase 22%
News
A new report says that the global number of cellular IoT subscribers increased by 22% during 2021 and that the number of cellular IoT devices will reach 4,3 billion by 2026.
Read more...
---