printer friendly version
Lead-acid battery tester provides audio guidance
25 August 2021
Test & Measurement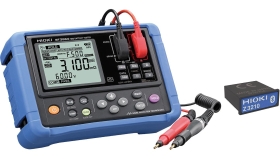 Nowadays, adoption of renewable energy has surged as businesses work to realise a sustainable society and demand for lead-acid batteries for use in energy storage applications is expected to continue to grow in the future.
Lead-acid batteries must be inspected regularly, making it necessary to manage the resulting measurement data. However, it's all too easy to make mistakes when measuring and recording values at sites with large numbers of batteries, adversely impacting efficiency by requiring technicians to go back and repeat measurements. Additionally, data management has been made more labour-intensive by the lack of a simple solution for linking measurement data to measurement locations.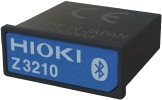 To address these issues and streamline growing maintenance workloads, Hioki developed an audio measurement and recording guide to assist in the measurement process, as well as profile registration functionality. This culminated in the launch of the BT3554-50 battery tester, which streamlines lead-acid battery diagnostics with audio measurement and recording guidance and functionality for registering profiles.
The instrument sets a high standard for interruptible power supply (UPS) and lead-acid battery diagnostics. The optional Z3210 wireless adaptor can be installed to enable Bluetooth wireless communications with smartphones and tablets, while GENNECT Cross, a free app from Hioki, can be used to review, manage and create reports using measured values.
When paired with GENNECT Cross, a technician's smartphone or tablet will provide audio guidance announcing the next battery number to be measured based on the profile (including location, device and battery number information). This feature prevents mistakes in sequencing and provides audio announcements of judgment results. Measurement data is automatically recorded on the instrument and sent to the smartphone at the same time. As a result, measurement and recording can be performed quickly and reliably.
By registering profiles with GENNECT Cross or the included desktop application GENNECT ONE and transferring them to the BT3554-50 prior to measurement, measurement data and diagnostic results can be linked to profile data when saving them. This capability simplifies data management, even when performing diagnostic work on large numbers of batteries.
Ordinarily, measured values will fail to stabilise if the UPS is operating due to the effects of noise from nearby inverters. Hioki's proprietary noise reduction technology allows accurate measurement, even in noisy environments.
Credit(s)
Further reading:
Modular, portable 5G RF spectrum analyser
RF Design Test & Measurement
The HC990EXF from Tallysman is an extended-filter embedded GNSS helical antenna. This RHCP (right-hand circular polarised) antenna provides a peak gain of 3 dBi at full bandwidth and has an axial ratio 
...
Read more...
---
RF receiver for spectrum regulators
Measuretest Test & Measurement
CRFS announced the launch of a new high-performance RF receiver, the RFeye Node 40-8, specifically designed to meet the needs of communications regulators. With a 40 MHz instantaneous bandwidth and 9 kHz 
...
Read more...
---
Single-instrument test solution for 5G IoT verification
Coral-i Solutions Test & Measurement
Anritsu has introduced the radio communication test station MT8000A 5G entry model, a single-instrument solution that supports multiple radio access technologies (RATs) of LTE through 5G NR. The 5G entry 
...
Read more...
---
Mixed-signal oscilloscopes with flexible resolutions
Comtest Test & Measurement
Pico Technology released the PicoScope 6000E Series FlexRes oscilloscopes, featuring eight channels with 500 MHz bandwidth, 16 digital channels and resolution of 8, 10 or 12 bits. The products work with 
...
Read more...
---
Critical airborne system testing from a single device
Measuretest Test & Measurement
New from Viavi Solutions is the AVX-10K flight line test set, enabling comprehensive performance verification testing of critical airborne systems from a simple-to-use device. The instrument helps avionics 
...
Read more...
---
PTP wander measurement for improved 5G network synchronisation
Coral-i Solutions Test & Measurement
Anritsu has added a function for PTP wander – a metric for evaluating frequency variations as low as 10 Hz with respect to the PTP (precision time protocol) network time synchronisation error – to the 
...
Read more...
---
IO Ninja adds flexibility with capabilities and subscriptions
RF Design Test & Measurement
The release of IO Ninja version 5.0 marks an opportune point for embedded designers to join the scores of professionals who have already adopted IO Ninja at Facebook, Siemens, Mitsubishi and many other 
...
Read more...
---
Using waveguide shorts and shims for RF testing
RF Design Test & Measurement
For many RF test applications in the higher frequencies, such as millimetre-waves, or for high-power use cases, rectangular waveguides are the interconnect solution of choice. In a similar vein to short-open-load-through 
...
Read more...
---
True RMS digital multimeter
Vepac Electronics Test & Measurement
The new PeakTech 2025 A offers a multitude of measurement functions for electrical variables for industry, trade, training, hobbyist and laboratory users. Of particular note is the integrated data interface, 
...
Read more...
---
First verified OTDOA positioning test for 5G NR
Coral-i Solutions Test & Measurement
The industry's first OTDOA (observed time difference of arrival) protocol conformance test for 5G New Radio (NR) has been verified with a device containing the MediaTek M70 5G modem and the Anritsu ME7834NR 
...
Read more...
---