printer friendly version
Lead-acid battery tester provides audio guidance
25 August 2021
Test & Measurement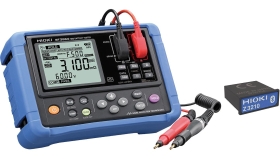 Nowadays, adoption of renewable energy has surged as businesses work to realise a sustainable society and demand for lead-acid batteries for use in energy storage applications is expected to continue to grow in the future.
Lead-acid batteries must be inspected regularly, making it necessary to manage the resulting measurement data. However, it's all too easy to make mistakes when measuring and recording values at sites with large numbers of batteries, adversely impacting efficiency by requiring technicians to go back and repeat measurements. Additionally, data management has been made more labour-intensive by the lack of a simple solution for linking measurement data to measurement locations.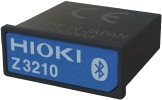 To address these issues and streamline growing maintenance workloads, Hioki developed an audio measurement and recording guide to assist in the measurement process, as well as profile registration functionality. This culminated in the launch of the BT3554-50 battery tester, which streamlines lead-acid battery diagnostics with audio measurement and recording guidance and functionality for registering profiles.
The instrument sets a high standard for interruptible power supply (UPS) and lead-acid battery diagnostics. The optional Z3210 wireless adaptor can be installed to enable Bluetooth wireless communications with smartphones and tablets, while GENNECT Cross, a free app from Hioki, can be used to review, manage and create reports using measured values.
When paired with GENNECT Cross, a technician's smartphone or tablet will provide audio guidance announcing the next battery number to be measured based on the profile (including location, device and battery number information). This feature prevents mistakes in sequencing and provides audio announcements of judgment results. Measurement data is automatically recorded on the instrument and sent to the smartphone at the same time. As a result, measurement and recording can be performed quickly and reliably.
By registering profiles with GENNECT Cross or the included desktop application GENNECT ONE and transferring them to the BT3554-50 prior to measurement, measurement data and diagnostic results can be linked to profile data when saving them. This capability simplifies data management, even when performing diagnostic work on large numbers of batteries.
Ordinarily, measured values will fail to stabilise if the UPS is operating due to the effects of noise from nearby inverters. Hioki's proprietary noise reduction technology allows accurate measurement, even in noisy environments.
Credit(s)
Further reading:
Anritsu announce a test solution for PCIe 5.0
Coral-i Solutions Test & Measurement
Granite River Labs and Anritsu Corporation have announced that their jointly developed PCI Express (PCIe) 5.0 automated test solution has been approved by PCI-SIG for "gold suite" product compliance testing.
Read more...
---
Connectors for the evolving world of test and measurement
Spectrum Concepts Test & Measurement
Instrumentation employed to test new products needs to become more advanced to keep up with rapidly advancing technology.
Read more...
---
Tektronix reimagines performance and portability in oscilloscopes
RS Components (SA) Test & Measurement
The new 2 series of oscilloscope can move from the bench to the field and back, enabling workflows previously not possible.
Read more...
---
All-in-one documenting process calibrators
Comtest Test & Measurement
The multifunction calibrators perform sourcing, simulation and measurement of pressure, temperature and electrical signals.
Read more...
---
Avoiding safety hazards during solar PV installations
Comtest Test & Measurement
Safety levels during solar panel commissioning and installation have been strengthened by Fluke's CAT III 1500 V true-RMS clamp meter.
Read more...
---
World's fastest 16-bit arbitrary waveform generator
Vepac Electronics Test & Measurement
The ARB Rider AWG-5000 has a 6,16 GS/s real-time update rate with a 16-bit vertical resolution and is available in two, four or eight channel models.
Read more...
---
Modbus probes gain support for parity options
RF Design Test & Measurement
The marquee feature of firmware version 1.06 facilitates the use of odd, even, mark or space parity modes when communicating with bus probes.
Read more...
---
Embrace the full power of J-Link debug probes
CST Electronics Test & Measurement
J-Link is supported by all major IDEs, from free Eclipse-based ones up to commercial-grade ones like Segger Embedded Studio.
Read more...
---
40 GHz RF power sensor
Conical Technologies Test & Measurement
Mini-Circuits' PWR-40PW-RC is a USB/Ethernet-controlled power sensor capable of making many different measurements.
Read more...
---
Power device analyser
Concilium Technologies Test & Measurement Power Electronics / Power Management
Keysight's new PD1550A is an advanced double-pulse tester that enables customers to test entire power modules quickly and easily.
Read more...
---