printer friendly version
Advanced warehouse automation at the heart of Mouser's success
25 August 2021
News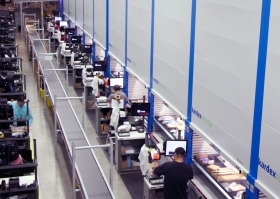 Mouser Electronics continues to invest heavily in state-of-the-art automation in its global distribution centre to increase order processing, accuracy and speed, helping customers further reduce time-to-market.
As of this year, Mouser has installed 102 vertical lift modules (VLMs), the most of any company in the western hemisphere and the fourth largest VLM installation in the world. VLMs are essentially giant vertical filing cabinets, complete with shelves and an automated elevator to bring components to employees' workstations. This increases efficiency and floor space and can reduce an employee's walking time by 45% or more.
In addition, the distribution centre features multiple Ultipack and I-Pack machines, a sophisticated automated system for sealing and labelling shipments that can process up to 14 orders per minute. Mouser is also currently installing an OPEX Perfect Pick system and an AutoStore system – all of these investments are focused on getting orders processed, picked, packed and shipped in a very short amount of time.
"As automation technologies continue to evolve at a rapid pace, so too do advances in warehousing and logistics," says Pete Shopp, Mouser Electronics' senior vice president of business operations. "The resulting efficiencies in picking and packing help meet our goal of providing exceptional customer service."
Mouser's massive global distribution centre, located on the 78-acre campus of its corporate headquarters in the Dallas-Fort Worth Metroplex, handles a vast inventory of more than 1,1 million unique SKUs for products from over 1100 manufacturer brands. Processing tens of thousands of orders weekly – most within 15 minutes – and maintaining a strong commitment to customer service, Mouser says its employees are handling the technological advancements with great success.
Further reading:
Innovation Summit 2021 showcases SA's top tech entrepreneurs
27 October 2021 , News
The bar for tech innovation was set high when investors, industry experts and entrepreneurs from all corners of the globe joined the Innovation Summit's first ever three-day hybrid event, held at the 
...
Read more...
---
PICMG ratifies IoT.1 firmware specification
27 October 2021 , News
PICMG, a leading consortium for the development of open embedded computing specifications, announced the ratification of the IoT.1 specification defining a communication standard between sensors/effecters 
...
Read more...
---
STEM programme takes African students closer to space
27 October 2021 , News
Intelsat, operator of the world's largest integrated satellite and terrestrial network, is expanding its partnership with MaxIQ Space (formerly Xinabox) in delivering its Xinabox Space STEM (science, 
...
Read more...
---
Company profile: ChipOnBoard
27 October 2021, ChipOnBoard , News
From a tweezer to automatic pick-and-place machines ChipOnBoard sprang into existence in 2007 in the suburb of Phoenix, 25 km northwest of Durban Central in KwaZulu-Natal.
Read more...
---
From the editor's desk: China's growing hunger for chips
27 October 2021, Technews Publishing , News
No, this column is not about the chips you eat, I'm talking about the chips we in the electronics industry know and love best – those of the semiconductor variety. In light of China's escalating aggression 
...
Read more...
---
Renesas/Dialog synergy delivers winning combinations
29 September 2021, Hi-Q Electronics , News
Renesas Electronics and Dialog Semiconductor have officially joined forces, resulting in an immediate benefit to customers as Renesas announces 39 new 'Winning Combinations'. These expert designs showcase 
...
Read more...
---
Prototype chip decodes any type of data sent across a network
29 September 2021 , Editor's Choice, News
The silicon chip can decode any error-correcting code through the use of a novel algorithm known as Guessing Random Additive Noise Decoding (GRAND).
Read more...
---
Bumper sales quarter restores Samsung's lead over Intel
25 August 2021 , News
IC Insights has released its August update to the 2021 McClean Report, which includes a review of the top 25 semiconductor sales leaders for the second quarter of calendar year 2021 (2Q21). ICs and optoelectronics, 
...
Read more...
---
RFiber adds high-reliability supplier to its stable
25 August 2021, RFiber Solutions , News
RFiber Solutions has expanded its portfolio by establishing a distribution channel for X-REL Semiconductor's offering into the South African market. RFiber says it is optimistic about the solutions 
...
Read more...
---
ON Semiconductor shortens its name to onsemi
25 August 2021 , News
ON Semiconductor, a well-known name in the IC vendor landscape over many years, has changed its trading name to onsemi and says it has refreshed its brand as a next step in the company's evolution to 
...
Read more...
---