printer friendly version
First verified OTDOA positioning test for 5G NR
29 September 2021
Test & Measurement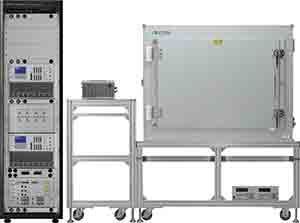 The industry's first OTDOA (observed time difference of arrival) protocol conformance test for 5G New Radio (NR) has been verified with a device containing the MediaTek M70 5G modem and the Anritsu ME7834NR 5G NR mobile device test platform.
5G NR introduces several new use cases involving positioning for applications in industrial automation, automotive and terrestrial arenas. Consequently, many positioning mechanisms have been added to the NR standards defined by 3GPP Release 16, with more planned for 3GPP Release 17 and later. OTDOA is one of the positioning methods which was originally introduced for 4G LTE and has been extended into 5G NR. OTDOA relies on measuring the time difference of a positioning reference signal (PRS) received from multiple cells and using this to compute its location with support from a location server.
The conformance tests are defined by 3GPP in TS 37.571-4 and have been submitted by Anritsu to 3GPP RAN WG5 (Radio Access Network Working Group 5), in addition to pending submissions to several other organisations for their approval.
The ME7834NR is a test platform for 3GPP-based protocol conformance test and carrier acceptance testing of mobile devices incorporating multiple radio access technologies. It supports 5G NR in both Standalone (SA) and Non-Standalone (NSA) modes in addition to LTE, LTE-Advanced, LTE-A Pro and W-CDMA. When combined with Anritsu's MA8171A OTA RF chamber and RF converters, the ME7834NR covers the sub-6 GHz and mmWave 5G frequency bands.
Credit(s)
Further reading:
Modular, portable 5G RF spectrum analyser
RF Design Test & Measurement
The HC990EXF from Tallysman is an extended-filter embedded GNSS helical antenna. This RHCP (right-hand circular polarised) antenna provides a peak gain of 3 dBi at full bandwidth and has an axial ratio 
...
Read more...
---
RF receiver for spectrum regulators
Measuretest Test & Measurement
CRFS announced the launch of a new high-performance RF receiver, the RFeye Node 40-8, specifically designed to meet the needs of communications regulators. With a 40 MHz instantaneous bandwidth and 9 kHz 
...
Read more...
---
Single-instrument test solution for 5G IoT verification
Coral-i Solutions Test & Measurement
Anritsu has introduced the radio communication test station MT8000A 5G entry model, a single-instrument solution that supports multiple radio access technologies (RATs) of LTE through 5G NR. The 5G entry 
...
Read more...
---
Mixed-signal oscilloscopes with flexible resolutions
Comtest Test & Measurement
Pico Technology released the PicoScope 6000E Series FlexRes oscilloscopes, featuring eight channels with 500 MHz bandwidth, 16 digital channels and resolution of 8, 10 or 12 bits. The products work with 
...
Read more...
---
Critical airborne system testing from a single device
Measuretest Test & Measurement
New from Viavi Solutions is the AVX-10K flight line test set, enabling comprehensive performance verification testing of critical airborne systems from a simple-to-use device. The instrument helps avionics 
...
Read more...
---
PTP wander measurement for improved 5G network synchronisation
Coral-i Solutions Test & Measurement
Anritsu has added a function for PTP wander – a metric for evaluating frequency variations as low as 10 Hz with respect to the PTP (precision time protocol) network time synchronisation error – to the 
...
Read more...
---
IO Ninja adds flexibility with capabilities and subscriptions
RF Design Test & Measurement
The release of IO Ninja version 5.0 marks an opportune point for embedded designers to join the scores of professionals who have already adopted IO Ninja at Facebook, Siemens, Mitsubishi and many other 
...
Read more...
---
Using waveguide shorts and shims for RF testing
RF Design Test & Measurement
For many RF test applications in the higher frequencies, such as millimetre-waves, or for high-power use cases, rectangular waveguides are the interconnect solution of choice. In a similar vein to short-open-load-through 
...
Read more...
---
True RMS digital multimeter
Vepac Electronics Test & Measurement
The new PeakTech 2025 A offers a multitude of measurement functions for electrical variables for industry, trade, training, hobbyist and laboratory users. Of particular note is the integrated data interface, 
...
Read more...
---
Mixed-signal oscilloscopes for general-purpose debugging
Concilium Technologies Test & Measurement
Powerful, intuitive to use and easy to own, the Infiniium EXR-Series extends the power of Keysight Technologies' Infiniium MXR oscilloscope family to customers that want to buy through the company's global 
...
Read more...
---