printer friendly version
LoRa – Where is the network?
29 September 2021 Telecoms, Datacoms, Wireless, IoT News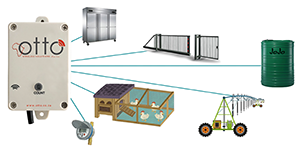 According to the LoRa Alliance's official website, there are currently 156 LoRa network operators in 171 countries across the globe, with over 208 million LoRa devices deployed. Officially, we do have a few LoRa network operators in South Africa, but those same operators' websites are completely devoid of any details and none appear to have a national footprint. It's doubtful that more than a handful of the 208 million deployed devices are therefore in South Africa.
There is an abundance of hardware devices readily available, from nodes to gateways and a wide variety of sensors. These devices are either imported from overseas, or locally designed and manufactured. But they all seem to be homeless – innovative devices looking for niche, bespoke designs managed by single entities for a specific service delivery at a time.
Frustratingly, there are also numerous international cloud-based dashboards available, but they are not financially viable to use, unless one is deploying a large number of nodes. Most seem designed for end users, while expecting the end customer to write the software adaptors necessary to cater for the correct understanding and presentation of information delivered from each type of node.
This all culminates in a frustrating situation where there appears to be little in the way of a true national network and confusion when it comes to figuring out who will approve nodes for said network or who will ensure that nodes are correctly configured so as to ensure they do not congest the network. And in the middle are hardware providers, who have been patiently waiting for the local LoRa network to become available, in order to enable the much-anticipated hardware sales.
Enter Otto Wireless Solutions, which has collaborated with local designers to have locally designed nodes, including a universal node capable of being customised to almost any common requirement, manufactured and ICASA-approved. We have a healthy choice of ICASA-approved gateways catering for any practical requirement. All that is missing is the backend and for this we refer clients to a Cape Town-based software company which takes delivery of gateways, deploys them at client-specific locations and provides backend services.
Depending on the number of nodes purchased per location, the client pays the software entity a setup charge, which is lower than the cost of a gateway and all that is left is to deploy ICASA-approved nodes connected to ICASA-approved gateways.
This approach may sound ridiculously simple and frankly, it is and if history has taught us anything, it is that simple approaches often work well. Do we need to snap our fingers and have a full national network overnight, or is the approach of setting up the network based on customer needs and specific locations a solid and sensible option? Time will tell.
For more information contact Chris Viveiros, Otto Wireless Solutions, +27 11 791 1033, chris@otto.co.za, www.otto.co.za
Credit(s)
Further reading:
4-channel programmable attenuator
27 October 2021, Conical Technologies , Telecoms, Datacoms, Wireless, IoT
Mini-Circuits' RC4DAT-8G-120H is a 4-channel programmable attenuator suitable for a wide range of signal-level control applications from 200 MHz to 8 GHz. Each independently controlled channel provides 
...
Read more...
---
Locally produced LoRa pressure node
27 October 2021, Otto Wireless Solutions , Telecoms, Datacoms, Wireless, IoT
LoRa devices and wireless RF technology are making it easy and economical for consumers to dive into the Internet of Things (IoT). The affordable sensors and gateways can also experience the same IoT 
...
Read more...
---
Magnetic-mount external GPS antenna
27 October 2021, RF Design , Telecoms, Datacoms, Wireless, IoT
The Magma X AA.178.301111 from Taoglas is an active, external magnetic-mount GPS antenna that operates in the L1/L5 band from 1176,45 to 1575,42 MHz. This linearly polarised antenna delivers a peak 
...
Read more...
---
RF power GaN transistor
27 October 2021, TRX Electronics , Telecoms, Datacoms, Wireless, IoT
Mouser Electronics is now stocking the A3G26D055N Airfast RF power gallium nitride (GaN) transistor from NXP Semiconductors. The transistor is designed for cellular base station applications requiring 
...
Read more...
---
Multi-mode LPWAN module
27 October 2021, iCorp Technologies , Telecoms, Datacoms, Wireless, IoT
The BG600L-M3 is a multi-mode LPWAN module which supports LTE Cat-M1, Cat-NB2, EGPRS and integrated GNSS and meets the 3GPP Release 14 specification. It is compatible with Quectel's GSM/GPRS/GNSS module 
...
Read more...
---
Standalone GNSS antenna module
27 October 2021, Electrocomp , Telecoms, Datacoms, Wireless, IoT
The LS2003C-G from Locosys is a complete standalone GNSS smart antenna module, including embedded patch antenna and GNSS receiver circuits. The module can simultaneously acquire and track multiple satellite 
...
Read more...
---
LPWAN markets and applications
27 October 2021, Avnet Silica, EBV Electrolink, Technews Publishing , Telecoms, Datacoms, Wireless, IoT
In South Africa, the large installed base of IoT devices using legacy telecommunication protocols is a hindrance to the advancement of LPWAN and the continued kerfuffle over radio frequency spectrum is hampering this market.
Read more...
---
Flight-proven video and telemetry transmitters
27 October 2021, Sivan Electronic Supplies , Telecoms, Datacoms, Wireless, IoT
IMC Microwave Industries offers a line of flight-proven synthesised video and telemetry digital transmitters, used primarily to relay telemetry data and video to a remote location. The transmitters are 
...
Read more...
---
433 MHz LoRaWAN module
27 October 2021, iCorp Technologies , Telecoms, Datacoms, Wireless, IoT
The Ra-06 LoRa module from AI-Thinker is an embedded wireless data transmission module based on LoRa spread-spectrum technology. It uses the LoRa network to provide users with wireless data transmission 
...
Read more...
---
RISC-V MCU with Wi-Fi and Bluetooth 5
27 October 2021, iCorp Technologies , Telecoms, Datacoms, Wireless, IoT
The ESP32-C3 from Espressif Systems is a single-core Wi-Fi and Bluetooth 5 (LE) microcontroller SoC based on the open-source RISC-V architecture. It strikes an ideal balance of power, I/O capabilities 
...
Read more...
---