printer friendly version
Company profile: Trinity IoT
29 September 2021
News
For us at Trinity IoT, there is nothing new about the Internet of Things. Our story goes back as far as 1994, when the first telcos launched in the new South Africa. Suddenly the economy had reopened, wireless GSM connectivity had arrived, and business problems could be solved in new ways.
Sensing the massive potential of GSM for businesses in South Africa, our founder and CEO, Ross Hickey, grabbed onto this opportunity to become a telco service provider. Initially this entailed importing and reselling M2M devices to businesses, which would then use the devices as the starting point for tracking and remote management solutions.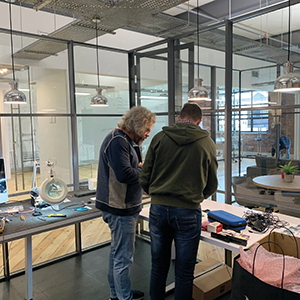 However, it soon became clear to the Trinity IoT team that customers were struggling to piece together the rest of the IoT puzzle. In fact, of the thousands of customers Trinity had sold hardware to, very few were benefiting from going digital. Success was limited to those who could afford to invest in the resources and expertise in-house to integrate M2M communications into their business. But not all companies could afford to put their business on hold while they built an entire cloud and networking infrastructure.
In light of our discovery, we set out to develop a white-label IoT platform called Connect, supported by a robust network and cloud infrastructure. This would enable growing companies to focus on their core business, while we managed their IoT estates. Most recently, we've added yet another layer to our offering: Ignite Bespoke Software Development for applications built on top of Connect.
Today, Trinity is an end-to-end IoT SaaS and professional services company, with a team based in Johannesburg and Cape Town. We support over 200 subscribers across 25 industries, enabling them to leverage their asset data made available through IoT.
Lean, mean IoT machine
Trinity IoT remains a lean company of under 50 employees, split between Johannesburg and Cape Town. Our goal is to keep our teams small, specialised and efficient. We take care of our employees, with many having been with us for over 15 years, some even 20.
Our customer acquisition model is multi-faceted. Some of our biggest customers were the result of a heated debate at a Sunday lunch – we like to call them our 'braai buddies'. Others found us via our website, www.trinity.co.za. We also actively engage with businesses on social media and publish thought leadership pieces on our blog or via media publications about the state of IoT and how businesses can use it to solve common problems. We try to create multiple touch points for potential customers, because many businesses don't think of themselves as needing IoT, even though remote asset management forms a core part of their business.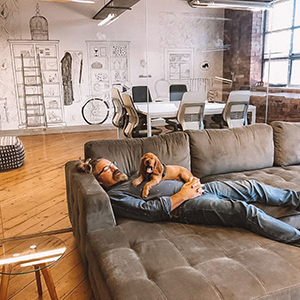 Climbing the value chain into the cloud
We are constantly moving up the value chain, because we know that businesses need help implementing end-to-end IoT solutions. We're now at the point where we service the entire IoT stack, from hardware to cloud services, network infrastructure, connectivity software and development services – we really do it all.
With the recent launch of an AWS (Amazon Web Services) region in Cape Town, the pressure to embrace digital transformation is higher than ever, which shows in the growing demand for bespoke IoT applications powered by cloud computing. However, even though there's no question that cloud computing is a key force enabling us to fast-track to a smarter future, businesses still face several barriers to entry that can make or break their deployments.
We empower such companies by providing the core infrastructure, platform and services needed to power GSM-based IoT across a range of industries and use cases. For businesses who wish to do even more with their data, we offer bespoke software development solutions built on top of Connect, and integrated in AWS and other cloud computing service providers.
---
What's in a name?
The name Trinity came from the fact that we had no name… A sponsor wanted to know what name to put on a bag and we said we did not have one, so he said "What about the Bud Spencer and Terence Hill movies: Trinity, a man with no name." And so we came to call ourselves Trinity!
Credit(s)
Further reading:
ICASA doles out provisional RF spectrum
News
The Independent Communications Authority of South Africa (ICASA) has concluded its analysis of applications for provisional assignment of radio frequency spectrum under the new ICT Covid-19 National State 
...
Read more...
---
productronica's hybrid format a success despite restrictions
News
Following its tried and trusted biennial scheduling, productronica 2021 was held on the fairgrounds of Messe München on 16-19 November. Strict hygiene rules were observed in accordance with Covid-19 protocols, 
...
Read more...
---
Report evaluates market for Li-ion battery recycling
News
In the past, the lack of end-of-life batteries meant that the Li-ion (lithium-ion) recycling market had little opportunity to prosper. The transition to electric vehicles (EVs) is changing this. Recycling 
...
Read more...
---
RS Components SA partners with Engineers Without Borders
RS Components (SA) News
The annual Engineering for People Design Challenge as well as the Inspiring and Building Community Leaders programmes kicked off earlier this year. The competition, now in its 10th year, is a year-long 
...
Read more...
---
Electronics News Digest
News
South Africa
Altron Arrow has signed a partnership to distribute Teltonika Networks' products in sub-Saharan Africa. This will help Altron Arrow to bring an even wider range of professional network connectivity 
...
Read more...
---
Personality profile: Doug Gunnewegh
Editor's Choice News
"They say if it doesn't kill you, it only makes you stronger, so by now all the survivors are superheroes."
Read more...
---
Panasonic commercialises high-reliability semiconductor substrate
News
Panasonic's Industrial Solutions Company has commercialised a semiconductor package substrate material (which it calls R-1515V) that enables both low package warpage and high assembly-level reliability. 
...
Read more...
---
ICASA commits to provisional assignment of high-demand spectrum
News
ICASA (the Independent Communications Authority of South Africa) has decided – following consultation with several of SA's telecoms infrastructure operators – to invite applications for provisional assignment 
...
Read more...
---
World-first demo of wireless-powered 5G base station
Editor's Choice News
Ericsson and PowerLight Technologies are exploring the possibility of delivering safe wireless power-beaming capabilities to enable cleaner and more sustainable operations for mobile networks.
Read more...
---
RS Components SA partners with Engineers Without Borders
RS Components (SA) News
The annual Engineering for People Design Challenge as well as the Inspiring and Building Community Leaders programmes kicked off earlier this year. The competition, now in its 10th year, is a year-long 
...
Read more...
---