printer friendly version
Postponed TUKS Robot Race Day winners announced
29 September 2021
News
Nine finalist teams of engineering students took to the track for the ultimate robot showdown as the highly anticipated annual TUKS Robot Race Day took place recently after being postponed from 2020 due to the Covid-19 pandemic.
Now in its eighth year, the event coordinated by the University of Pretoria's Faculty of Engineering, Built Environment and Information Technology has grown in leaps and bounds, with more students getting involved and showcasing their innovation, programming and engineering skills. This year saw more than 85 teams register to compete for the title, with preliminary rounds taking place online.
Students had to work remotely due to the ongoing pandemic and as such, paper tracks were designed so that they could be printed out on A4 pages and pasted together to allow the race to be attempted at home. They then had to upload a video of their MARV (microcontroller-based autonomous robotic vehicle) navigating the home track and these video submissions served as the initial rounds of the race.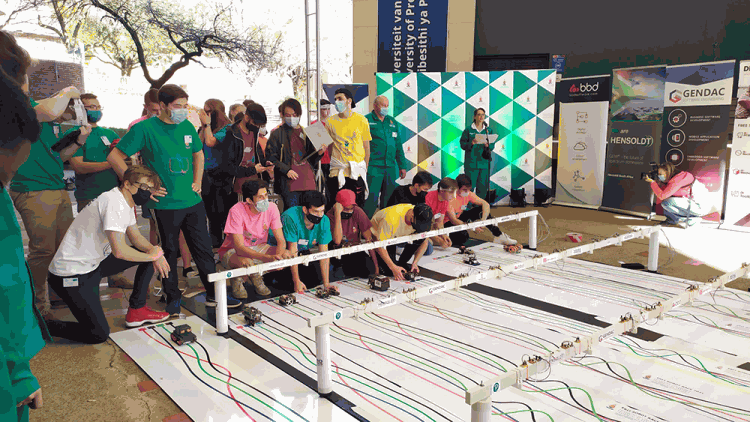 Third year engineering students await the countdown for the final race.
Professor Tania Hanekom, function head for Undergraduate Studies at the University of Pretoria, said that providing world-class education to its students is what it strives for across all departments and the Robot Race Day is just one of the ways education is enhanced. "Our annual Robot Race Day provides a platform to stimulate curiosity and creativity, which is crucial for the innovation and entrepreneurship that a career in engineering demands. The project guides aspiring engineers through a carefully planned process to develop a fundamental set of engineering skills which include hardware and software design skills, systems integration skills, the ability to work and function in a team, time management skills, perseverance and the good old indispensable 'engineering gut feeling' which comes only with experience in the execution of engineering projects," she said.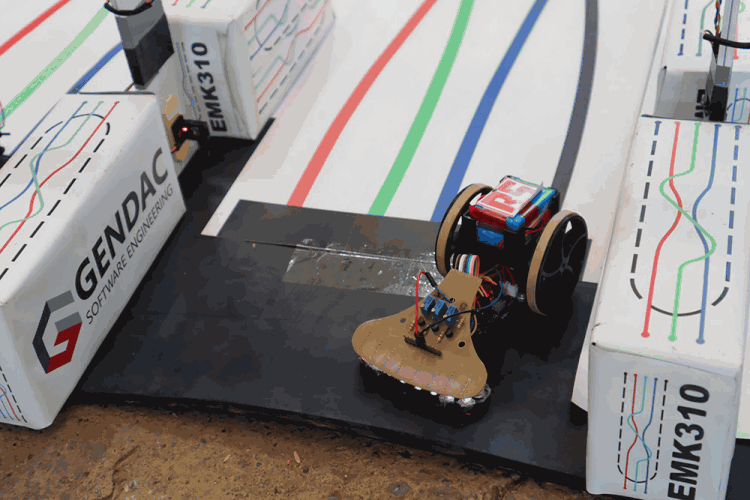 The winning car at the finish line, complete with RS Components livery.
Professor Hanekom also added that the educational objectives of the Robot Race Day were strongly supported by the university's partnerships with industry, which provide the necessary resources to maintain this flagship event. "On behalf of the students and the engineering faculty, I would like to thank RS Components South Africa for assisting us with the various components, batteries and support over the years. We look forward to future engagements with RS," she added.
The TUKS Robot Race Day offers students the opportunity to put theory into practice. Students are required to build autonomous robotic vehicles with a sensor system able to detect specific colours on the multi-coloured track – which is developed as part of their analog electronics module. The Race Day also gives them a platform to work as a team and to demonstrate innovation and technical skills in developing these robots.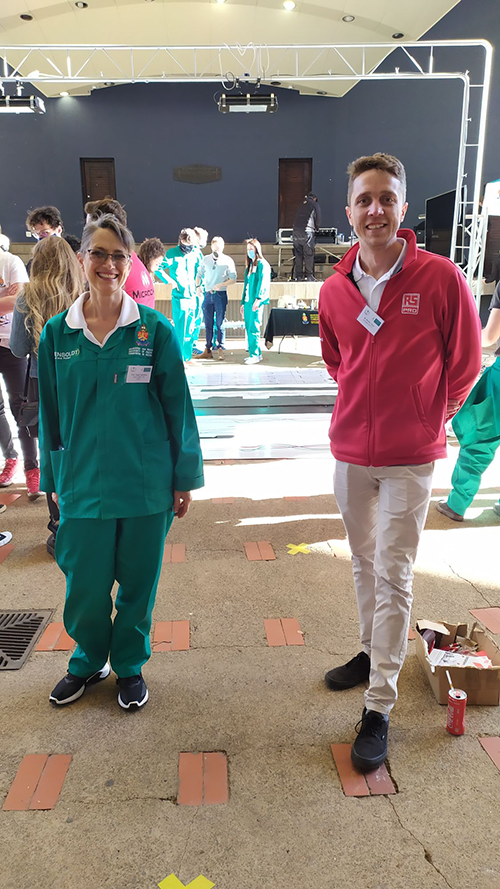 Postponed TUKS Robot Race Day winners announced
The 2021 edition's winners – Eben Benade, Dylan Bailie, Berno Myburg and Jean Pierre De La Rey – were elated after their robot raced in the grand final with a winning time of 9,8 seconds. De La Rey, a third-year student, said he was grateful to all the sponsors for their continued support of the TUKS Robot Race Day. "The right resources are the absolute key to any successful project. I would personally like to extend a huge thank you to RS Components SA for providing some of the components we needed to complete our robot," he said.
Wesley Hood, education specialist for RS Components SA, said that assisting in the development of the next generation of creators, innovators and engineers is high on the company's agenda. "RS Components' continued involvement in this project is in line with the company's education vision of supporting both professional and future engineers by giving them access to the components and tools they require to excel. This is further echoed in our DesignSpark platform which is a free-to-join online technical community for engineers, innovators and tinkerers of all ages from around the world, with more than a million members who can be of assistance to students and engineers working on real-world applications. I urge all students to register on the site and be a part of this global community. I would also like to commend Professor Hanekom and her team for their tremendous efforts to make the Robot Race Day an annual success," he said.
View a short video of the event here: https://youtu.be/G2tOCS228U4
Credit(s)
Further reading:
Innovation Summit 2021 showcases SA's top tech entrepreneurs
27 October 2021 , News
The bar for tech innovation was set high when investors, industry experts and entrepreneurs from all corners of the globe joined the Innovation Summit's first ever three-day hybrid event, held at the 
...
Read more...
---
PICMG ratifies IoT.1 firmware specification
27 October 2021 , News
PICMG, a leading consortium for the development of open embedded computing specifications, announced the ratification of the IoT.1 specification defining a communication standard between sensors/effecters 
...
Read more...
---
STEM programme takes African students closer to space
27 October 2021 , News
Intelsat, operator of the world's largest integrated satellite and terrestrial network, is expanding its partnership with MaxIQ Space (formerly Xinabox) in delivering its Xinabox Space STEM (science, 
...
Read more...
---
Company profile: ChipOnBoard
27 October 2021, ChipOnBoard , News
From a tweezer to automatic pick-and-place machines ChipOnBoard sprang into existence in 2007 in the suburb of Phoenix, 25 km northwest of Durban Central in KwaZulu-Natal.
Read more...
---
From the editor's desk: China's growing hunger for chips
27 October 2021, Technews Publishing , News
No, this column is not about the chips you eat, I'm talking about the chips we in the electronics industry know and love best – those of the semiconductor variety. In light of China's escalating aggression 
...
Read more...
---
Renesas/Dialog synergy delivers winning combinations
29 September 2021, Hi-Q Electronics , News
Renesas Electronics and Dialog Semiconductor have officially joined forces, resulting in an immediate benefit to customers as Renesas announces 39 new 'Winning Combinations'. These expert designs showcase 
...
Read more...
---
Prototype chip decodes any type of data sent across a network
29 September 2021 , Editor's Choice, News
The silicon chip can decode any error-correcting code through the use of a novel algorithm known as Guessing Random Additive Noise Decoding (GRAND).
Read more...
---
Bumper sales quarter restores Samsung's lead over Intel
25 August 2021 , News
IC Insights has released its August update to the 2021 McClean Report, which includes a review of the top 25 semiconductor sales leaders for the second quarter of calendar year 2021 (2Q21). ICs and optoelectronics, 
...
Read more...
---
RFiber adds high-reliability supplier to its stable
25 August 2021, RFiber Solutions , News
RFiber Solutions has expanded its portfolio by establishing a distribution channel for X-REL Semiconductor's offering into the South African market. RFiber says it is optimistic about the solutions 
...
Read more...
---
ON Semiconductor shortens its name to onsemi
25 August 2021 , News
ON Semiconductor, a well-known name in the IC vendor landscape over many years, has changed its trading name to onsemi and says it has refreshed its brand as a next step in the company's evolution to 
...
Read more...
---