printer friendly version
Industrial push-pull isolation transformers
29 September 2021
Passive Components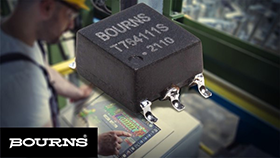 Components in the Bourns Model PAD00x-T764 series are low-profile, small-footprint isolation transformers with a primary inductance of 475 µH, maximum 11 V·µs ET constant, 400 V d.c. continuous operation, low DC resistance of 550-800 mΩ maximum and an operating temperature range of -40°C to 125°C.
Each transformer in the series is ideal for an isolated RS-485/RS-232 power supply. In addition, the isolation transformers are fit for any serial communication including CAN, RS-485, RS-422, RS-232, SPI, I2C and low-powered LAN.
The transformers operate in the push-pull configuration and they work well with many controllers including the Texas Instruments SN6501 and SN6505, the Maxim MAX253 and MAX845, Analog Devices ADM2485 and other equivalent drivers.
Credit(s)
Further reading:
Digital flow sensor for respiratory devices
Electrocomp Analogue, Mixed Signal, LSI
The compact SFM3119 digital flow meter is the successor to Sensirion's SFM3100 mass flow meter. Compared to its predecessor, the SFM3119 comes with a digital I
2
C output as well as improved specifications.  
...
Read more...
---
Liquid flow sensor in small planar package
Electrocomp Analogue, Mixed Signal, LSI
With a tiny footprint of only
10 x 10 mm
, Sensirion's LPG10-1000 liquid flow sensor provides optimal performance and speed in measuring liquid flow in a planar microfluidic glass substrate, with down-mount 
...
Read more...
---
Evaluation kit for formaldehyde sensor
Electrocomp Design Automation
The SEK-SFA30 evaluation kit has been designed for easy evaluation of Sensirion's SFA30 formaldehyde sensor. The SFA30 is designed for easy integration into air purifiers, demand-controlled ventilation 
...
Read more...
---
High-voltage chip divider in moulded package
Avnet Abacus Passive Components
Vishay has introduced the industry's first high-voltage chip divider to be offered in a ribbed, moulded package with compliant surface-mount leads. Designed to reduce component counts and improve TC tracking 
...
Read more...
---
Tiny 5 W to 150 W power modules
Electrocomp Power Electronics / Power Management
TDK's series of µPOL DC-DC converters, with their compact size and high power density, are ideal point-of-load solutions for applications such as big data, machine learning (ML), artificial intelligence 
...
Read more...
---
Standalone GNSS antenna module
Electrocomp Telecoms, Datacoms, Wireless, IoT
The LS2003C-G from Locosys is a complete standalone GNSS smart antenna module, including embedded patch antenna and GNSS receiver circuits. The module can simultaneously acquire and track multiple satellite 
...
Read more...
---
RFID tags in different frequency ranges
Electrocomp Telecoms, Datacoms, Wireless, IoT
Transponders in different frequency ranges are used in a variety of applications and technical sectors. Neosid offers RFID transponders and antenna devices for the following frequency ranges:   
• LF - 
...
Read more...
---
Compact X2 capacitors for noise suppression
Electrocomp Circuit & System Protection
A new series of very compact EPCOS X2 capacitors for noise suppression, rated for 275 V a.c. and covering a capacitance range from 33 nF to 1 µF, has been released by TDK. Depending on the capacitance 
...
Read more...
---
Common-mode filters for mobile devices
Electrocomp Circuit & System Protection
TDK has developed the TCM0403M Series of miniaturised thin-film common-mode filters for mobile devices. The 0403 case size (0,457 x 0,3 x 0,23 mm) is 58% smaller and 56% lighter than previous products. 
...
Read more...
---
High-voltage resistors can replace standard resistor chains
Altron Arrow Passive Components
A new series of AEC-Q200 qualified thick-film chip resistors, with operating voltages up to 3 kV and in the 2010 and 2512 case sizes, has been introduced by Vishay. With their high operating voltages, 
...
Read more...
---