printer friendly version
PTP wander measurement for improved 5G network synchronisation
27 October 2021
Test & Measurement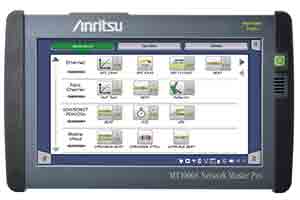 Anritsu has added a function for PTP wander – a metric for evaluating frequency variations as low as 10 Hz with respect to the PTP (precision time protocol) network time synchronisation error – to the company's compact 100 Gbps Network Master Pro MT1000A.
5G networks require very close to real-time communications supporting anticipated new services in various industries, such as autonomous vehicles, smart factories, telemedicine and others. PTP wander is a key index expressing long-term time synchronisation stability. Adding this improved time sync measurement to the MT1000A will play an important role in assuring 5G network quality.
Development background
Due to their advantages of ultra-high speeds, high reliability and low latency and multiple simultaneous connections, 5G communications networks are spreading into various use scenarios. Of these, high-reliability and low-latency communications are key features for implementing various industrial use cases.
Applications using these mission-critical technologies demand the lowest possible communications latency to facilitate equipment peer-to-peer communications at the highest speeds, while also requiring precision time synchronisation between each piece of equipment.
Additionally, implementing low-latency communications requires support for MEC (multi-access edge computing) architectures in 5G networks and precision time synchronisation is essential to achieving communications between MEC systems distributed at each site.
Implementing time synchronisation uses network technologies called SyncE and PTP and assuring high-accuracy and high-stability synchronisation using these technologies is linked to operators' service quality guarantees regarding high speeds and low latency.
Measuring wander supports quantitative evaluation of long-term synchronisation stability. In addition, support for measurement of new time synchronisation networks called PTS (partial timing support) will help assure customers' service quality guarantees.
Product outline
The MU100090B is a GNSS-disciplined oscillator supporting the GPS, QZSS, Galileo, Beidou and GLONASS constellations. It can receive signals from each satellite system and outputs UTC-traceable reference time and 10 MHz frequency signals. This reference timing is supplied to the portable MT1000A, supporting SyncE and PTP up to 25 Gbps to measure network time synchronisation accuracy.
Moreover, combining the SyncE Wander MU100011A-021 and MU100090B software options facilitates ITU-T recommended pass/fail evaluation of network-supplied Ethernet frequency accuracy. When used with the Site Over Remote Access MX109020A software, multiple MT1000A units located at separate sites can be remotely operated and monitored from a central office to support speedy troubleshooting when synchronisation problems occur.
Credit(s)
Further reading:
Modular, portable 5G RF spectrum analyser
RF Design Test & Measurement
The HC990EXF from Tallysman is an extended-filter embedded GNSS helical antenna. This RHCP (right-hand circular polarised) antenna provides a peak gain of 3 dBi at full bandwidth and has an axial ratio 
...
Read more...
---
RF receiver for spectrum regulators
Measuretest Test & Measurement
CRFS announced the launch of a new high-performance RF receiver, the RFeye Node 40-8, specifically designed to meet the needs of communications regulators. With a 40 MHz instantaneous bandwidth and 9 kHz 
...
Read more...
---
Single-instrument test solution for 5G IoT verification
Coral-i Solutions Test & Measurement
Anritsu has introduced the radio communication test station MT8000A 5G entry model, a single-instrument solution that supports multiple radio access technologies (RATs) of LTE through 5G NR. The 5G entry 
...
Read more...
---
Mixed-signal oscilloscopes with flexible resolutions
Comtest Test & Measurement
Pico Technology released the PicoScope 6000E Series FlexRes oscilloscopes, featuring eight channels with 500 MHz bandwidth, 16 digital channels and resolution of 8, 10 or 12 bits. The products work with 
...
Read more...
---
Critical airborne system testing from a single device
Measuretest Test & Measurement
New from Viavi Solutions is the AVX-10K flight line test set, enabling comprehensive performance verification testing of critical airborne systems from a simple-to-use device. The instrument helps avionics 
...
Read more...
---
IO Ninja adds flexibility with capabilities and subscriptions
RF Design Test & Measurement
The release of IO Ninja version 5.0 marks an opportune point for embedded designers to join the scores of professionals who have already adopted IO Ninja at Facebook, Siemens, Mitsubishi and many other 
...
Read more...
---
Using waveguide shorts and shims for RF testing
RF Design Test & Measurement
For many RF test applications in the higher frequencies, such as millimetre-waves, or for high-power use cases, rectangular waveguides are the interconnect solution of choice. In a similar vein to short-open-load-through 
...
Read more...
---
True RMS digital multimeter
Vepac Electronics Test & Measurement
The new PeakTech 2025 A offers a multitude of measurement functions for electrical variables for industry, trade, training, hobbyist and laboratory users. Of particular note is the integrated data interface, 
...
Read more...
---
First verified OTDOA positioning test for 5G NR
Coral-i Solutions Test & Measurement
The industry's first OTDOA (observed time difference of arrival) protocol conformance test for 5G New Radio (NR) has been verified with a device containing the MediaTek M70 5G modem and the Anritsu ME7834NR 
...
Read more...
---
Mixed-signal oscilloscopes for general-purpose debugging
Concilium Technologies Test & Measurement
Powerful, intuitive to use and easy to own, the Infiniium EXR-Series extends the power of Keysight Technologies' Infiniium MXR oscilloscope family to customers that want to buy through the company's global 
...
Read more...
---