printer friendly version
Capacitive touchscreen controllers
27 October 2021
Analogue, Mixed Signal, LSI
Microchip Technology is adding two new members to its family of IEC/UL 60730 Class B certified touchscreen controllers. The new MXT448UD-HA and MXT640UD-HA extend the Class B portfolio of devices beyond 10 inches, thus providing dedicated solutions for larger screen sizes as well as scalability to customers.
In addition to Class B, these new devices are also compliant with the IEC61000-4-6 Class A specification for conducted noise immunity up to 10 Vrms (Level 3 for industrial use). This enables products with a touchscreen interface to function in very harsh factory environments where electromagnetic interference can be caused by conveyer belts, power rails or assembly machinery.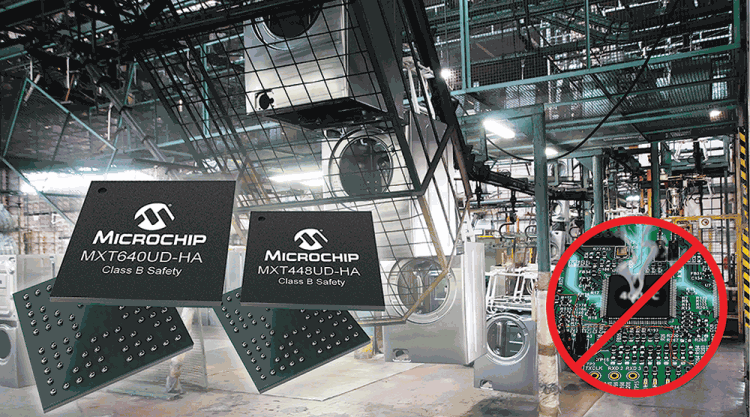 These new touchscreen controllers also come with two serial interfaces (SPI and I2C) that operate simultaneously, allowing redundancy in a design through the integration of safety features such as individual communication between the touchscreen controller to the host microprocessor in addition to a safety microcontroller.
Touch events are provided to both processors at the same time. This unique architecture shortens time to market and reduces development cost by allowing all safety-critical firmware to be developed on a dedicated safety-certified MCU (with mandatory source code review by an IEC/UL test lab) separate from the main processor running the appliance's GUI.
For more information contact EBV Electrolink, +27 21 402 1940, capetown@ebv.com, www.ebv.com
Credit(s)
Further reading:
Wireless asset tag supporting Quuppa RTLS
EBV Electrolink Telecoms, Datacoms, Wireless, IoT
onsemi unveiled a new system solution that overcomes the main challenges associated with developing asset tracking tags. Battery life has been a major obstacle to asset tag adoption, particularly within 
...
Read more...
---
Signal chain implementation for condition monitoring systems
Altron Arrow Editor's Choice Analogue, Mixed Signal, LSI
Like all system designs, there are many choices to be made when it comes to designing a condition monitoring system, each of which comes with various trade-offs and can drastically alter the DAQ signal chain design.
Read more...
---
Crossover MCU with 3D camera
EBV Electrolink DSP, Micros & Memory
NXP Semiconductors has announced the expansion of its NXP EdgeReady solution portfolio, adding a solution for secure face recognition that leverages a high-performance 3D structured light module (SLM) 
...
Read more...
---
High-speed SAR ADC family
Analogue, Mixed Signal, LSI
Texas Instruments expanded its portfolio of high-speed data converters with a broad family of successive-approximation register (SAR) analog-to-digital converters (ADCs) that enable high-precision data 
...
Read more...
---
Digital flow sensor for respiratory devices
Electrocomp Analogue, Mixed Signal, LSI
The compact SFM3119 digital flow meter is the successor to Sensirion's SFM3100 mass flow meter. Compared to its predecessor, the SFM3119 comes with a digital I
2
C output as well as improved specifications.  
...
Read more...
---
Liquid flow sensor in small planar package
Electrocomp Analogue, Mixed Signal, LSI
With a tiny footprint of only
10 x 10 mm
, Sensirion's LPG10-1000 liquid flow sensor provides optimal performance and speed in measuring liquid flow in a planar microfluidic glass substrate, with down-mount 
...
Read more...
---
Totem pole PFC controller
EBV Electrolink Power Electronics / Power Management
A new addition was made to ON Semiconductor's solution set for ultra-high density offline power supplies in the form of the NCP1680, a dedicated critical conduction mode totem pole PFC controller. It 
...
Read more...
---
Compact offline switcher ICs
EBV Electrolink Power Electronics / Power Management
Power Integrations introduced LinkSwitch-TNZ, a new switching power supply IC that combines offline power conversion, lossless zero-crossing detection and optionally, X-capacitor discharge functions in 
...
Read more...
---
Wide range of sensor technologies for innovative designs
TRX Electronics Analogue, Mixed Signal, LSI
Mouser Electronics has created a sensor technology content stream on its website that highlights the latest in innovative sensor solutions and resources from the world's top manufacturers. With the 
...
Read more...
---
LPWAN markets and applications
Avnet Silica EBV Electrolink Technews Publishing Telecoms, Datacoms, Wireless, IoT
In South Africa, the large installed base of IoT devices using legacy telecommunication protocols is a hindrance to the advancement of LPWAN and the continued kerfuffle over radio frequency spectrum is hampering this market.
Read more...
---