printer friendly version
RISC-V MCU with Wi-Fi and Bluetooth 5
27 October 2021
Telecoms, Datacoms, Wireless, IoT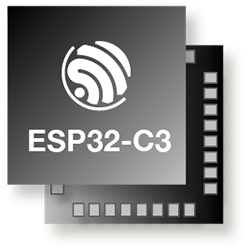 The ESP32-C3 from Espressif Systems is a single-core Wi-Fi and Bluetooth 5 (LE) microcontroller SoC based on the open-source RISC-V architecture. It strikes an ideal balance of power, I/O capabilities and security, thus offering an optimal cost-effective solution for connected devices. The availability of Wi-Fi and Bluetooth 5 (LE) connectivity not only makes the device's configuration easy, but it also facilitates a variety of use-cases based on dual connectivity.
The chip integrates a 32-bit RISC-V microcontroller core with a maximum clock speed of 160 MHz. With 22 configurable GPIOs, 400 KB of internal RAM and low-power-mode support, it can facilitate many different use-cases involving connected devices. The MCU comes in multiple variants with integrated and external Flash availability. Its high-temperature support makes it ideal for industrial and lighting use-cases.
The availability of features such as RSA-3072-based secure boot and AES-128-XTS-based Flash encryption can be used to build securely connected devices. The innovative digital signature peripheral and the HMAC peripheral provide a secure device identity for applications. Hardware acceleration support for cryptographic algorithms ensures good performance for secure communication both in a local network and with the cloud.
The ESP32-C3 is supported through Espressif's open-source ESP-IDF that already powers millions of devices in the field. This ensures the availability of a robust SDK and tools, as well as an easy application migration path for developers. It can also be used with an external host MCU, using ESP-AT and ESP-hosted solutions.
Credit(s)
Further reading:
Connectivity for IoT devices with SoftSIM
Otto Wireless Solutions Telecoms, Datacoms, Wireless, IoT
IoT device vendors are facing more and more complex cellular connectivity issues these days. Manufacturing is often outsourced to third-party factories and finished devices are being distributed to many 
...
Read more...
---
High-power GaN RF amplifier
RFiber Solutions Telecoms, Datacoms, Wireless, IoT
The CHA7618-99F is a three-stage GaN high-power amplifier (HPA) in the frequency band 5,5-18 GHz. This United Monolithic Semiconductors HPA typically provides 10 W of output power allied with 20% of power-added 
...
Read more...
---
ExpressLink modules for secure connectivity to AWS Cloud
RF Design Telecoms, Datacoms, Wireless, IoT
u-blox has announced two new modules designed to enable Amazon Web Services (AWS) cloud services for device and fleet management out of the box: the NORA-W2 AWS IoT ExpressLink Wi-Fi module and the SARA-R5 
...
Read more...
---
Cellular antenna for 4G/LTE and 5G NR
iCorp Technologies Telecoms, Datacoms, Wireless, IoT
Antenova's new 'Affini' (part number SRFL064) is a flexible printed circuit (FPC) antenna for the LTE, 4G and 5G NR networks in global markets. This antenna covers all main 4G bands plus 617-698 MHz which 
...
Read more...
---
Passive MMIC diplexer
RF Design Telecoms, Datacoms, Wireless, IoT
The MDPX-0710 from Marki Microwave is a passive MMIC diplexer with passbands from DC to 7 GHz (low band) and 10 to 26,5 GHz (high band). It has an insertion loss of less than 0,9 dB within its passbands 
...
Read more...
---
Automotive-grade GNSS signal splitter
RF Design Telecoms, Datacoms, Wireless, IoT
Tallysman Wireless has added the TW162A automotive-grade 'Smart Power' GNSS signal splitter to its line of GNSS accessories. The device supports the full GNSS spectrum: GPS/QZSS-L1/L2/L5, QZSS-L6, GLONASS-G1/G2/G3, 
...
Read more...
---
u-blox extends 'bring your own SIM' approach to MQTT
RF Design Telecoms, Datacoms, Wireless, IoT
u-blox has introduced a service that gives IoT sensor network developers the flexibility to combine any cellular connectivity with all the benefits of MQTT communication. The u-blox MQTT Flex service 
...
Read more...
---
AI voice development kit
iCorp Technologies Computer/Embedded Technology
Espressif Systems announced the launch of its AI voice development kit, ESP32-S3-BOX, which provides a platform for developing the control of smart devices with offline and online voice assistants. The 
...
Read more...
---
GNSS correction service receivers for cm-level accuracy
RF Design Telecoms, Datacoms, Wireless, IoT
For designers who require reliable centimetre-level positioning accuracy, e.g. for the industrial navigation and robotics markets, a new suite of products and feature additions have been rolled out by 
...
Read more...
---
4xMIMO cross-polarised antenna
RF Design Telecoms, Datacoms, Wireless, IoT
The TGX.04 from Taoglas is a 5G/4G 4xMIMO dipole antenna that operates from 450 to 6000 MHz. It supports worldwide sub-6 GHz cellular bands including 5G NR, LTE, NB-IoT, etc. This cross-polarised 
...
Read more...
---