printer friendly version
Updates add video to ST's TouchGFX suite
27 October 2021
Computer/Embedded Technology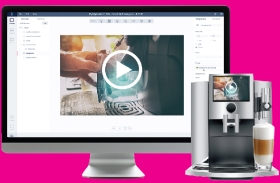 STMicroelectronics has released TouchGFX Version 4.18 for user-interface development with STM32 microcontrollers (MCUs), adding video playback, enhanced tools for multi-developer collaboration and support for new X-NUCLEO display kits.
By allowing playback of Motion-JPEG (MJPEG) video files, TouchGFX brings extra pizzazz to small devices like home automation products, wearables, medical devices and industrial sensors, allowing rich features such as instructional guides or entertaining startup and pause screens to enhance the user interface. Developers can use their own MJPEG files or choose from the sample movies provided. A new video widget in TouchGFX Designer, with properties including start, stop, repeat and go-to-frame, simplifies prototyping and is added to the application by drag-and-drop.
TouchGFX 4.18 allows video decoding in either software or hardware. Hardware decoding is possible with STM32 MCUs that contain a suitable decoding peripheral, such as the STM32F769 and STM32H7B3. Software decoding is available on all series devices except the STM32G0 series. Various strategies for video buffering, including direct rendering to the frame buffer and double buffering, help optimise memory demand and performance.
Additional new features of TouchGFX 4.18 include enhanced support for collaborative working, using XML to store text data and translations. XML simplifies sharing and merging of various elements of the project as multiple team members contribute. The powerful and convenient features of previous TouchGFX versions are retained, including the partial frame buffer for very low RAM use, ultra-efficient rendering that prevents tearing effects and support for low-cost, non-memory-mapped SPI Flash.
For an easy start to GUI development projects, TouchGFX 4.18 comes with examples showing how to use the new video capabilities and the necessary TouchGFX Board Setup (TBS) for the popular STM32 Discovery boards.
ST has also updated and extended the selection of display shields that help developers quickly get their user-interface projects running. The updated X-NUCLEO-GFX01M2 for Nucleo 64 boards has a 2,2-inch QVGA serial interface display and now supports the NUCLEO-WB55RG, making it easy to add a display to a Bluetooth application. A new X-NUCLEO-GFX02Z1 for Nucleo 144 has a high-speed parallel interface and QSPI Flash memory on-board, supporting among others the NUCLEO-U575ZI-Q. Both are supported in TouchGFX 4.18.
TouchGFX 4.18 is available now, free of charge, from www.st.com. The new X-NUCLEO-GFX02Z1 Nucleo 144 Display Shield is also available through local distributor Altron Arrow.
For more information contact Renaldo Fibiger, Altron Arrow, +27 11 923 9600, rfibiger@arrow.altech.co.za, www.altronarrow.com
Credit(s)
Further reading:
Absolute pressure sensor
Altron Arrow Analogue, Mixed Signal, LSI
The sensing element, which detects absolute pressure, consists of a suspended membrane manufactured using a special process developed by STMicroelectronics.
Read more...
---
2- and 4-output fanout clock buffers
Altron Arrow Analogue, Mixed Signal, LSI
Both devices support 2,5/3,3 V power supplies with separate input and output supply voltages for level shifting.
Read more...
---
64 Mbit SuperFlash memory for space systems
Altron Arrow DSP, Micros & Memory
Designers of spaceflight-qualified systems have a great need to reduce development time, cost and risk in their systems. Microchip Technology proposed the concept of starting with commercial off-the-shelf 
...
Read more...
---
Evaluation board for MEMS devices
Altron Arrow Test & Measurement
The STEVAL-MKI220V1 is an adaptor board designed to facilitate the evaluation of MEMS devices in the LPS27HHTW product family.
Read more...
---
LDOs consume minimal quiescent current
Altron Arrow Power Electronics / Power Management
The AP7387 supports many standard power rails and is well suited for multi-cell battery-powered applications.
Read more...
---
EBV signs up AI chipmaker Hailo
EBV Electrolink Computer/Embedded Technology
Hailo offers a wide range of AI accelerators, including the innovative Hailo-8 AI processor and high-performance AI acceleration modules in M.2 and Mini PCIe formats.
Read more...
---
Upgraded AI/ML SDK for PolarFire FPGAs
Altron Arrow Design Automation
Network sizes have been reduced by 50% by optimising containers for weights and the built-in bit accuracy simulator's speed has been tripled.
Read more...
---
Arrow Electronics unveils new CEO
Altron Arrow News
Sean Kerins has been picked to succeed Michael Long as president and chief executive officer effective 1 June 2022.
Read more...
---
Vienna rectifier reference design for PFC
Altron Arrow Power Electronics / Power Management
The STDES-VRECTFD reference design is a complete solution for high-power, three-phase AC/DC rectifier applications based on the Vienna topology. It features full digital control through STMicroelectronics' 
...
Read more...
---
Qi 1.3 wireless charging with authentication
Altron Arrow Power Electronics / Power Management
In order to ensure high-quality wireless charging power transmitters, the Wireless Power Consortium (WPC) has released the Qi 1.3 specification with the extended power profile. This new specification 
...
Read more...
---