printer friendly version
Updates add video to ST's TouchGFX suite
27 October 2021
Computer/Embedded Technology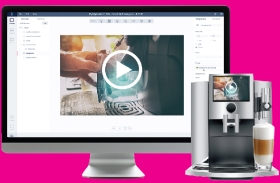 STMicroelectronics has released TouchGFX Version 4.18 for user-interface development with STM32 microcontrollers (MCUs), adding video playback, enhanced tools for multi-developer collaboration and support for new X-NUCLEO display kits.
By allowing playback of Motion-JPEG (MJPEG) video files, TouchGFX brings extra pizzazz to small devices like home automation products, wearables, medical devices and industrial sensors, allowing rich features such as instructional guides or entertaining startup and pause screens to enhance the user interface. Developers can use their own MJPEG files or choose from the sample movies provided. A new video widget in TouchGFX Designer, with properties including start, stop, repeat and go-to-frame, simplifies prototyping and is added to the application by drag-and-drop.
TouchGFX 4.18 allows video decoding in either software or hardware. Hardware decoding is possible with STM32 MCUs that contain a suitable decoding peripheral, such as the STM32F769 and STM32H7B3. Software decoding is available on all series devices except the STM32G0 series. Various strategies for video buffering, including direct rendering to the frame buffer and double buffering, help optimise memory demand and performance.
Additional new features of TouchGFX 4.18 include enhanced support for collaborative working, using XML to store text data and translations. XML simplifies sharing and merging of various elements of the project as multiple team members contribute. The powerful and convenient features of previous TouchGFX versions are retained, including the partial frame buffer for very low RAM use, ultra-efficient rendering that prevents tearing effects and support for low-cost, non-memory-mapped SPI Flash.
For an easy start to GUI development projects, TouchGFX 4.18 comes with examples showing how to use the new video capabilities and the necessary TouchGFX Board Setup (TBS) for the popular STM32 Discovery boards.
ST has also updated and extended the selection of display shields that help developers quickly get their user-interface projects running. The updated X-NUCLEO-GFX01M2 for Nucleo 64 boards has a 2,2-inch QVGA serial interface display and now supports the NUCLEO-WB55RG, making it easy to add a display to a Bluetooth application. A new X-NUCLEO-GFX02Z1 for Nucleo 144 has a high-speed parallel interface and QSPI Flash memory on-board, supporting among others the NUCLEO-U575ZI-Q. Both are supported in TouchGFX 4.18.
TouchGFX 4.18 is available now, free of charge, from www.st.com. The new X-NUCLEO-GFX02Z1 Nucleo 144 Display Shield is also available through local distributor Altron Arrow.
For more information contact Renaldo Fibiger, Altron Arrow, +27 11 923 9600, rfibiger@arrow.altech.co.za, www.altronarrow.com
Credit(s)
Further reading:
AI-powered computer for autonomous machines
Altron Arrow Computer/Embedded Technology
Nvidia recently premiered Jetson AGX Orin, the world's smallest, most powerful and energy-efficient AI supercomputer for robotics, autonomous machines, medical devices and other forms of embedded computing 
...
Read more...
---
Step-down converter with nano quiescent current
Altron Arrow Power Electronics / Power Management
The ST1PS03 is a nano-quiescent miniaturised synchronous step-down converter which is able to provide up to 400 mA output current with an input voltage ranging from 1,8 V to 5,5 V. This STMicroelectronics 
...
Read more...
---
LED driver expansion board for STM32 Nucleo
Altron Arrow Opto-Electronics
STMicroelectronics' X-NUCLEO-LED12A1 LED driver expansion board for STM32 Nucleo features four LED1202 devices that can drive up to 48 LEDs. The LED1202 is a 12-channel, low quiescent current LED driver 
...
Read more...
---
AI voice development kit
iCorp Technologies Computer/Embedded Technology
Espressif Systems announced the launch of its AI voice development kit, ESP32-S3-BOX, which provides a platform for developing the control of smart devices with offline and online voice assistants. The 
...
Read more...
---
Improving power supply regulation accuracy with resistor divider tool
Altron Arrow Power Electronics / Power Management
Analog Devices' LTpowerCAD resistor divider toolbox can use component tolerances and estimate corresponding errors in output voltage, letting designers decide what tolerance is allowable for their application.
Read more...
---
VITA 42.0 XMC updates: A refreshed standard and new optical XMC modules
Spectrum Concepts Computer/Embedded Technology
Open standards simplify system design while offering robust ecosystems of solutions providers. Even as open standards are adopted across industries and platforms, updates are needed from time to time. 
...
Read more...
---
USB Type-C protocol decoder
Altron Arrow Power Electronics / Power Management
The AP43771V from Diodes Incorporated is a USB Type-C Power Delivery (PD) 3.0 PPS decoder dedicated to power source applications with legacy capabilities. It is compliant with USB Type-C specification 
...
Read more...
---
Discovery kit for IoT nodes using STM32U5 MCU
Altron Arrow DSP, Micros & Memory
The B-U585I-IOT02A Discovery kit provides a complete demonstration and development platform for STMicroelectronics' STM32U585AI microcontroller, featuring an Arm Cortex-M33 core with Arm TrustZone and 
...
Read more...
---
VPX processor board with strong security
Rugged Interconnect Technologies Computer/Embedded Technology
Concurrent Technologies has developed a VPX processor board based on the Intel Xeon E-2200 processor family (previously known as Coffee Lake Refresh) launched by Intel for use in long-lifecycle embedded 
...
Read more...
---
Signal chain implementation for condition monitoring systems
Altron Arrow Editor's Choice Analogue, Mixed Signal, LSI
Like all system designs, there are many choices to be made when it comes to designing a condition monitoring system, each of which comes with various trade-offs and can drastically alter the DAQ signal chain design.
Read more...
---