printer friendly version
High-voltage chip divider in moulded package
27 October 2021
Passive Components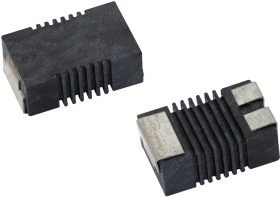 Vishay has introduced the industry's first high-voltage chip divider to be offered in a ribbed, moulded package with compliant surface-mount leads. Designed to reduce component counts and improve TC tracking performance and ratio stability in automotive and industrial equipment, the Vishay Techno CDMM delivers a maximum working voltage of 1500 V in the 4527 case size.
Consisting of two resistors integrated into one moulded package, the chip divider provides a single-component replacement for multiple discrete resistors used in voltage divider applications. The space-saving, AEC-Q200 qualified device is optimised for high-power DC/DC converters and inverters in electric automobiles and heavy industrial equipment and buses.
The CDMM offers a wide resistance range from 500 kΩ to 50 MΩ, with maximum resistance ratios of 500:1 and tolerances down to ±0,5 %. Sulphur resistant, RoHS-compliant and halogen free, the chip divider features a temperature coefficient of ±100 ppm/°C and TCR tracking as low as ±10 ppm/°C. Compliant with IEC 60664-1, the device offers a 12,5 mm creepage distance and is rated at 1250 V.
Credit(s)
Further reading:
High-reliability power connector with 8,5 mm pitch
Avnet Abacus Interconnection
Allowing designers to specify high current and high quality for maximum power in extreme conditions, the Kona connector from Harwin features tough, resilient housings to protect connections from physical 
...
Read more...
---
Common-mode choke for 35 A commercial applications
Altron Arrow Passive Components
Vishay has introduced a new IHCM common-mode choke for high-current commercial applications up to 35 A. Available with a low-profile SMT construction, the IHCM-2321AA-10 is more robust than bulky toroid-based 
...
Read more...
---
High-voltage semiconductor-based capacitors
RFiber Solutions Passive Components
MACOM Technology Solutions' KV CAPS are high density, high working voltage silicon capacitors which employ a novel topology that essentially folds the parallel plates of the capacitors into three-dimensional 
...
Read more...
---
Very compact X2 capacitors
Electrocomp Passive Components
A recent introduction by TDK is a new series of very compact EPCOS X2 capacitors for noise suppression. They are rated for
275 V a.c.
and cover a capacitance spectrum from
33 nF to 1 µF.
Depending on 
...
Read more...
---
High-voltage resistors can replace standard resistor chains
Altron Arrow Passive Components
A new series of AEC-Q200 qualified thick-film chip resistors, with operating voltages up to 3 kV and in the 2010 and 2512 case sizes, has been introduced by Vishay. With their high operating voltages, 
...
Read more...
---
Automotive quartz crystals and inductors
TRX Electronics Passive Components
Abracon automotive inductors and quartz crystals are AEC-Q200 qualified and available in a variety of package sizes, with wide-ranging operating temperatures from -55°C to +155°C. Designed for high-reliability 
...
Read more...
---
Shielded power inductors
Electrocomp Passive Components
Bourns' new Model SRP6530A shielded power inductor series is designed to meet the high current density and high temperature requirements of a variety of applications. These AEC-Q200 compliant inductors 
...
Read more...
---
Broadband SMT conical inductors
RF Design Passive Components
Coilcraft's BCR Series comprises conical inductors available in nine inductance values ranging from 0,22 to 8,0 µH. They are designed specifically for broadband and high-frequency applications across 
...
Read more...
---
Industrial push-pull isolation transformers
Electrocomp Passive Components
Components in the Bourns Model PAD00x-T764 series are low-profile, small-footprint isolation transformers with a primary inductance of 475 µH, maximum 11 V·µs ET constant, 400 V d.c. continuous operation, 
...
Read more...
---
MLCCs with new low-resistance soft termination
Electrocomp Passive Components
TDK has expanded its CN series of multilayer ceramic capacitors (MLCCs) that are the first of their kind. The new products – 10 µF capacitance in 3216 size (3,2 x 1,6 x 1,6 mm) and 22 µF capacitance in 
...
Read more...
---