printer friendly version
27 GHz SMA interconnect products
24 November 2021
Interconnection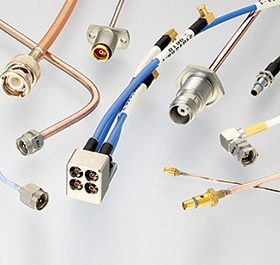 Mouser Electronics is now stocking EP-SMA 27 GHz connectors, adaptors and cable assemblies from TE Connectivity. The portfolio provides engineers with increased bandwidth, power and performance that are ideal for 5G, automated test equipment, aerospace and defence, wireless devices and radar.
The parts offer low insertion loss plus exceptional voltage standing wave ratios (VSWR) of less than 1,15 for adaptors and less than 1,20 for cable assemblies. The EP-SMA 27 GHz components have the same footprint as SMA 6 GHz, 12 GHz and 18 GHz solutions, which means designers can often avoid altering existing layouts to expand frequencies up to 27 GHz.
Using these connectors in an upgrade can provide a cost saving of up to 50% in applications currently using 2,92 mm (40 GHz) or 3,5 mm (33 GHz) products performing at 27 GHz or lower. Additionally, their robust, high-quality materials allow up to 500 mating cycles.
Credit(s)
Further reading:
Fujitsu FRAM and ReRAM now available from Mouser
TRX Electronics DSP, Micros & Memory
Fujitsu Semiconductor Memory Solution's ferroelectric random access memory (FRAM) and large-density resistive random access memory (ReRAM) products are now being distributed by Mouser Electronics. Fujitsu 
...
Read more...
---
Braid tail swept elbow backshells
Electrocomp Interconnection
TE Connectivity is complementing its series of banding (BT) and Tinel ring (TXR) backshells with a braid tail backshell. The new 70 Series swept elbow backshells include a pre-terminated screenbraid sock 
...
Read more...
---
Field-installable mini industrial I/O connector
Electrocomp Interconnection
The Industrial Mini I/O connector system made by TE Connectivity is a compact, wire-to-wire and wire-to-board solution for reliable serial, bus and Ethernet connections in industrial applications. At 
...
Read more...
---
New integrated voltage regulator range available from Mouser
TRX Electronics Power Electronics / Power Management
Empower Semiconductor, a leading supplier of integrated voltage regulators (IVR), has been signed up by Mouser Electronics for a global distribution agreement. Empower's patented IVR technology integrates 
...
Read more...
---
CR1225 battery holder with latching cover
NuVision Electronics Interconnection
Memory Protection Devices' new size of Snap Dragon supports BR1225 and CR1225 batteries, with both through-hole and surface-mount versions available. CR1225 batteries are extremely popular throughout 
...
Read more...
---
High-reliability power connector with 8,5 mm pitch
Avnet Abacus Interconnection
Allowing designers to specify high current and high quality for maximum power in extreme conditions, the Kona connector from Harwin features tough, resilient housings to protect connections from physical 
...
Read more...
---
Host of updates rolled out to Samtec's website
Spectrum Concepts Interconnection
Samtec added a slew of updates and new features to its website (www.samtec.com) in October, as several projects wrapped up and were pushed live to the site. These included a new design for its 'tech specs' 
...
Read more...
---
Ruggedised precision VNA test cables
Hiconnex Interconnection
The TestPro VNA series provides customers with a reliable, ruggedised solution for lab and production vector network analyser (VNA) testing. With options for 50 GHz and 67 GHz, these cables offer cost-leading 
...
Read more...
---
Adaptor sleeves for heavy-duty connectors
Phoenix Contact Interconnection
HC-CES adaptor sleeves from Phoenix Contact enable the easy and time-saving connection of a large range of conductors in the company's Heavycon heavy-duty connector series. The new adaptors replace 
...
Read more...
---
Ultra-miniature coaxial connectors
Otto Marketing Interconnection
Hirose Electric has released its X.FL coaxial wire-to-board and board-to-board series. The ultra-miniature wire-to-board versions offer a low profile of 0,94 mm combined with high performance to meet 
...
Read more...
---