printer friendly version
Electronics News Digest
24 November 2021
News
South Africa
Altron Arrow has signed a partnership to distribute Teltonika Networks' products in sub-Saharan Africa. This will help Altron Arrow to bring an even wider range of professional network connectivity equipment to the region and enable it to provide products and solutions for the most complex areas of Industry 4.0, smart cities and green energy. This agreement underscores Altron Arrow's commitment to responding quickly and flexibly to local market needs and changes while ensuring reliability, security and ease-of-use.
Overseas
Business
Texas Instruments reported third quarter revenue of $4,64 billion, net income of $1,95 billion and earnings per share of $2,07. That represents a 22% revenue increase over the same quarter a year ago due to strong demand in industrial, automotive and personal electronics which saw analog revenue grow by 24% and embedded processing by 13%. The company returned $4,2 billion to owners in the past 12 months through dividends and stock repurchases.
For its third quarter ended 2 October 2021, STMicroelectronics amassed net revenues of $3,20 billion and net income of $474 million, or $0,51 diluted earnings per share. Coming in at the midpoint of its business outlook range, net revenues were up 6,9% sequentially and 19,9% on a year-over-year basis, driven by strong global demand and the company's engaged customer programmes in personal electronics, but were partially offset by lower than expected revenues in automotive, caused by more severe than anticipated reduced operations at its Malaysian manufacturing facility due to the pandemic.
Revenue for onsemi's third quarter of 2021 was a record $1,74 billion, an increase of 32% year-over-year, with diluted earnings per share of $0,70 as compared to $0,38 in the quarter a year ago. With a rapidly expanding design-win funnel for disruptive applications such as electric vehicles, ADAS, industrial automation and alternative energy, coupled with ongoing transformational changes, the company says it is making sustainable progress towards its target financial model.
ams OSRAM delivered robust third quarter results, with revenues of $1,52 billion and adjusted EBIT (earnings before interest and tax) margin of 10,3% being well above the midpoint and near the upper end of its guidance range. That amounted to a 4% revenue increase sequentially and a 6% increase year-on-year.
Companies
In a first-ever spin-off scheme for a Japanese company of its size, Toshiba has announced its intention to separate into three standalone companies. 'Infrastructure Service Co.' (official name pending) will consist of its Energy Systems & Solutions, Infrastructure Systems & Solutions, Building Solutions, Digital Solutions and Battery businesses. 'Device Co.' (official name pending), will comprise Toshiba's Electronic Devices & Storage Solutions business. The third company will be known simply as Toshiba, holding its shares in Kioxia Holdings Corporation and Toshiba Tec Corporation. The reorganisation is expected to be completed in the second half of fiscal year 2023.
Nano Dimension, an industry leader in additively manufactured/3D-printed electronics and micro additive manufacturing, has signed and sealed an agreement to acquire Essemtec. Essemtec's product portfolio is comprised of production equipment for placing and assembling electronic components on PCBs through its SMT pick-and-place equipment, sophisticated dispensers for high-speed and micro-dispensing, and intelligent production material storage and logistics systems.
onsemi has completed its acquisition of GT Advanced Technologies (GTAT), a producer of silicon carbide (SiC). onsemi's customers will benefit from GTAT's extensive experience in crystalline growth as well as its technical capabilities and expertise in the development of wafering-ready SiC. SiC is a key component of next-generation semiconductors that provide technical benefits and improve system efficiency in many applications, including electric vehicles (EVs), EV charging and energy infrastructure.
Industry
The Semiconductor Industry Association (SIA) announced that global semiconductor sales totalled $144.8 billion during the third quarter of 2021, an increase of 27,6% over the third quarter of 2020 and 7,4% more than the second quarter of 2021. More semiconductor units were shipped during the third quarter of 2021 than during any other quarter in the market's history. Global sales for the month of September 2021 were $48,3 billion, an increase of 27,6% over the total from September 2020 and 2,2% more than August 2021 sales.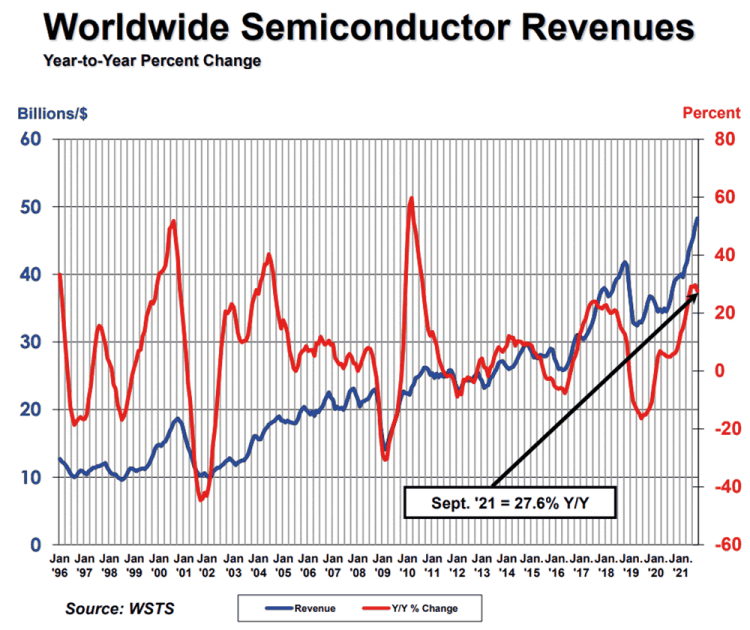 Further reading:
Obituary: Steven James Meyer
January 1957 - January 2022
Technews Publishing News
It is with deep sadness and shock that we announce the sudden death of SA Instrumentation & Control Editor, Steven Meyer. Steven joined Technews in October 2007 in the position of Deputy Editor. His 
...
Read more...
---
ICASA doles out provisional RF spectrum
News
The Independent Communications Authority of South Africa (ICASA) has concluded its analysis of applications for provisional assignment of radio frequency spectrum under the new ICT Covid-19 National State 
...
Read more...
---
productronica's hybrid format a success despite restrictions
News
Following its tried and trusted biennial scheduling, productronica 2021 was held on the fairgrounds of Messe München on 16-19 November. Strict hygiene rules were observed in accordance with Covid-19 protocols, 
...
Read more...
---
Report evaluates market for Li-ion battery recycling
News
In the past, the lack of end-of-life batteries meant that the Li-ion (lithium-ion) recycling market had little opportunity to prosper. The transition to electric vehicles (EVs) is changing this. Recycling 
...
Read more...
---
RFID market research explores 2021 and what to expect for the future
News
Despite a 5% drop in the global RFID market in 2020 compared to 2019 due to the impact of Covid-19, the market has recovered well in 2021. According to the newly released RFID market research report from 
...
Read more...
---
SABS launches local content verification scheme
News
A new certification and grading scheme launched by the South African Bureau of Standards (SABS) intends to harmonise local content and local production for producers and manufacturers, levelling the playing 
...
Read more...
---
DesignSpark to host new activist engineering programme
RS Components (SA) News
RS Components has launched its DesignSpark #ActivistEngineering programme, further strengthening the company's commitment to engage and inspire design engineers across the globe to 'make amazing happen 
...
Read more...
---
October semiconductor sales up 24% over 2020
News
Global sales of semiconductors were $48,8 billion in October 2021, an increase of 24,0% from the October 2020 total of $39,4 billion and 1,1% more than the September 2021 total of $48,3 billion. Announced 
...
Read more...
---
CSIR Learning Factory supports skills development and innovation in 4IR
News
The CSIR has established a Learning Factory to support South African industries in acquiring the skills needed to maximise the benefits of the Fourth Industrial Revolution (4IR). The first online course 
...
Read more...
---
RS Components SA partners with Engineers Without Borders
RS Components (SA) News
The annual Engineering for People Design Challenge as well as the Inspiring and Building Community Leaders programmes kicked off earlier this year. The competition, now in its 10th year, is a year-long 
...
Read more...
---