printer friendly version
The state of 3D printing in 2021
24 November 2021
Technical Literature
element14 has released a new eBook that offers insights into the history and the reality of 3D printing, including the processes, materials and applications – as well as what the future holds for this advancing technology.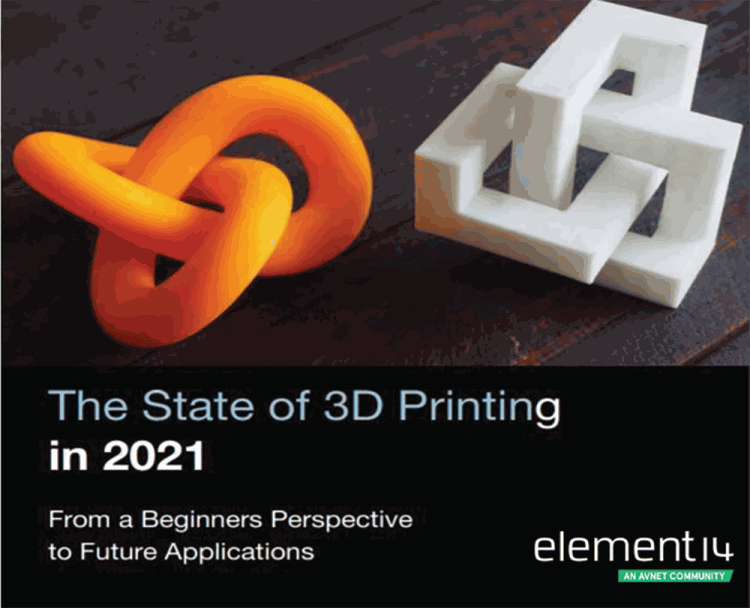 The 3D printing industry has been developing rapidly over the past two decades and has moved beyond large corporations and industry-only tools to affordable models that can now be found in garages and home labs. As with any other technology, companies have taken advantage of innovations that have driven 3D printing into new areas and applications. There are 3D printers that produce different foods, including pizzas and others that build entire houses using massive robotic printers. The technology can be utilised for nearly anything and taken anywhere.
The new eBook explores how all this has been made possible, including a brief history of 3D printing, methods used to produce prints, slicing software and how it works, types of filaments used to make 3D models and their applications, current 3D printing technologies and how additive manufacturing is the future of 3D printing.
Access the eBook by browsing to the element14 eBook repository using the short URL www.dataweek.co.za/*nov21-element14
Further reading:
New eBook draws on RF wireless design experts' knowledge
Technical Literature
A collaboration between Mouser Electronics and Analog Devices has produced a new eBook highlighting the diverse challenges and solutions in RF wireless design. In '8 Experts on RF Wireless Design', industry 
...
Read more...
---
eBook explores surge protection design challenges
TRX Electronics Technical Literature
Mouser has joined forces with Bourns as the title sponsor of a new eBook titled 'How to choose the right surge protection technology'.
Read more...
---
Power and sensing selection guide
Altron Arrow Technical Literature
With the 2021 edition of its Power and Sensing Selection Guide, Infineon Technologies aims to remove choice overload and decision stress by arranging its broad, cutting-edge power and sensor portfolio 
...
Read more...
---
pSemi RF product catalogue
RFiber Solutions Technical Literature
The 2021 version of pSemi's RF product catalogue lists part numbers and specifications for the variety of products offered by the company, as well as information about the company's core Ultra-CMOS technology 
...
Read more...
---
New content platform for automotive electronics design
Technical Literature
Mouser Electronics and the Yageo Group of companies have partnered to create a new content stream devoted to new products and trends in the automotive industry. The Yageo Group includes Kemet, Pulse 
...
Read more...
---
Meeting global IoT connectivity challenges
Technical Literature
Connectivity is perhaps the most critical component of an IoT infrastructure. The performance of an IoT application is highly dependent on the scope of a carrier's network coverage, along with its resilience 
...
Read more...
---
'Industry 4.0 and Beyond' eBook
Technical Literature
Mouser Electronics has produced a new eBook in collaboration with Analog Devices, exploring the technological innovations and wide-reaching applications of Industry 4.0. In 'Industry 4.0 and Beyond', 
...
Read more...
---
Sensor selection guide
Altron Arrow Technical Literature
Infineon Technologies' 'XENSIV – sensing the world' selection guide lets readers explore the company's portfolio of sensing technologies, complemented by application solutions, smallest 2GO kits, simulation 
...
Read more...
---
eZine explores the many facets of AI
Technical Literature
Mouser Electronics has released the newest issue of its Methods technology and solutions journal. The second issue of volume four, 'Understanding AI', offers a series of perspectives on the issues surrounding 
...
Read more...
---
Ferrite cores catalogue
MANTECH Technical Literature
Ferrite core specialist, Magnetics, has released its 2021 catalogue which includes the most up-to-date information on the company's ferrite cores. Besides technical specifications on the comprehensive 
...
Read more...
---