printer friendly version
maXTouch touchscreen controller for various aspect ratios
24 November 2021
Analogue, Mixed Signal, LSI
As the automotive market continues to demand larger touchscreens with more flexibility in size and shape, Microchip Technology is announcing a new maXTouch touchscreen controller that allows automotive designers to satisfy various and unique aspect ratios for touch displays in cars. This new offering includes additional functional safety support requested by OEMs.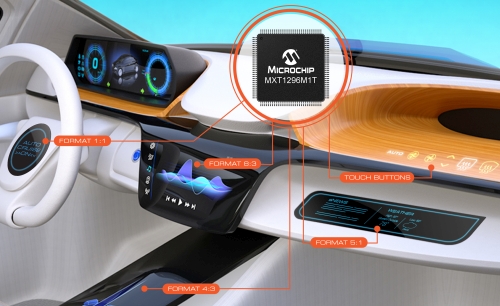 The MXT1296M1T can reconfigure its driving and receiving touch channels to match the exact screen format, from 1:1 to 5:1 aspect ratio, including the popular 8:3 automotive aspect ratio. This feature enables the customer to efficiently use the number of touch channels available, without the need to select a larger, more expensive touch controller.
Furthermore, customers can save additional development and validation time and resources by re-using a common PCB design to support different touch sensor aspect ratios. The MXT1296M1T is an industry-first to enable sensor channel reconfiguration by parameters. These settings do not require firmware modification, leading to lower design risk and faster time to market.
The new maXTouch touchscreen controller offers two communication interfaces operating simultaneously, which allow a bridgeless connection to the back channel of the LVDS video link for touch information and a connection to a local microcontroller (MCU). The bridgeless topology reduces touch latency to improve the user experience. It also guarantees full compatibility with the maXTouch software driver, available for all major automotive operating systems, including Linux, Android and QNX.
When connected to an appropriate local MCU, the second interface offers:
• A redundancy link to the head unit through a CAN bus or 10BASE-T1S automotive Ethernet link for increased functional safety at the system level.
• Local access and control of the maXTouch touchscreen controller's features, such as a capacitive keys report, live touch sensor diagnostics and raw data for external and custom post-processing.
• Over-the-air and secure firmware update capability using Microchip's TrustAnchor100 companion chip.
The MXT1296M1T embeds various functional safety features to constantly check the integrity of the touch controller operation, as well as that of the connected touch sensors. The Failure Modes Effects and Diagnostic Analysis (FMEDA) and functional safety manual dramatically ease the customer experience to design, build and certify a system for Automotive Safety Integrity Level B (ASIL-B) applications to the ISO 26262 standard.
The MXT1296M1T allows for high-resolution transmit waveform control to lower RF emissions and avoid interference with the car radio or RFID systems. With screen sizes increasing in cars, RF emissions generated by the projected capacitive touch technology are growing. Emission limits vary in amplitude, frequency and bandwidth for each major car manufacturer. The MXT1296M1T uses a dedicated on-chip, 64-level digital-to-analog converter (DAC) to accurately shape the waveform of the transmitting lines. This allows designers to precisely control the frequency response and optimise the harmonic emissions to meet specific OEM defined limits.
Development tools
The MXT1296M1T's configuration and tuning is supported by the latest release of the maXTouch Studio integrated development environment (IDE).
Orderable development kits include:
• ATEVK-MXT1296M1T-A: extensive evaluation kit including development board with USB bridge, 12,3-inch, 8:3 format, 1,1 mm One Glass Solution (OGS) touch panel and touch key add-on boards for mutual- and self-capacitance.
• ATMXT1296M1T-I2C-PCB: development board for connection to a customer's touch sensor.
For more information contact EBV Electrolink, +27 21 402 1940, capetown@ebv.com, www.ebv.com
Credit(s)
Further reading:
Embedded vision development tool for RISC-V FPGA
EBV Electrolink Programmable Logic
Microchip Technology announced the second development tool offering in its Smart Embedded Vision initiative for designers using its PolarFire RISC-V system-on-chip (SoC) FPGA. The industry's lowest-power 
...
Read more...
---
Microchip further expands GaN RF power offering
EBV Electrolink Power Electronics / Power Management
A significant expansion has been made to Microchip Technology's gallium nitride (GaN) RF power device portfolio with new MMICs and discrete transistors that cover frequencies up to 20 GHz. The devices 
...
Read more...
---
Motor/PFC controller with gate driver and voltage regulator
EBV Electrolink Power Electronics / Power Management
Infineon Technologies' iMOTION IMD110-6 is a series of highly integrated ICs for the control of three-phase motors. The devices integrate the motor controller with a high-voltage, three-phase gate driver 
...
Read more...
---
Precision wideband ADC advances data-acquisition performance
Analogue, Mixed Signal, LSI
Texas Instruments (TI) has introduced a very small 24-bit wideband analog-to-digital converter (ADC) that delivers tight signal-measurement precision. The ADS127L11 achieves ultra-precise data acquisition 
...
Read more...
---
K-band passivated VCO
RF Design Analogue, Mixed Signal, LSI
The K-VCO-2324 from Arralis is a GaAs PHEMT MMIC voltage-controlled oscillator (VCO) that operates from 23,25 to 24,25 GHz. It provides 15 dBm output power over tuning voltages between 0 V and 1 V and 
...
Read more...
---
QFN-packaged gain blocks covering various frequency ranges
RFiber Solutions Analogue, Mixed Signal, LSI
Four new gain blocks have been introduced by Atlanta Micro to serve the requirements of various applications, each covering a different range of frequencies. The AM1127 is a high dynamic range, cascadable 
...
Read more...
---
Functional safety packages for Microchip MCUs and DSCs
EBV Electrolink DSP, Micros & Memory
Safety is a primary concern in automotive applications to ensure reliable operation and end users' wellbeing. Microchip Technology is offering newly certified functional safety packages to enable engineers 
...
Read more...
---
Digital humidity sensor withstands harsh conditions
Electrocomp Analogue, Mixed Signal, LSI
Sensirion is expanding its series of fourth-generation humidity sensors to include the SHT4xI-Digital sensor platform, which has been designed specifically for challenging industrial applications. The 
...
Read more...
---
MCU with enhanced security and innovative sensing features
EBV Electrolink DSP, Micros & Memory
Enabled with Bluetooth Low Energy wireless connectivity, onsemi's new low-power RSL15 microcontroller (MCU) addresses the growing demand of connected industrial applications for security without sacrificing 
...
Read more...
---
Wireless asset tag supporting Quuppa RTLS
EBV Electrolink Telecoms, Datacoms, Wireless, IoT
onsemi unveiled a new system solution that overcomes the main challenges associated with developing asset tracking tags. Battery life has been a major obstacle to asset tag adoption, particularly within 
...
Read more...
---