printer friendly version
RFID market research explores 2021 and what to expect for the future
28 February 2022 News Telecoms, Datacoms, Wireless, IoT
Despite a 5% drop in the global RFID market in 2020 compared to 2019 due to the impact of Covid-19, the market has recovered well in 2021. According to the newly released RFID market research report from IDTechEx, 'RFID Forecasts, Players and Opportunities 2022-2032', the global RFID market is estimated to be valued at $11,6 billion in 2021, rising to $12,2 billion in 2022. This market comprises RFID labels, cards, fobs and any other form factors, as well as tags, readers and software/services for both passive and active RFID.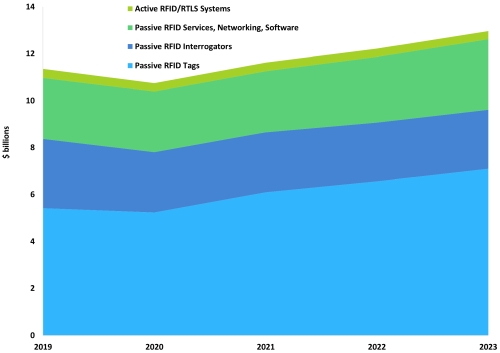 Covid has had a detrimental influence on many aspects of our lives, yet has also speeded up the digital transition. In the UHF sector, for example, IDTechEx has observed the retail apparel business, the largest RFID application sector in terms of tag numbers, adopting RFID at a quicker rate. The market research firm says retail apparel alone will require over 20 billion RFID labels in 2022 – albeit there is still some way to go, with RFID accounting for just roughly 26% of the entire addressable market for apparel in 2022.
Besides the retail apparel industry's success, there are also plenty of other industries that are gaining traction. Other retail sectors besides apparel, such as footwear, cosmetics, fragrance, electronics and supply chain and logistics, as well as the food industry, such as quick-service restaurants, have also received solid interest and investment. In the HF sector, contactless card sales remain the strongest, driven mostly by contactless payment, transportation and secure access applications, with 2,6 billion cards demanded in 2021.
IDTechEx predicts that this trend will continue in the short- to medium-term. In the LF sector, animal tagging (such as pigs, lambs and pets) continues to be significant since it is still a legal obligation in many regions, with 640 million tags being used in this sector in 2021. According to the report, a total of 28,4 billion passive RFID tags will be sold in 2021, up from 23,8 billion in 2020, representing a double-digit growth rate. Most of this expansion is due to passive UHF RFID labels. However, in 2021, UHF (RAIN RFID) tag sales by value will be just 30% of HF tag sales (including NFC), owing to the higher price point of HF tags used for security (such as payments, access, etc.) versus the cheaper, largely disposable UHF (RAIN) tags used for tagging items.
Although the RFID industry continues to expand, there are still obstacles to overcome, particularly in certain markets. Chip shortages will be a problem in the immediate term. It has been observed that the chip shortage is causing supply to fall short of demand, resulting in price increases. On the other hand, education and standardisation will be the two most important issues to address in order to achieve widespread RFID adoption in the mid to long term.
Educating businesses about the capabilities of RFID (including its advantages and limitations) and how a business can implement RFID to improve its corporate efficiency is important. In terms of standardisation, take the pharmaceutical industry and the food industry as an example: the big market opportunities in these two industries arise in item-level lagging, however, this is unlikely to happen until government mandates are in place.
For more information visit www.idtechex.com
Further reading:
RS to showcase IoT and Food Safe products at NAMPO Harvest Day
RS Components (SA) News
Following a two-year hiatus, this year's event will take place over five days as opposed to four, to accommodate Covid-19 restrictions.
Read more...
---
Mouser and Wevolver team up to expose university innovation
News
The programme aims to empower people to create and innovate by providing access to engineering knowledge through a variety of media, including blogs and podcasts.
Read more...
---
Arrow Electronics unveils new CEO
Altron Arrow News
Sean Kerins has been picked to succeed Michael Long as president and chief executive officer effective 1 June 2022.
Read more...
---
Joburg Business School launches PHD in digital transformation
News
The Fourth Industrial Revolution is no longer an abstract concept – it is happening. Leaders will do well to incorporate its emerging technologies into their organisations.
Read more...
---
Record number of national standards published in 2021
News
The SABS sees the information contained in SANS as fundamental to optimising the country's economic and industrial potential.
Read more...
---
Online dashboard for global semiconductor sales data
News
The Semiconductor Industry Association (SIA) launched a new Semiconductor Unit Sales Dashboard to provide regularly updated, publicly available sales data for a range of semiconductor products. Amid the 
...
Read more...
---
Samsung bolstering investment in SA's tech sector
News
Both globally and locally, there is clear consensus that investment in a country's technological advancement is intrinsically linked to economic growth. In recognition of this philosophy, Samsung South 
...
Read more...
---
Record-seeking sailboat uses Fischer Connectors for sensor data transmission
News Interconnection
The boat is setting out to reach a speed of 80 knots powered only by the wind, and thereby break the long-standing world sailing speed record of 65,45 knots.
Read more...
---
Mouser again sponsors FIRST Robotics Competition
News
Mouser Electronics announced its continued sponsorship of the FIRST Robotics Competition, which inspires innovation and fosters well-rounded life capabilities in tens of thousands of young people every 
...
Read more...
---
New resource site for Mouser's popular podcast series
News
A new resource site has come online, dedicated to Mouser Electronics' engaging podcast episodes. The site features all episodes from the Empowering Innovation Together podcast series, The Tech Between 
...
Read more...
---