printer friendly version
Fujitsu FRAM and ReRAM now available from Mouser
24 November 2021
DSP, Micros & Memory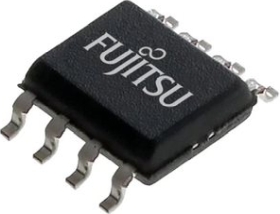 Fujitsu Semiconductor Memory Solution's ferroelectric random access memory (FRAM) and large-density resistive random access memory (ReRAM) products are now being distributed by Mouser Electronics.
Fujitsu FRAMs are new-generation non-volatile memories that meet engineers' needs for higher read/write endurance, faster writing speed and lower power consumption compared to EEPROM. Fujitsu FRAM is available from Mouser in both serial (SPI and I²C) and parallel interfaces and in a wide range of compact, high-density package types. Memory size options are available from 4 Kbit up to 8 Mbit. Fujitsu was the first company to start mass production of FRAM, in 1999 and its FRAM products can be found in many key applications including automotive, industrial, medical and consumer products.
Featuring an SPI interface, Fujitsu ReRAM operates at a wide range of power supply voltages from 1,6 V to 3,6 V. The EEPROM-compatible devices feature very low power consumption of just 0,15 mA in read state and 1,5 mA in write state which, combined with 8 Mbit density, makes them ideal for small, battery-operated wearable devices such as hearing aids, smartwatches and smart glasses.
Credit(s)
Further reading:
Mouser's resource pages make it easier to find what you need
TRX Electronics Design Automation
Mouser Electronics offers a wealth of customer-focused online tools to simplify and optimise the selection and purchasing process. Helping customers to easily browse, select and purchase products, the 
...
Read more...
---
64 Mbit SuperFlash memory for space systems
Altron Arrow DSP, Micros & Memory
Designers of spaceflight-qualified systems have a great need to reduce development time, cost and risk in their systems. Microchip Technology proposed the concept of starting with commercial off-the-shelf 
...
Read more...
---
Tiny CO2 sensor employs photoacoustic spectroscopy
TRX Electronics Analogue, Mixed Signal, LSI
The device uses a high-sensitivity MEMS microphone to detect the pressure change generated by CO
2
molecules within the sensor cavity.
Read more...
---
Modules support Wi-Fi 4 and Bluetooth 5.2
TRX Electronics Telecoms, Datacoms, Wireless, IoT
The new modules are mechanically and pin-compatible with the Sterling-LWB module, offering a simplified upgrade path for existing designs.
Read more...
---
Offline voice recognition module
iCorp Technologies DSP, Micros & Memory
AI-Thinker's VB-01 is an offline voice recognition AI module featuring ultra-low cost, high reliability and strong versatility.  Its speech recognition technology achieves a highly dependable wake-up 
...
Read more...
---
High-performance PCIe XMC modules
TRX Electronics Computer/Embedded Technology
Mouser Electronics has signed a new distribution agreement with Interconnect Systems International (ISI), a Molex company and supplier of signal processing and data acquisition solutions. ISI's hardware, 
...
Read more...
---
Multizone time-of-flight sensors
TRX Electronics Opto-Electronics
Mouser Electronics is now offering the TMF8820, TMF8821 and TMF8828 multizone time-of-flight sensors from ams Osram. The high-performance direct time-of-flight (dToF) sensors achieve a 5 m detection range, 
...
Read more...
---
Speech processing SoC uses Microchip's SuperFlash technology
Altron Arrow DSP, Micros & Memory
Computing-in-memory technology is poised to eliminate the massive data communications bottlenecks otherwise associated with performing artificial intelligence (AI) speech processing at the network's edge, 
...
Read more...
---
Components and design resources for harsh environments
TRX Electronics Interconnection Analogue, Mixed Signal, LSI Passive Components
Providing engineers with the latest information and resources to build their designs for harsh environments, a targeted content stream from Mouser Electronics offers articles, products, blogs and diagrams 
...
Read more...
---
ST integrates brains into sensors to launch 'Onlife Era'
STMicroelectronics DSP, Micros & Memory Analogue, Mixed Signal, LSI
STMicroelectronics announced the launch of the seminal Intelligent Sensor Processing Unit (ISPU) that combines a digital signal processor (DSP) suited to run artificial intelligence (AI) algorithms and 
...
Read more...
---