printer friendly version
Precision wideband ADC advances data-acquisition performance
24 November 2021
Analogue, Mixed Signal, LSI
Texas Instruments (TI) has introduced a very small 24-bit wideband analog-to-digital converter (ADC) that delivers tight signal-measurement precision. The ADS127L11 achieves ultra-precise data acquisition in a 50% smaller package than competing devices, according to TI, optimising power consumption, resolution and measurement bandwidth for a wide range of industrial systems.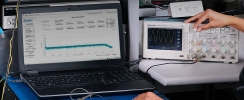 The highly flexible component offers wideband and low-latency filter options to optimise ADC performance and deliver tailored, high-performance data acquisition in a broad range of industrial systems. Designers can use wideband mode to improve AC measurement resolution with a claimed 50% wider bandwidth, data rates as high as 400 kSps, and a 30% higher signal-to-noise ratio than competing data converters, while minimising noise at high frequencies. In low-latency mode, the ADS12711 delivers 25% lower latency at up to 1067 kSps and 83,3% lower offset drift – 50 nV/°C – to help designers improve DC measurement resolution, data throughput and response times in data-acquisition and condition-monitoring applications.
Designers of miniaturised, battery-powered industrial equipment typically have to choose between an ADC's size and measurement precision at higher frequencies. The ADS127L11 eliminates this trade-off with its 3 x 3 mm quad flat no-lead (WQFN) package. In addition to reducing design size, the new ADC increases system functionality by enabling designers to pack additional channels into a compact design.
For more information visit www.ti.com
Further reading:
Absolute pressure sensor
Altron Arrow Analogue, Mixed Signal, LSI
The sensing element, which detects absolute pressure, consists of a suspended membrane manufactured using a special process developed by STMicroelectronics.
Read more...
---
2- and 4-output fanout clock buffers
Altron Arrow Analogue, Mixed Signal, LSI
Both devices support 2,5/3,3 V power supplies with separate input and output supply voltages for level shifting.
Read more...
---
Tiny CO2 sensor employs photoacoustic spectroscopy
TRX Electronics Analogue, Mixed Signal, LSI
The device uses a high-sensitivity MEMS microphone to detect the pressure change generated by CO
2
molecules within the sensor cavity.
Read more...
---
Rad-hard DAC for next-gen satellites
Altron Arrow Analogue, Mixed Signal, LSI
The STMicroelectronics RHRDAC121 radiation-hardened digital-to-analog converter (DAC) operates down to 2,5 V for use in modern, low-power system designs that older 3,3 V parts cannot support. Consuming 
...
Read more...
---
Avnet Silica gains access to Octavo's advanced SiP technology
Avnet Silica Analogue, Mixed Signal, LSI
Avnet Silica has added advanced SiP (system-in-package) technology to its portfolio via a distribution agreement with Octavo Systems, a leading provider of innovative high-quality SiP solutions. The 
...
Read more...
---
Optical liquid analysis prototyping platform for ubiquitous sensing
Altron Arrow Editor's Choice Analogue, Mixed Signal, LSI
Prototyping complex optical liquid analysis measurements is a challenge that requires careful consideration of how chemistry, optics and electronics interact to produce a precise result.
Read more...
---
Ultra low-power temperature sensor
Electrocomp Analogue, Mixed Signal, LSI
The STS4x is Sensirion's highly accurate digital temperature sensor series, available with minimal lead times. It is a fully digital, cost-efficient platform that is available in different accuracy classes. 
...
Read more...
---
Low-offset dual 20 MHz op-amp
Altron Arrow Analogue, Mixed Signal, LSI
The STMicroelectronics TSV772 dual operational amplifier (op-amp) combines high accuracy, low power consumption and the option of an extremely small 2,0 x 2,0 mm DFN8 package. Extending ST's high-performance 
...
Read more...
---
Components and design resources for harsh environments
TRX Electronics Interconnection Analogue, Mixed Signal, LSI Passive Components
Providing engineers with the latest information and resources to build their designs for harsh environments, a targeted content stream from Mouser Electronics offers articles, products, blogs and diagrams 
...
Read more...
---
QFN-packaged gain blocks covering various frequency ranges
RFiber Solutions Analogue, Mixed Signal, LSI
Four new gain blocks have been introduced by Atlanta Micro to serve the requirements of various applications, each covering a different range of frequencies. The AM1127 is a high dynamic range, cascadable 
...
Read more...
---