printer friendly version
MCU with enhanced security and innovative sensing features
24 November 2021
DSP, Micros & Memory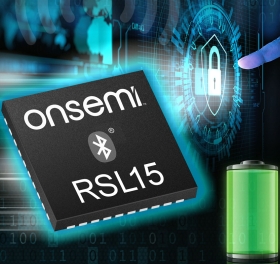 Enabled with Bluetooth Low Energy wireless connectivity, onsemi's new low-power RSL15 microcontroller (MCU) addresses the growing demand of connected industrial applications for security without sacrificing power consumption.
To validate energy efficiency, the RSL15 was certified by the Embedded Microprocessor Benchmark Consortium (EEMBC). The organisation's ULPMark-CoreMark benchmark programme measures the energy efficiency of microcontrollers used in embedded systems while active. The RSL15 now leads its class by attaining a 'performance' score of 60,5. Within the ULPMark- CoreProfile benchmark, which calculates the deep sleep efficiency of MCUs, onsemi has also maintained the top two placements with the RSL10 and RSL15 respectively.
While preserving its state-of-the-art power consumption, the RSL15 is designed with Arm TrustZone technology to establish device root of trust as well as Arm CryptoCell-312 technology to protect the authenticity, integrity and confidentiality of code and data. This PSA Level 1 certified design enhances the security measures already offered as part of the Bluetooth protocol, providing assurance at both the application and software levels.
The RSL15 supports a number of new capabilities provided by the Bluetooth 5.2 specification, including longer range, higher data transmission speeds and localisation through angle of arrival (AoA) and angle of departure (AoD). onsemi has also developed an innovative sensing feature that allows the Arm Cortex-M33 processor to remain in a deep sleep mode while still monitoring sensor interfaces.
The RSL15 is available now in a miniature 40-pin QFN package.
For more information contact EBV Electrolink, +27 21 402 1940, capetown@ebv.com, www.ebv.com
Credit(s)
Further reading:
maXTouch touchscreen controller for various aspect ratios
EBV Electrolink Analogue, Mixed Signal, LSI
As the automotive market continues to demand larger touchscreens with more flexibility in size and shape, Microchip Technology is announcing a new maXTouch touchscreen controller that allows automotive 
...
Read more...
---
Embedded vision development tool for RISC-V FPGA
EBV Electrolink Programmable Logic
Microchip Technology announced the second development tool offering in its Smart Embedded Vision initiative for designers using its PolarFire RISC-V system-on-chip (SoC) FPGA. The industry's lowest-power 
...
Read more...
---
Microchip further expands GaN RF power offering
EBV Electrolink Power Electronics / Power Management
A significant expansion has been made to Microchip Technology's gallium nitride (GaN) RF power device portfolio with new MMICs and discrete transistors that cover frequencies up to 20 GHz. The devices 
...
Read more...
---
Fujitsu FRAM and ReRAM now available from Mouser
TRX Electronics DSP, Micros & Memory
Fujitsu Semiconductor Memory Solution's ferroelectric random access memory (FRAM) and large-density resistive random access memory (ReRAM) products are now being distributed by Mouser Electronics. Fujitsu 
...
Read more...
---
Motor/PFC controller with gate driver and voltage regulator
EBV Electrolink Power Electronics / Power Management
Infineon Technologies' iMOTION IMD110-6 is a series of highly integrated ICs for the control of three-phase motors. The devices integrate the motor controller with a high-voltage, three-phase gate driver 
...
Read more...
---
Functional safety packages for Microchip MCUs and DSCs
EBV Electrolink DSP, Micros & Memory
Safety is a primary concern in automotive applications to ensure reliable operation and end users' wellbeing. Microchip Technology is offering newly certified functional safety packages to enable engineers 
...
Read more...
---
Wireless asset tag supporting Quuppa RTLS
EBV Electrolink Telecoms, Datacoms, Wireless, IoT
onsemi unveiled a new system solution that overcomes the main challenges associated with developing asset tracking tags. Battery life has been a major obstacle to asset tag adoption, particularly within 
...
Read more...
---
Discovery kit for IoT nodes using STM32U5 MCU
Altron Arrow DSP, Micros & Memory
The B-U585I-IOT02A Discovery kit provides a complete demonstration and development platform for STMicroelectronics' STM32U585AI microcontroller, featuring an Arm Cortex-M33 core with Arm TrustZone and 
...
Read more...
---
200 MHz MCUs backed by TrustZone security
Hi-Q Electronics DSP, Micros & Memory
Renesas Electronics now offers a 200 MHz RA6E1 microcontroller (MCU) which uses a high-performance Arm Cortex M33 core and TrustZone. The device is built on a highly efficient 40 nm process and supported 
...
Read more...
---
32-bit MCU for IoT edge applications
NuVision Electronics DSP, Micros & Memory
Silicon Labs launched the EFM32PG22 (PG22) 32-bit microcontroller (MCU), a low-cost, high-performance solution with an optimised combination of energy efficiency, performance and security. With easy-to-use, 
...
Read more...
---