printer friendly version
Positioning module with untethered and automotive dead reckoning
24 November 2021
Telecoms, Datacoms, Wireless, IoT
The first u-blox positioning receiver to offer both untethered dead reckoning (UDR) and automotive dead reckoning (ADR), NEO-M9V is an ideal fit for fleet management and micromobility applications that require reliable metre-level positioning accuracy even in challenging GNSS signal environments such as urban canyons.
Vehicle fleet managers seeking to cut costs and lower their carbon footprint depend on accurate positioning and navigation data to reduce fuel consumption. Additionally, accurate odometry data is key to fleet managers for billing and compliance.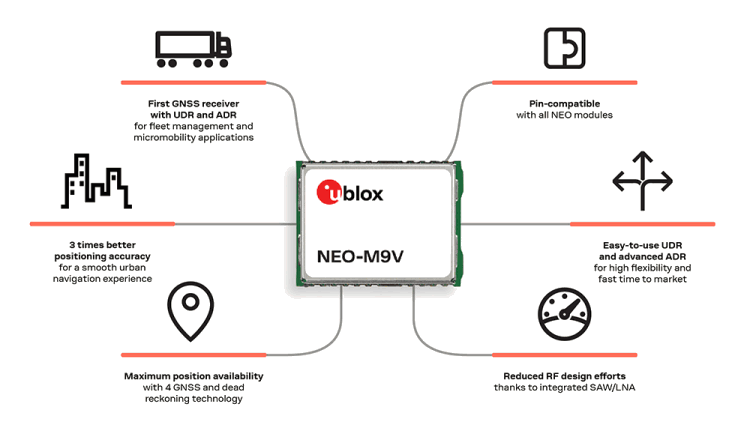 Micromobility operators need to accurately locate their devices to service the individual bikes and scooters, as locating vehicles on the wrong side of a street can force drivers to make long detours to reach their intended destination, incurring additional cost, lowering service quality and polluting the air. Accurate positioning is also vital to geofence their operation in compliance with local regulations.
Using inertial sensor measurements, UDR offers a smooth navigation experience in dense urban environments by bridging gaps in GNSS signal coverage and mitigating the impact of multipath effects caused by GNSS signals that bounce off buildings. ADR further increases positioning accuracy in demanding environments by including the vehicle speed in the sensor fusion algorithm.
Offering both UDR and ADR on the same module delivers maximum positioning performance and design flexibility at once, allowing customers to provide the best solution case-by-case to each of their end-customers.
NEO-M9V also features dynamic models optimised for both cars and e-scooters. By adapting the algorithms of the dead reckoning solution to the behaviour of these use cases, these dynamic models further increase the quality of the position reading.
Based on the robust M9 technology platform
NEO-M9V is based on the u-blox M9 GNSS technology platform. Its ability to track up to four GNSS constellations maximises the number of GNSS satellites within its line of sight at any given moment. Integrated SAW and LNA filters offer excellent interference mitigation for a robust solution, and compatibility with the popular NEO form factor reduces migration efforts for customers upgrading existing designs.
For more information contact Andrew Hutton, RF Design, +27 21 555 8400, andrew@rfdesign.co.za, www.rfdesign.co.za
Credit(s)
Further reading:
Connectivity for IoT devices with SoftSIM
Otto Wireless Solutions Telecoms, Datacoms, Wireless, IoT
IoT device vendors are facing more and more complex cellular connectivity issues these days. Manufacturing is often outsourced to third-party factories and finished devices are being distributed to many 
...
Read more...
---
High-power GaN RF amplifier
RFiber Solutions Telecoms, Datacoms, Wireless, IoT
The CHA7618-99F is a three-stage GaN high-power amplifier (HPA) in the frequency band 5,5-18 GHz. This United Monolithic Semiconductors HPA typically provides 10 W of output power allied with 20% of power-added 
...
Read more...
---
ExpressLink modules for secure connectivity to AWS Cloud
RF Design Telecoms, Datacoms, Wireless, IoT
u-blox has announced two new modules designed to enable Amazon Web Services (AWS) cloud services for device and fleet management out of the box: the NORA-W2 AWS IoT ExpressLink Wi-Fi module and the SARA-R5 
...
Read more...
---
Cellular antenna for 4G/LTE and 5G NR
iCorp Technologies Telecoms, Datacoms, Wireless, IoT
Antenova's new 'Affini' (part number SRFL064) is a flexible printed circuit (FPC) antenna for the LTE, 4G and 5G NR networks in global markets. This antenna covers all main 4G bands plus 617-698 MHz which 
...
Read more...
---
Passive MMIC diplexer
RF Design Telecoms, Datacoms, Wireless, IoT
The MDPX-0710 from Marki Microwave is a passive MMIC diplexer with passbands from DC to 7 GHz (low band) and 10 to 26,5 GHz (high band). It has an insertion loss of less than 0,9 dB within its passbands 
...
Read more...
---
Automotive-grade GNSS signal splitter
RF Design Telecoms, Datacoms, Wireless, IoT
Tallysman Wireless has added the TW162A automotive-grade 'Smart Power' GNSS signal splitter to its line of GNSS accessories. The device supports the full GNSS spectrum: GPS/QZSS-L1/L2/L5, QZSS-L6, GLONASS-G1/G2/G3, 
...
Read more...
---
u-blox extends 'bring your own SIM' approach to MQTT
RF Design Telecoms, Datacoms, Wireless, IoT
u-blox has introduced a service that gives IoT sensor network developers the flexibility to combine any cellular connectivity with all the benefits of MQTT communication. The u-blox MQTT Flex service 
...
Read more...
---
K-band passivated VCO
RF Design Analogue, Mixed Signal, LSI
The K-VCO-2324 from Arralis is a GaAs PHEMT MMIC voltage-controlled oscillator (VCO) that operates from 23,25 to 24,25 GHz. It provides 15 dBm output power over tuning voltages between 0 V and 1 V and 
...
Read more...
---
GNSS correction service receivers for cm-level accuracy
RF Design Telecoms, Datacoms, Wireless, IoT
For designers who require reliable centimetre-level positioning accuracy, e.g. for the industrial navigation and robotics markets, a new suite of products and feature additions have been rolled out by 
...
Read more...
---
4xMIMO cross-polarised antenna
RF Design Telecoms, Datacoms, Wireless, IoT
The TGX.04 from Taoglas is a 5G/4G 4xMIMO dipole antenna that operates from 450 to 6000 MHz. It supports worldwide sub-6 GHz cellular bands including 5G NR, LTE, NB-IoT, etc. This cross-polarised 
...
Read more...
---