printer friendly version
Obituary: Steven James Meyer
January 1957 - January 2022
24 November 2021
News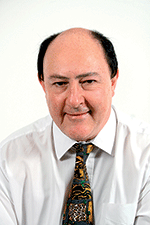 It is with deep sadness and shock that we announce the sudden death of SA Instrumentation & Control Editor, Steven Meyer.
Steven joined Technews in October 2007 in the position of Deputy Editor. His engineering background was in marine engineering, smelting, military optics system design and business development at the CSIR and the Department of Trade and Industry. He soon found an affinity for process control and instrumentation and was promoted to Editor of SA Instrumentation & Control. During his tenure as Editor, he worked closely with the SAIMC (Society for Automation, Instrumentation, Mechatronics and Control) and gained much respect within this association and with our many clients and colleagues with whom he was associated over the years.
A quiet man with a dry and slightly off-beat sense of humour, Steven had many and varied interests. He loved classic rock from the 70s, and was a huge fan of cricket, rugby and Formula 1. He devoured documentaries and took an avid interest in the stock market. But nothing came close to his interest in and passion for technology and in particular the magazine he edited for 15 years. Sitting in the 'hot seat' and privy to the latest cutting-edge technology, Steven's insights and enthusiasm stood us in good stead and ensured that the magazine kept up with the fast pace of development in the control and automation world. He was so proud of SA Instrumentation & Control and was an unfailing cheerleader of the sales and production teams where he was always ready to listen and add value with his keen understanding and vision wherever he could.
Dependable, reliable and a true gentleman, Steven will be sorely missed by everyone at Technews and especially by the SA Instrumentation & Control team.
Credit(s)
Further reading:
RS to showcase IoT and Food Safe products at NAMPO Harvest Day
RS Components (SA) News
Following a two-year hiatus, this year's event will take place over five days as opposed to four, to accommodate Covid-19 restrictions.
Read more...
---
Mouser and Wevolver team up to expose university innovation
News
The programme aims to empower people to create and innovate by providing access to engineering knowledge through a variety of media, including blogs and podcasts.
Read more...
---
Arrow Electronics unveils new CEO
Altron Arrow News
Sean Kerins has been picked to succeed Michael Long as president and chief executive officer effective 1 June 2022.
Read more...
---
Joburg Business School launches PHD in digital transformation
News
The Fourth Industrial Revolution is no longer an abstract concept – it is happening. Leaders will do well to incorporate its emerging technologies into their organisations.
Read more...
---
Record number of national standards published in 2021
News
The SABS sees the information contained in SANS as fundamental to optimising the country's economic and industrial potential.
Read more...
---
Online dashboard for global semiconductor sales data
News
The Semiconductor Industry Association (SIA) launched a new Semiconductor Unit Sales Dashboard to provide regularly updated, publicly available sales data for a range of semiconductor products. Amid the 
...
Read more...
---
Samsung bolstering investment in SA's tech sector
News
Both globally and locally, there is clear consensus that investment in a country's technological advancement is intrinsically linked to economic growth. In recognition of this philosophy, Samsung South 
...
Read more...
---
Record-seeking sailboat uses Fischer Connectors for sensor data transmission
News Interconnection
The boat is setting out to reach a speed of 80 knots powered only by the wind, and thereby break the long-standing world sailing speed record of 65,45 knots.
Read more...
---
Mouser again sponsors FIRST Robotics Competition
News
Mouser Electronics announced its continued sponsorship of the FIRST Robotics Competition, which inspires innovation and fosters well-rounded life capabilities in tens of thousands of young people every 
...
Read more...
---
New resource site for Mouser's popular podcast series
News
A new resource site has come online, dedicated to Mouser Electronics' engaging podcast episodes. The site features all episodes from the Empowering Innovation Together podcast series, The Tech Between 
...
Read more...
---