printer friendly version
Infineon expands multiprotocol solutions for Matter
24 November 2021
Telecoms, Datacoms, Wireless, IoT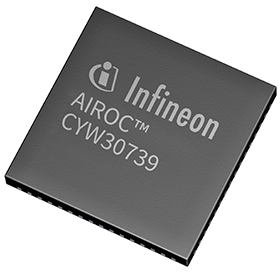 Infineon Technologies announced the launch of the new AIROC Bluetooth LE and 802.15.4 family to help companies quickly bring low-power, high-performing Matter products to market. The company's AIROC CYW30739 Bluetooth LE and 802.15.4 system on chip (SoC) is a reliable, secure and scalable solution to connect low-power devices in the smart home. The powerful combination of complementary Bluetooth LE and 802.15.4 protocols enhances the performance of smart home products with seamless interoperability, while enabling end-to-end encrypted communication between individual devices in a Matter network.
The SoC features a low-power radio, which is a key component in low-power multi-protocol systems with rock solid connectivity. More importantly, it offers superior RF performance for robust connections and the best user experience without connection drops. The low power consumption supports applications that require extended battery life, including smart home, smart building, smart lighting and more. These design techniques and process technology are extremely efficient to help reduce active and idle power.
The AIROC CYW30739 includes -95,5 dBm LE Rx and -103,5 dBm 802.15.4 sensitivity for reliable, long-range Bluetooth and multi-protocol connectivity. This smart coexistence creates a seamless interaction between a plethora of connected devices, ultimately providing a better user experience with the smart home. The integrated 96 MHz Arm Cortex-M4 microcontroller unit with floating point unit delivers high-performance computing as well as a highly optimised memory system across Flash, RAM and ROM.
To further demonstrate the company's commitment to Matter, Infineon recently expanded its role with the Connectivity Standards Alliance (CSA) by joining its board of directors as a Promoter Member.
Availability
Infineon offers a comprehensive wireless portfolio to support Matter, including the company's AIROC Wi-Fi, AIROC Bluetooth and 802.15.4 and PSoC 6 MCU products. Developers can accelerate the deployment of Matter products by accessing Infineon's software support in the open-source Matter repository and additional Matter-specific capabilities in Infineon's ModusToolbox software and tools.
The latest version of ModusToolbox is available now for download at www.cypress.com/products/modustoolbox and more information about Infineon's support for Matter is available at www.infineon.com/cms/en/product/promopages/matter/
For more information contact EBV Electrolink, +27 21 402 1940, capetown@ebv.com, www.ebv.com
Credit(s)
Further reading:
Compact Bluetooth LE and Wi-Fi module
RF Design Telecoms, Datacoms, Wireless, IoT
u-blox announces compact Bluetooth LE and Wi-Fi module which combines Wi-Fi 4 and Bluetooth 5.0 with a powerful open CPU.
Read more...
---
Using Wlink cellular routers for telematics
Otto Wireless Solutions Telecoms, Datacoms, Wireless, IoT
In addition to Wi-Fi, cellular networks could be used to facilitate communication between remote vehicles and monitoring centres.
Read more...
---
Tibbo powers cloud-enabled traceability systems
RF Design Telecoms, Datacoms, Wireless, IoT
The wireless nature of the WS1102 allows units (and attached barcode scanners) to be moved freely between workstations.
Read more...
---
0,9-18 GHz miniature receiver module
RFiber Solutions Telecoms, Datacoms, Wireless, IoT
Atlanta Micro's AM9018 is designed for low-SWaP applications and can be mounted to a host circuit board for use in multi-channel receiver applications.
Read more...
---
2-way power divider
RF Design Telecoms, Datacoms, Wireless, IoT
The power divider is suitable for use in test and measurement, satcom, commercial, military and wireless communication applications.
Read more...
---
5 GHz Wi-Fi front-end module
RF Design Telecoms, Datacoms, Wireless, IoT
A key feature of the integrated logarithmic power detector is to enable power control across the entire power spectrum.
Read more...
---
NFC/RFID demonstration kit
Altron Arrow Telecoms, Datacoms, Wireless, IoT
The boards are powered through their USB connectors and are supported by downloadable schematics, BOM, Gerber files, drivers and firmware sources.
Read more...
---
5G modules for industrial and commercial IoT
iCorp Technologies Telecoms, Datacoms, Wireless, IoT
Quectel's RG50xQ series is capable of delivering a downlink rate of 2,5 Gbps and an uplink rate of 900 Mbps.
Read more...
---
EBV Elektronik wins top distributor award
EBV Electrolink News
EBV Elektronik has been recognised by onsemi as its top distribution partner in the EMEA region during 2021.
Read more...
---
Automatic gain-controlled amplifier
RF Design Telecoms, Datacoms, Wireless, IoT
The device is designed for rugged military environments and can be customised with an optional time delay adjustment and phase modulation compression.
Read more...
---