printer friendly version
Extensive Murata offering from Mouser
24 November 2021 Passive Components Power Electronics / Power Management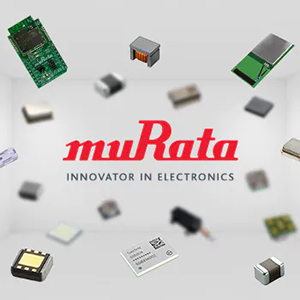 Now with over 19 000 Murata parts in stock, Mouser offers an ever-broadening selection of the manufacturer's newest solutions, including products from Murata Electronics, Murata Power Solutions and Murata IPDiA.
Murata's ultra-broadband silicon capacitors are ideal for optical communication systems (ROSA/TOSA, SONET and all optoelectronics) as well as high-speed data systems. These capacitors offer low insertion loss, low reflection and high phase stability from 16 kHz up to 60 GHz for the UBSC/UBEC series and up to 20 GHz for the ULSC/ULEC series and high rejection up to 26 GHz for the UWSC series.
LQW43FT automotive broadband inductors are AEC-Q200 qualified and are ideal for vehicle-mounted power-over-coax (PoC) systems used in serialiser and deserialiser interfaces. The inductors offer a high current of 1000 mA and an inductance range of 10 µH to 22 µH.
MGJ2 2 W bipolar-output SMT DC-DC converters are ideal for powering high-side and low-side gate drive circuits for IGBT and SiC-based MOSFET high-voltage gate drivers used in industrial, renewable energy and mobility applications. Available in 12 V and 15 V rails, the converters feature a power rating of 2 W.
DMR35 digital panel meters perform precision DC current or voltage measurements and feature highly visible, 3½-digit measurements (depending on selected range) with a fast-acting 21-segment bar graph.
For more information contact TRX Electronics, +27 12 997 0504, info@trxe.com, www.trxe.com
Credit(s)
Further reading:
Self-learning AI sensor for fitness tracking
TRX Electronics Analogue, Mixed Signal, LSI
The Bosch BHI260AP is ideal for always-on sensor applications like wrist wearables, hearables, smartphones, AR/VR headsets and controller device.
Read more...
---
Sensor nodes for reliable air quality data
TRX Electronics Analogue, Mixed Signal, LSI
The advanced sensors offer easy integration, fully calibrated outputs with a digital interface, and optimal measurement of vital air quality parameters.
Read more...
---
High-resolution magnetic position sensor
TRX Electronics Analogue, Mixed Signal, LSI
Featuring a 14-bit sensor array and analog front-end, the sensor uses a differential measurement method to compensate for external stray magnetic fields.
Read more...
---
Power device analyser
Concilium Technologies Test & Measurement Power Electronics / Power Management
Keysight's new PD1550A is an advanced double-pulse tester that enables customers to test entire power modules quickly and easily.
Read more...
---
High-voltage power inductors
RF Design Passive Components
Coilcraft's RFC0807BV Series power inductors are a high-voltage version of the RFC0807B Series. Their operating voltage is rated at 800 V, which is higher than comparable products in the market. They 
...
Read more...
---
Mouser's resource pages make it easier to find what you need
TRX Electronics Design Automation
Mouser Electronics offers a wealth of customer-focused online tools to simplify and optimise the selection and purchasing process. Helping customers to easily browse, select and purchase products, the 
...
Read more...
---
Tiny CO2 sensor employs photoacoustic spectroscopy
TRX Electronics Analogue, Mixed Signal, LSI
The device uses a high-sensitivity MEMS microphone to detect the pressure change generated by CO
2
molecules within the sensor cavity.
Read more...
---
Modules support Wi-Fi 4 and Bluetooth 5.2
TRX Electronics Telecoms, Datacoms, Wireless, IoT
The new modules are mechanically and pin-compatible with the Sterling-LWB module, offering a simplified upgrade path for existing designs.
Read more...
---
Power inductors with very low DC and AC losses
RF Design Passive Components
Coilcraft's new XGL6020 low-profile moulded power inductors offer the company's lowest DC losses and extremely low AC losses for a wide range of DC-DC converters.  Additional performance benefits include 
...
Read more...
---
Dual-port PoE++ transformer
Electrocomp Passive Components
Bourns' Magnetics product division is introducing the new Model SM13143EL dual-port LAN 10/100/1000 Base-T PoE++ transformer for Ethernet applications. This part is IEEE 802.3bt Type 3 (also known as 
...
Read more...
---