printer friendly version
EMI filter for space-sensitive designs
24 November 2021
Circuit & System Protection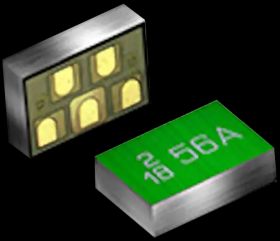 Engineered as a dual-channel filter array, the VEMI256A-SD2 two-channel EMI filter from Vishay Intertechnology helps suppress electromagnetic interference (EMI) and radio frequency interference (RFI) for two protection paths while providing robust system-level electrostatic discharge (ESD) protection for interface line filtering.
The VEMI256A-SD2 is a highly integrated two-channel filter in an ultra-compact chip level package ideal for space-constrained applications. It offers a low leakage current for ESD protection and enables designers to filter and clamp two different signal or data lines to the device's ground. The clamping voltage is rated at ±30 kV and helps prevent damage to the protected device when subjected to ESD pulses. The VEMI256A-SD2 has been tested per IEC 61000-4-2 standards, meeting ESD immunity requirements with ratings of ±25 kV for both contact and air discharge. The filter also features a typical cut-off frequency of 60 MHz, line resistance of 60 Ω and an operating temperature of ‑40°C to +150°C.
The filter is available in a 0,45 mg, CLP1007-5M package that prevents device shorts while offering optimum stand-off and minimal tilt and rotation for space-sensitive devices. It also meets the UL 94 flammability standard and has a moisture sensitivity level classified to Level 1 according to J-STD-020.
The VEMI256A-SD2 is well suited for a variety of mobile and wired communication devices, including smartphones, tablets, portable electronic devices, display interfaces, keypads and high-speed I/O data ports.
For more information contact Willem Schmidt, Altron Arrow, +27 11 923 9600, [email protected], www.altronarrow.com
Credit(s)
Further reading:
Powering your automotive electronics
Altron Arrow Power Electronics / Power Management
A look at the challenges of providing multiple supply rails to vehicle systems being powered from a single vehicle battery, with an available solution given.
Read more...
---
Microchip's new IC to replace Hall effect position sensors
Altron Arrow Electronics Technology
The LX34070 IC from Microchip is set to help accelerate the global move away from expensive and less accurate magnet-based solutions for safety-critical EV motor position monitoring.
Read more...
---
8-bit MCU development board provides onboard 5G
Altron Arrow DSP, Micros & Memory
The AVR-IoT Cellular Mini development board is the latest from Microchip and gives developers an easy blueprint for building IoT devices that connect via 5G.
Read more...
---
PowerDI8080 40 V MOSFET delivers industry-leading performance
Altron Arrow Power Electronics / Power Management
Diodes Incorporated has announced the introduction of the PowerDI80808-5, a power package that meets the needs of EV applications.
Read more...
---
Microchip releases secure Arm Cortex-M23 microcontroller
Altron Arrow DSP, Micros & Memory
The microcontroller is integrated with a robust secure subsystem and contains Arm TrustZone technology to isolate security critical components.
Read more...
---
New transient voltage suppressors for automotive applications
EBV Electrolink Circuit & System Protection
The devices offer high surge capability of 3000 W and a high temperature operation up to 175°C for signal line protection.
Read more...
---
Infineon's easy-to-use replacement for legacy barrel jacks
Altron Arrow News
It is estimated that over 10 billion power tools are still using the old barrel jacks for their power needs, which will need to change.
Read more...
---
Evaluation board for MEMS accelerometers
Altron Arrow Analogue, Mixed Signal, LSI
The board is designed to facilitate fast system prototyping and device evaluation of MEMS devices in ST's ASM330LHHX product family.
Read more...
---
ST releases first automotive IMU with embedded ML
Altron Arrow Computer/Embedded Technology
Smart driving moves another step closer to high levels of automation with STMicroelectronics' new machine learning core.
Read more...
---
Arrow Electronics announces alliance with Senseye
Altron Arrow News
The agreement will see Arrow Electronics together with Senseye bringing to market AI-based predictive maintenance solutions for industrial sectors.
Read more...
---