printer friendly version
EMI filter for space-sensitive designs
24 November 2021
Circuit & System Protection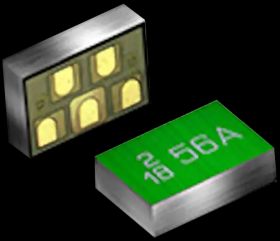 Engineered as a dual-channel filter array, the VEMI256A-SD2 two-channel EMI filter from Vishay Intertechnology helps suppress electromagnetic interference (EMI) and radio frequency interference (RFI) for two protection paths while providing robust system-level electrostatic discharge (ESD) protection for interface line filtering.
The VEMI256A-SD2 is a highly integrated two-channel filter in an ultra-compact chip level package ideal for space-constrained applications. It offers a low leakage current for ESD protection and enables designers to filter and clamp two different signal or data lines to the device's ground. The clamping voltage is rated at ±30 kV and helps prevent damage to the protected device when subjected to ESD pulses. The VEMI256A-SD2 has been tested per IEC 61000-4-2 standards, meeting ESD immunity requirements with ratings of ±25 kV for both contact and air discharge. The filter also features a typical cut-off frequency of 60 MHz, line resistance of 60 Ω and an operating temperature of ‑40°C to +150°C.
The filter is available in a 0,45 mg, CLP1007-5M package that prevents device shorts while offering optimum stand-off and minimal tilt and rotation for space-sensitive devices. It also meets the UL 94 flammability standard and has a moisture sensitivity level classified to Level 1 according to J-STD-020.
The VEMI256A-SD2 is well suited for a variety of mobile and wired communication devices, including smartphones, tablets, portable electronic devices, display interfaces, keypads and high-speed I/O data ports.
For more information contact Willem Schmidt, Altron Arrow, +27 11 923 9600, [email protected], www.altronarrow.com
Credit(s)
Further reading:
TI releases top five power design tools
Altron Arrow Design Automation
Texas Instruments has released an online resource combining the top five power design tools available to aid in the next electronic project design.
Read more...
---
Angle sensor for safety-critical applications
Altron Arrow Passive Components
TDK's TAS4240 TMR-based angle-sensor enables precise angle measurements in applications where high performance is needed and space is limited.
Read more...
---
Compact varistors offer surge capability of 6000 A
Electrocomp Circuit & System Protection
TDK has released the new EPCOS B72314S2* series of leaded disk varistors which cover a wide operating voltage range of 175 V
RMS
to 625 V
RMS
.
Read more...
---
1,5 A LDO linear regulator from TI
Altron Arrow Power Electronics / Power Management
The TPS7A74 from Texas Instruments is a 1,5 A low-dropout linear regulator with programmable soft-start for a wide variety of applications.
Read more...
---
Clearing the Static: ESD wrist straps
Actum Electronics Circuit & System Protection
The human body is the primary source of electrostatic charge generation. In order to control and reduce static charge build-up and prevent electrostatic discharges (ESD) at an electronic equipment facility, we use grounding systems to ensure that all components are at the same electrical potential.
Read more...
---
Automotive motion sensor with embedded ML core
Altron Arrow DSP, Micros & Memory
The ASM330LHHX, a six-axis inertial module with embedded machine learning core and dual operating modes, ensures the lowest power consumption and in-sensor event detection.
Read more...
---
Panasonic releases its updated touch-sensitive knob
Altron Arrow Electronics Technology
Panasonic, in conjunction with Microchip, has launched an update to its existing Magic Knob, a capacitive knob ready for standard touch sensors for use in controlling automotive information displays.
Read more...
---
ST develops new serial EEPROM class
Altron Arrow DSP, Micros & Memory
This new class of serial EEPROM is a 32-Mbit page-erasable memory that is less expensive than FRAM while offering a lower power consumption.
Read more...
---
Fully programmable motor controllers
Altron Arrow Power Electronics / Power Management
The MOTIX IMD70xA programmable motor controllers from Infineon are now available in one package to power the next generation of battery-powered applications.
Read more...
---
OMRON's latest MicroHAWK ultra-compact code reader
Altron Arrow Manufacturing / Production Technology, Hardware & Services
OMRON expands the MicroHAWK range with the V440-F, a scanner ideal for reading multiple codes in a wide area as well as for applications over longer distances and with minuscule barcodes.
Read more...
---