printer friendly version
32-bit MCUs integrate peripheral functions in tiny package
24 November 2021
DSP, Micros & Memory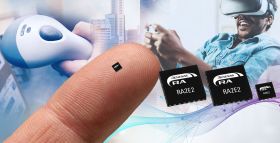 Renesas Electronics recently added a new product group to its 32-bit RA family of microcontrollers (MCUs). The RA2E2 group, based on the latest Arm Cortex-M23 core, offers a combination of extremely low power consumption, a set of peripherals targeted at IoT endpoint applications and space-saving packaging options including a tiny 16-pin WLCSP (wafer level chip scale package) device measuring only 1,87 x 1,84 mm. These new 48 MHz devices enable fast design cycles and easy upgrades to other RA-family devices.
The RA2E2 MCUs are designed to address the needs of demanding IoT endpoint applications, including wearables, medical devices, appliances and industrial automation. They offer what Renesas claims is the industry's lowest operating power in their class, consuming only 81 µA/MHz in active mode with software standby current of only 200 nA with fast wakeup.
The new devices also tolerate a wide temperature range of -40°C to +125°C for harsh IoT operating environments. They support an I3C bus interface and integrate cost-saving peripheral functions such as an on-chip oscillator with precision of +/-1%, power-on reset and low-voltage detector, EEPROM and a temperature sensor.
For more information contact Callie Lombard, Hi-Q Electronics, +27 11 894 8083, [email protected], www.hi-q.co.za
Credit(s)
Further reading:
Curiosity Nano development platform
EBV Electrolink DSP, Micros & Memory
Microchip Curiosity Nano (MC Nano) is a development platform which may be used to develop applications equipped with some of the 32-bit products from the PIC32 and SAM families.
Read more...
---
8-bit MCU development board provides onboard 5G
Altron Arrow DSP, Micros & Memory
The AVR-IoT Cellular Mini development board is the latest from Microchip and gives developers an easy blueprint for building IoT devices that connect via 5G.
Read more...
---
Microchip releases secure Arm Cortex-M23 microcontroller
Altron Arrow DSP, Micros & Memory
The microcontroller is integrated with a robust secure subsystem and contains Arm TrustZone technology to isolate security critical components.
Read more...
---
AWS IoT reference example for ESP32-C3
iCorp Technologies DSP, Micros & Memory
Espressif has released the ESP-AWS-IoT library on GitHub which provides a reference framework for development on the ESP32-C3 core.
Read more...
---
Single-core MPU with MIPI CSI-2 camera interface
Altron Arrow DSP, Micros & Memory
The 1 GHz SAMA7G54 is Microchip's first single-core MPU with MIPI CSI-2 camera interface and advanced audio features.
Read more...
---
Complex, reliable sensor processing in one cost-effective MCU
Altron Arrow DSP, Micros & Memory
Multiple high-speed peripherals, such as 3,4 MHz I2C, 50 MHz SPI and UART, are included to maximise communication bandwidth.
Read more...
---
64 Mbit SuperFlash memory for space systems
Altron Arrow DSP, Micros & Memory
Designers of spaceflight-qualified systems have a great need to reduce development time, cost and risk in their systems. Microchip Technology proposed the concept of starting with commercial off-the-shelf 
...
Read more...
---
Industrial MCU with gigabit time-sensitive networking
Future Electronics DSP, Micros & Memory
Time-sensitive networking solution by NXP bridges communication gaps in industrial IoT.
Read more...
---
Offline voice recognition module
iCorp Technologies DSP, Micros & Memory
AI-Thinker's VB-01 is an offline voice recognition AI module featuring ultra-low cost, high reliability and strong versatility.  Its speech recognition technology achieves a highly dependable wake-up 
...
Read more...
---
Speech processing SoC uses Microchip's SuperFlash technology
Altron Arrow DSP, Micros & Memory
Computing-in-memory technology is poised to eliminate the massive data communications bottlenecks otherwise associated with performing artificial intelligence (AI) speech processing at the network's edge, 
...
Read more...
---