printer friendly version
Power quality analysers with advanced logging
28 February 2022 Test & Measurement Power Electronics / Power Management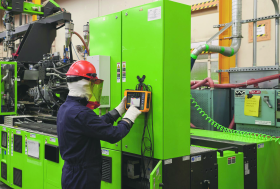 Power quality (PQ) measurements can be complex to set up and frustrating when critical events are missed. Comtest, Fluke's local channel partner, has introduced the new Fluke 1770 series that captures more than 500 power quality parameters by default so critical power quality events are never missed – fast transients up to 8 kV, harmonics up to 30 kHz, dips and swells, as well as the voltage, current and power measurements that enable technicians to characterise electrical systems.
Automatic measurement of power and power quality parameters capture critical power quality data as soon as a session is started, without extensive setup or selections. A streamlined user interface makes it easy to navigate between measurement parameters like V/A/Hz, power, dips and swells, harmonics, unbalance, or PQ health at the push of a button.
Voltage transients negatively impact otherwise healthy systems every day and their potential to damage equipment can't be underestimated. Fluke 1775 and 1777 capture high-speed transients faster than ever before by leveraging the power of the latest Intel Cyclone FPGA. With a sample rate of 20 MSps, users can effectively capture, troubleshoot and mitigate the most damaging power quality issues.
1770 series power quality analysers come standard with powerful Fluke Energy Analyse Plus software, designed to analyse power quality data right out of the box without extensive training. It enables technicians to quickly compare results to historical values, benchmark against industry norms, compare measured data to local conditions and create a more complete picture of what's occurring across a facility – even while the data is still being collected. Technicians can create customised reports or leverage built-in one-click reporting to industry standards like EN 50160, IEEE 519 and GOST 33073.
Credit(s)
Further reading:
Modbus probes gain support for parity options
RF Design Test & Measurement
The marquee feature of firmware version 1.06 facilitates the use of odd, even, mark or space parity modes when communicating with bus probes.
Read more...
---
Three compact solutions for high step-down voltage ratios
Altron Arrow Editor's Choice Power Electronics / Power Management
System designers can be faced with the challenge of down-converting high DC input voltages to very low output voltages at high output current.
Read more...
---
Embrace the full power of J-Link debug probes
CST Electronics Test & Measurement
J-Link is supported by all major IDEs, from free Eclipse-based ones up to commercial-grade ones like Segger Embedded Studio.
Read more...
---
40 GHz RF power sensor
Conical Technologies Test & Measurement
Mini-Circuits' PWR-40PW-RC is a USB/Ethernet-controlled power sensor capable of making many different measurements.
Read more...
---
Power device analyser
Concilium Technologies Test & Measurement Power Electronics / Power Management
Keysight's new PD1550A is an advanced double-pulse tester that enables customers to test entire power modules quickly and easily.
Read more...
---
Evaluation board for MEMS devices
Altron Arrow Test & Measurement
The STEVAL-MKI220V1 is an adaptor board designed to facilitate the evaluation of MEMS devices in the LPS27HHTW product family.
Read more...
---
USB-attachable vector network analyser
Conical Technologies Test & Measurement
Mini-Circuits announced the release of its new eVNA-63, a high-quality and affordable test instrument with a bandwidth from 300 kHz to 6 GHz. The unit has a typical dynamic range of 132 dB, a trace noise 
...
Read more...
---
Dedicated logger for energy surveys and load studies
Comtest Test & Measurement
Designed for energy-conscious consumers of electricity, the Fluke 1730 three-phase electrical energy logger simplifies the task of discovering sources of wasted energy. Its ability to profile energy usage 
...
Read more...
---
Compact test fixtures for small PCB volumes
Electronic Industry Supplies Test & Measurement
In order to offer the market a space-saving option, Ingun's manual test fixtures MA 350/F, MA 360/F, MA 260/F and MA 160/F were designed for testing small volumes of printed circuit boards (PCB). These 
...
Read more...
---
Precision current loop calibrators
Comtest Test & Measurement
The Fluke 709 and 709H mA loop calibrators are built around a user-friendly interface with a quick-set rotary encoder knob.
Read more...
---