printer friendly version
Matter-ready platform for AI/ML at the edge
28 February 2022
Telecoms, Datacoms, Wireless, IoT
Brand new additions from Silicon Labs come in the form of the BG24 and MG24 families of 2,4 GHz wireless SoCs for Bluetooth and multiple-protocol operations, respectively, as well as a new software toolkit.
This new co-optimised hardware and software platform can be used to bring AI/ML (artificial intelligence/machine learning) applications and high-performance wireless to battery-powered edge devices.
Matter-ready, the ultra-low-power BG24 and MG24 families support multiple wireless protocols and incorporate PSA Level 3 Secure Vault protection, ideal for diverse smart home, medical and industrial applications.
The SoCs feature integrated AI/ML accelerators, support for Matter, Zigbee, OpenThread, Bluetooth Low Energy, Bluetooth mesh, proprietary and multi-protocol operation, the highest level of industry security certification, ultra-low power capabilities and the largest memory and Flash capacity in the Silicon Labs portfolio.
The supporting software toolkit is designed to allow developers to quickly build and deploy AI and ML algorithms using popular tool suites like TensorFlow.
The complete Pro Kit for the new BG24 and MG24 SoCs have all the necessary hardware and software for developing high-volume, scalable 2,4 GHz wireless IoT solutions.
Integrated AI/ML acceleration improves performance and energy efficiency
IoT product designers see the tremendous potential of AI and machine learning to bring even greater intelligence to edge applications like home security systems, wearable medical monitors, sensors monitoring commercial facilities and industrial equipment and more. But today, those considering deploying AI or machine learning at the edge are faced with steep penalties in performance and energy use that may outweigh the benefits.
The BG24 and MG24 alleviate those penalties with dedicated AI/ML accelerators built-in. This specialised hardware is designed to handle complex calculations quickly and efficiently, with internal testing showing up to a fourfold improvement in performance along with up to a sixfold improvement in energy efficiency. Because the ML calculations are happening on the local device rather than in the cloud, network latency is eliminated for faster decision-making and actions.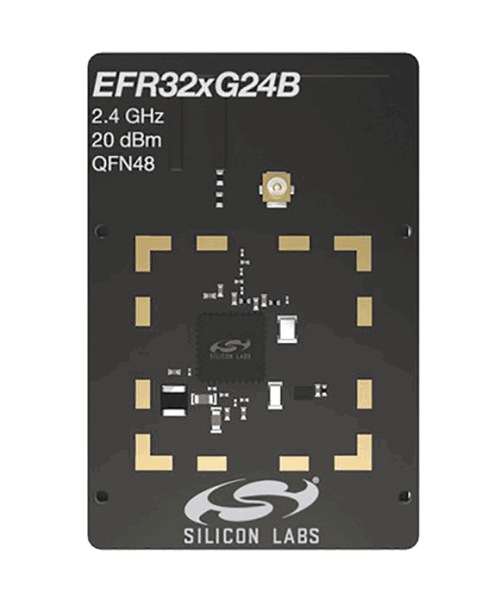 The development board for the new BG24 and MG24 SoCs, with its integrated 20-bit ADC
and numerous external sensors, is an ideal platform for developing AI/ML solutions.
The new device families also have the largest Flash and random access memory (RAM) capacities in the Silicon Labs portfolio. This means that the device can evolve for multi-protocol support, Matter and trained ML algorithms for large datasets. PSA Level 3-certified Secure Vault, the highest level of security certification for IoT devices, provides the security needed in products like door locks, medical equipment and other sensitive deployments where hardening the device from external threats is paramount.
AI/ML software and Matter support
In addition to natively supporting TensorFlow, Silicon Labs has partnered with some of the leading AI and ML tool providers, like SensiML and Edge Impulse, to ensure that developers have an end-to-end toolchain that simplifies the development of machine learning models optimised for embedded deployments of wireless applications. Using this new AI/ML toolchain with Silicon Labs' Simplicity Studio and the BG24 and MG24 families of SoCs, developers can create applications that draw information from various connected devices, all communicating with each other using Matter to then make intelligent machine learning-driven decisions.
For example, in a commercial office building, many lights are controlled by motion detectors that monitor occupancy to determine if the lights should be on or off. However, when typing at a desk with motion limited to hands and fingers, workers may be left in the dark when motion sensors alone cannot recognise their presence. By connecting audio sensors with motion detectors through the Matter application layer, the additional audio data, such as the sound of typing, can be run through a machine-learning algorithm to allow the lighting system to make a more informed decision about whether the lights should be on or off.
ML computing at the edge enables other intelligent industrial and home applications, including sensor-data processing for anomaly detection, predictive maintenance, audio pattern recognition for improved glass-break detection, simple-command word recognition and vision use-cases like presence detection or people counting with low-resolution cameras.
Silicon Labs' most capable family of SoCs
The single-die BG24 and MG24 SoCs combine a 78 MHz ARM Cortex-M33 processor, high-performance 2,4 GHz radio, 20-bit ADC, an optimised combination of Flash (up to 1536 kB) and RAM (up to 256 kB) and an AI/ML hardware accelerator for processing machine learning algorithms while offloading the ARM Cortex-M33 so that applications have more cycles to do other work.
For more information contact NuVision Electronics, +27 11 608 0144, [email protected], www.nuvisionelec.com
Credit(s)
Further reading:
Analog-tuneable notch filter bank from Atlanta Micro
RFiber Solutions Telecoms, Datacoms, Wireless, IoT
The AM3170 is an analog-tuneable notch filter bank with notches from 6,0 to 18,0 GHz. It provides an excellent filtering solution for receivers or transceivers requiring flexible centre frequency removal, high dynamic range and low SWaP.
Read more...
---
Digitally tuneable bandpass filter bank
RFiber Solutions Telecoms, Datacoms, Wireless, IoT
The AM3163 is a miniature digitally tuneable bandpass filter bank covering the 2,0 to 18 GHz frequency range. The device provides three separate filter bands each with 16 low-pass and 16 high-pass tuning 
...
Read more...
---
Bidirectional amplifier basics
RF Design Telecoms, Datacoms, Wireless, IoT
A bidirectional amplifier (BDA) is an active RF device that is widely used in a variety of telecommunication, radar, and other RF sensing applications. Although conceptually a bidirectional amplifier 
...
Read more...
---
Expected adoption of Wi-Fi 6 routers for the smart home
Altron Arrow Telecoms, Datacoms, Wireless, IoT
We've all been there, working from home or on a Zoom call and then suddenly the computer freezes and everything stops working. In today's new normal of hybrid work, having a stable and reliable Wi-Fi connection is table stakes.
Read more...
---
MT8000A validated for testing of sub-6 GHz cells
Coral-i Solutions Telecoms, Datacoms, Wireless, IoT
Anritsu Corporation has announced that its radio communications test station MT8000A has been validated by Qualcomm Technologies and is now supported by the Qualcomm Development Acceleration Resource 
...
Read more...
---
Marki Microwave releases a family of ultra-broadband mixers
RF Design Telecoms, Datacoms, Wireless, IoT
The broad bandwidth mmWave mixers support operation up to 130 GHz and are offered as a two-, three- or four-port MMIC device.
Read more...
---
Key considerations for Wi-Fi standards for IoT products
TRX Electronics Telecoms, Datacoms, Wireless, IoT
Wi-Fi 6 delivers several new capabilities that will enhance product performance, reliability, or quality of service (QoS) enabling more connected products in the home, and reduced power consumption for improved battery life in battery-operated products.
Read more...
---
Corner-placement antenna for GNSS designs
iCorp Technologies Telecoms, Datacoms, Wireless, IoT
Antenova has added a new offering to its range of miniature surface mount designed (SMD) antennas and modules for GNSS applications with the Agosti, an antenna which operates with exceptional efficiency in a reduced space.
Read more...
---
Quectel 4G SMD antenna
iCorp Technologies Telecoms, Datacoms, Wireless, IoT
This wideband LTE/cellular/CDMA SMT antenna from Quectel, operating in the frequency range from 698 to 960 MHz and 1710 to 2690 MHz, delivers high efficiency in all bands when mounted to the device host PCB.
Read more...
---
SIMCom pioneers the LPWA segment with future-proof products
Otto Wireless Solutions Telecoms, Datacoms, Wireless, IoT
With the gradual withdrawal of 2G/3G networks from the market, LPWA has attracted extensive attention from many IoT manufacturers for its low power consumption, long standby time, and low cost.
Read more...
---