printer friendly version
Handheld plastic electronic instrument enclosures
30 March 2022
Enclosures, Racks, Cabinets & Panel Products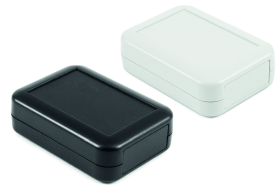 Hammond Manufacturing's 1552-Series handheld enclosures are available in six sizes. All models are 50 mm wide and either 22 or 30 mm high, with three length options available: 70 mm, 110 mm and 150 mm.
The IP54 flame-retardant ABS plastic units feature an ergonomic design that fits ergonomically in the hand, enabling it to be used comfortably for long periods in applications such as a machine controller or an electric hoist control. An optional wall-mounted holder allows the enclosure to be stored in a convenient location when not in use. It can also be used as a desktop enclosure.
Lap joint construction protects the housing's contents against dust accumulation and water, and an integral cable clamp keeps internally routed cables firmly in place without damage. Both end plates are removable for easy machining and are swappable with an integrated TPU cord-grip end-panel, which provides input/output and strain relief solutions for cables.
When device storage is required for applications such as medical instrumentation, a wall-mounted holder is available as an accessory. Built-in features include internal PCB standoffs, a recess on top for seamless installation of membrane keypads, and a lightly textured surface that retains its initial lustre even when subjected to minor blemishes such as light scratches or fingerprints. Each enclosure is secured with four self-tapping screws, and snap closures are fitted in the centre of longer units to prevent bowing.
The enclosures are moulded in a choice of black or grey flame-retardant, UL94-V0-rated ABS plastic with a satin texture; black models come with black screws while grey models come with nickel-plated screws. Cable gland end-panels are made from flexible TPE and hard polycarbonate, and cable tie-down accessories are moulded from polycarbonate, all of which are rated to UL94-V0.
Optional accessories include a cord-grip end-panel kit which replaces the standard end-panel and fits securely into the enclosure. These kits are compatible with wire diameters from 2 mm to 6 mm, and allow the cable to be secured inside the case with a cable tie-down and screws.
A plastic wall-holder accessory (also optional) allows the enclosure to be temporarily fixed to a wall with mounting holes which are countersunk for flat-head screws.
Credit(s)
Further reading:
TDK announces robust varistors with 14 mm disk diameter
Electrocomp Passive Components
The new AdvanceD series of varistors have a wide operating voltage range up to 625 V and offer a surge current capability of 3000 A.
Read more...
---
Compact varistors offer surge capability of 6000 A
Electrocomp Circuit & System Protection
TDK has released the new EPCOS B72314S2* series of leaded disk varistors which cover a wide operating voltage range of 175 V
RMS
to 625 V
RMS
.
Read more...
---
Short body USB-A with no compromise on performance
Electrocomp Interconnection
The all-new USB1125 connector from GCT with a minimal PCB footprint of just 13mm2 is 25% smaller than full-size equivalents.
Read more...
---
Bourns releases new series of power inductors
Electrocomp Power Electronics / Power Management
Constructed with a magnetic-silica coating to the perimeter of the inductor winding to provide effective shielding, these inductors release lower magnetic field radiation compared to non-shielded inductors.
Read more...
---
IP68 sealed enclosures from Hammond Manufacturing
Electrocomp Enclosures, Racks, Cabinets & Panel Products
Hammond Manufacturing has introduced the 1551W series, IP68 sealed versions of its popular 1551 miniature enclosure family, in five initial sizes.
Read more...
---
New series of power ribbon wire-wound resistors
Electrocomp Power Electronics / Power Management
This QL/QRZG series of high-power resistors have a high-power load up to 2500 W and are suitable for applications such as industrial braking, EV battery packs and charging stations.
Read more...
---
No need for custom enclosures thanks to rugged subrack system
Vepac Electronics Enclosures, Racks, Cabinets & Panel Products
The KM6-HD subrack range from Verotec meets the requirements of IEEE 1101.10 and 11, which expand on IEC60297 to add functionality required for modern industrial computing applications. This includes 
...
Read more...
---
Surface-mount resettable fuses
Electrocomp Passive Components
The new series of fuses, suitable for overcurrent and thermal protection, expand the hold current up to 6 A and the maximum voltage to 33 V DC.
Read more...
---
Extruded aluminium enclosures
Sivan Electronic Supplies Enclosures, Racks, Cabinets & Panel Products
The extruded aluminium enclosures of Gainta's ALUG7XX series are available in different sizes, with lengths suitable for indoor desktop device or outdoor wall-mounting junction/control box use. Five 
...
Read more...
---
Conduction-cooled electronics cases
Actum Electronics Enclosures, Racks, Cabinets & Panel Products
As electronics and processing systems become smaller and smaller, the need for versatile, compact form-factor cases that allow efficient heat dissipation increases. nVent Schroff offers customisable conduction-cooled 
...
Read more...
---