printer friendly version
SOSA-aligned VPX boards are first to market with HBM
28 February 2022
Computer/Embedded Technology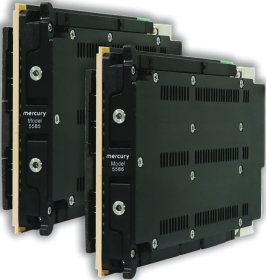 Mercury Systems, a supplier of trusted, secure mission-critical technologies for aerospace and defence, announced the Model 5585 and Model 5586 VPX modules. Thanks to their Xilinx Virtex UltraScale+ high-bandwidth memory (HBM) FPGA architecture, they offer a 20-times increase in memory bandwidth over traditional DDR4 memory and are aligned with the Sensor Open Systems Architecture (SOSA) standard. This innovative design significantly boosts signal processing speeds to support size, weight and power (SWaP)-constrained, compute-intensive applications such as electronic warfare, radar, signals intelligence and big data.
When applied to mission-critical applications such as electronic countermeasures, this added processing power helps transform raw data into actionable intelligence in near-real-time, allowing customers to gain insights quickly and make fast decisions confidently.
The HBM memory chip stacking approach shortens how far data has to travel on chip, enabling smaller form-factor subsystems to achieve superior power efficiency and space savings while eliminating processing and memory bottlenecks. The Virtex UltraScale+'s combination of memory, compute and I/O capability in a single high-performance FPGA enables demanding data acquisition and signal processing applications to operate with much lower latency and reduced SWaP than was possible with previous generations of FPGAs, which needed external memory. This real-time responsiveness is key for mission-critical applications.
Credit(s)
Further reading:
ST releases first automotive IMU with embedded ML
Altron Arrow Computer/Embedded Technology
Smart driving moves another step closer to high levels of automation with STMicroelectronics' new machine learning core.
Read more...
---
Rugged plug-in card ideal for sensor-based systems
Rugged Interconnect Technologies Computer/Embedded Technology
Concurrent Technologies' new processor board provides high performance for I/O sensor device needs.
Read more...
---
Standalone H.264 video streaming board
Rugged Interconnect Technologies Computer/Embedded Technology
The XStream-SD4 is an intelligent, standalone, ultra-low latency H.264 streaming solution that accepts 4x NTSC/PAL/RS-170 composite video sources and records and streams them over 100/1000 Mbps Ethernet. 
...
Read more...
---
EBV signs up AI chipmaker Hailo
EBV Electrolink Computer/Embedded Technology
Hailo offers a wide range of AI accelerators, including the innovative Hailo-8 AI processor and high-performance AI acceleration modules in M.2 and Mini PCIe formats.
Read more...
---
Android smart module for AIoT
iCorp Technologies Computer/Embedded Technology
Quectel's SG865W-WF offers the performance and multimedia functions to meet AIoT scenarios where high computing power is required.
Read more...
---
Seamless STM32Cube access to Azure RTOS
Altron Arrow Computer/Embedded Technology
The Azure RTOS suite is fully supported in the STM32CubeIDE tool and STM32CubeMX initialiser, which can directly configure Azure RTOS components.
Read more...
---
Enabling the 5G intelligent edge takes white-box thinking
Centurion Micro Electronics Computer/Embedded Technology
The factory of the future will be more automated and efficient than today, and white-box hardware is an important component in achieving this goal.
Read more...
---
Powerful system-on-module development platform
Computer/Embedded Technology
A new system-on-module ecosystem has been released by SlidRun, an Israeli developer and manufacturer of high-performance system-on-module (SOM) solutions, single-board computers (SBC) and network edge 
...
Read more...
---
Computer-on-modules for modern HMI designs
Rugged Interconnect Technologies Computer/Embedded Technology
In building automation, more and more often-touch displays with integrated embedded computers can be found – from automated parking systems to elevators or home climate control. Most of the time, these 
...
Read more...
---
Gen 3 PCIe board offers RF flexibility
Rugged Interconnect Technologies Computer/Embedded Technology
The Quartz Model 7053 is a high-performance, 8-channel A/D and D/A PCIe (PCI Express) board based on the Xilinx Zynq UltraScale+ RFSoC. The new Pentek board supports direct RF sampling using eight 5 GSps 
...
Read more...
---