printer friendly version
80-core embedded module for edge computing
30 March 2022
Computer/Embedded Technology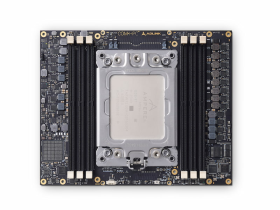 Adlink Technology's new COM-HPC Ampere Altra is the world's first 80-core COM-HPC server-type module that eases power/performance tradeoffs. It targets edge platforms that reliably and predictably process the most compute-intensive workloads, eliminating bottlenecks and restrictions typically caused by memory caches and system memory limits on edge devices.
At the core of the module is an Ampere Altra SoC (system-on-chip) using the Arm Neoverse N1 architecture, providing premium performance within a relatively modest thermal envelope, lower total cost of ownership than x86 designs and significantly lower power consumption. The module boasts 768 GB DDR4 RAM with six individual memory channels for demanding workloads, four 10GbE and one GbE interface.
The COM-HPC Ampere Altra delivers an impressive performance/power ratio of up to 80 Arm v8.2 64-bit cores running at up to 2,8 GHz with only 175 W. It provides three PCIe Gen4 x16 lanes with a homogenous architecture and valuable compute power for demanding workloads such as real-time/near-real-time applications including autonomous driving, stationary and mobile robotics, medical imaging and robotic surgery, test and measurement and video broadcasting. In addition, it is well suited as a native arm64 development and compilation system for lower-power embedded arm64 designs.
Ampere Altra is one of the first solutions with Arm SystemReady SR certification; Adlink is also working closely with Ampere and Arm to certify the COM-HPC Ampere Altra prototype system as a SystemReady SR device. COM-HPC Ampere Altra supports the open-source edk2 as bootloader with UEFI. Existing customers can just download a stock aarch64 (arm64) ISO such as Ubuntu and install it through booting a live ISO directly on the target – the same convenience developers have become accustomed to with x86/amd64 target systems. 
Hardware reference platforms
The new module's release came hot on the heels of Arm's launch of the Scalable Open Architecture for Embedded Edge (SOAFEE) to accelerate the software-defined future of automotive electronics. SOAFEE's reference hardware platforms are Adlink's 32-core-default COM-HPC Ampere Altra-powered 'AVA Developer Platform' which will be used by automakers to develop and test on Arm-based silicon and the 80-core-default COM-HPC Ampere Altra-powered 'AVA-AP1' for in-vehicle prototyping.
Automakers are moving their vehicles from hundreds of simultaneous discrete ECUs, collapsing their in-vehicle compute architecture into a smaller number of powerful 'domain controllers' with computer per major class of function (such as ADAS, infotainment) at first, to eventually one computer running all functions, with 'mixed criticality' on a single, powerful Arm SoC.
Credit(s)
Further reading:
ST releases first automotive IMU with embedded ML
Altron Arrow Computer/Embedded Technology
Smart driving moves another step closer to high levels of automation with STMicroelectronics' new machine learning core.
Read more...
---
Rugged plug-in card ideal for sensor-based systems
Rugged Interconnect Technologies Computer/Embedded Technology
Concurrent Technologies' new processor board provides high performance for I/O sensor device needs.
Read more...
---
Standalone H.264 video streaming board
Rugged Interconnect Technologies Computer/Embedded Technology
The XStream-SD4 is an intelligent, standalone, ultra-low latency H.264 streaming solution that accepts 4x NTSC/PAL/RS-170 composite video sources and records and streams them over 100/1000 Mbps Ethernet. 
...
Read more...
---
EBV signs up AI chipmaker Hailo
EBV Electrolink Computer/Embedded Technology
Hailo offers a wide range of AI accelerators, including the innovative Hailo-8 AI processor and high-performance AI acceleration modules in M.2 and Mini PCIe formats.
Read more...
---
Android smart module for AIoT
iCorp Technologies Computer/Embedded Technology
Quectel's SG865W-WF offers the performance and multimedia functions to meet AIoT scenarios where high computing power is required.
Read more...
---
Seamless STM32Cube access to Azure RTOS
Altron Arrow Computer/Embedded Technology
The Azure RTOS suite is fully supported in the STM32CubeIDE tool and STM32CubeMX initialiser, which can directly configure Azure RTOS components.
Read more...
---
Enabling the 5G intelligent edge takes white-box thinking
Centurion Micro Electronics Computer/Embedded Technology
The factory of the future will be more automated and efficient than today, and white-box hardware is an important component in achieving this goal.
Read more...
---
Powerful system-on-module development platform
Computer/Embedded Technology
A new system-on-module ecosystem has been released by SlidRun, an Israeli developer and manufacturer of high-performance system-on-module (SOM) solutions, single-board computers (SBC) and network edge 
...
Read more...
---
Computer-on-modules for modern HMI designs
Rugged Interconnect Technologies Computer/Embedded Technology
In building automation, more and more often-touch displays with integrated embedded computers can be found – from automated parking systems to elevators or home climate control. Most of the time, these 
...
Read more...
---
Gen 3 PCIe board offers RF flexibility
Rugged Interconnect Technologies Computer/Embedded Technology
The Quartz Model 7053 is a high-performance, 8-channel A/D and D/A PCIe (PCI Express) board based on the Xilinx Zynq UltraScale+ RFSoC. The new Pentek board supports direct RF sampling using eight 5 GSps 
...
Read more...
---