printer friendly version
Ergonomic tuning knobs with illumination options
30 March 2022
Switches, Relays & Keypads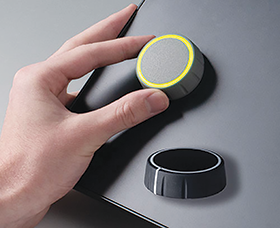 With its new Control-Knobs range, OKW Gehäusesysteme offers an advanced range of tuning knobs as the central elements for menu-controlled interfaces. The soft-touch grip surface provides an easy hold, a pleasant touch sensation and ergonomic operation. The high-quality appearance can also be illuminated if required.
The modern-looking parts are designed for user-friendly utilisation and consist of hard and soft plastic components, with a knob body made of high-quality PC (UL 94 HB) and a soft-touch TPE outer shell with a functional grooved appearance. Thanks to the soft-touch material, the new tuning knobs offer high-grip qualities with an anti-slip effect.
Installation of the Control-Knobs is effected using collets which guarantee a secure fit on the spindle and are ideally suited for rotary potentiometers/pulse encoders with round shaft ends in accordance with DIN 41 591. For final assembly, a cover made of PA 6 (UL94) is mounted on the basic body. The knobs are available in the standard colours nero and volcano, with either 36 mm or 46 mm diameters.
Both sizes are available with/without a pointer line on the side for fine scaling. The tuning knobs can be fitted with energy-saving SMD LED technology to provide individual lighting customisation. In this version, the basic body of the knob is not traffic white, but is made of translucent material. This provides illumination options with a translucent optical ring on the top surface, or a translucent optical ring on the top surface with a pointer line on the side.
To illuminate the ring, the base available in the range of accessories is required, together with the LED lighting kit (RGB backlight). Applications include measuring and control engineering, medical field and laboratory technology, smart factories, communication and many more. To adapt the knobs to special customer requirements, they can be modified by means of printing or laser marking on the top surface/cover.
Credit(s)
Further reading:
Miniature capacitor for automotive applications
Avnet Abacus Passive Components
Murata has released its LLC series of multi-layer ceramic capacitors for automotive applications, that feature a reversed termination for low ESL.
Read more...
---
Panasonic presents its distribution awards for 2023
Avnet Abacus News
Three award winners were selected recently at Panasonic Industry's European Distribution Conference 2023.
Read more...
---
The challenge of supporting multi-voltage systems
Avnet Abacus Power Electronics / Power Management
Vicor offers several modules for power delivery from 48 V, which include fixed ratio and regulated converter solutions that support both 48 V and 12 V loads.
Read more...
---
Memory comparison: DDR4, DDR5, GDDR6 and HBM
Avnet Abacus Computer/Embedded Technology
DDR5 SDRAM was introduced in 2021 and brings many performance enhancements, but just how much faster is it over DDR4? And how does it compare to other memory types like HBM2e and GDDR6?
Read more...
---
Polymer hybrid capacitors
Avnet Abacus Passive Components
ZUU series components feature the highest ripple current handling capability of 6,1 ARMS maximum, which is a 60% increase over the previous series at both 125 and 135°C.
Read more...
---
IA-820i with PCIe Gen5 interface
Avnet Abacus Computer/Embedded Technology
Featuring the Intel Agilex 7 I-Series FPGAs, these cards are optimised for applications that are bandwidth intensive and require high-performance processor interfaces.
Read more...
---
The diverse connector market
Avnet Abacus Interconnection
The roles that connectors are required to play range, from the smallest data connections to the largest power supplies, and they are frequently used in some of the toughest conditions on Earth.
Read more...
---
Avnet Abacus received distribution accolades from Molex
Avnet Abacus News
Avnet Abacus has been recognised by Molex with two prestigious awards in 2022, which are a testament to the company's commitment to growth, collaboration, and demand creation in the industry.
Read more...
---
Ultrabright chip LEDs
Avnet Abacus Opto-Electronics
Vishay's range of high-reliability ultrabright chip LEDs feature a tiny footprint with excellent efficiency, and are available in two sizes, SMD 0603 and 0402.
Read more...
---
Smart material flow with accurate kitting
Avnet Abacus Manufacturing / Production Technology, Hardware & Services
Panasonic's Logiscend is a line-level platform for enterprise manufacturing, allowing for intelligent material flow management in an era of Industry 4.0.
Read more...
---