printer friendly version
Ergonomic tuning knobs with illumination options
30 March 2022
Switches, Relays & Keypads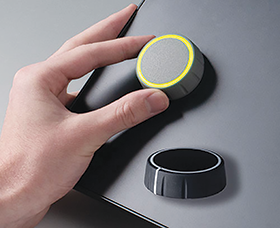 With its new Control-Knobs range, OKW Gehäusesysteme offers an advanced range of tuning knobs as the central elements for menu-controlled interfaces. The soft-touch grip surface provides an easy hold, a pleasant touch sensation and ergonomic operation. The high-quality appearance can also be illuminated if required.
The modern-looking parts are designed for user-friendly utilisation and consist of hard and soft plastic components, with a knob body made of high-quality PC (UL 94 HB) and a soft-touch TPE outer shell with a functional grooved appearance. Thanks to the soft-touch material, the new tuning knobs offer high-grip qualities with an anti-slip effect.
Installation of the Control-Knobs is effected using collets which guarantee a secure fit on the spindle and are ideally suited for rotary potentiometers/pulse encoders with round shaft ends in accordance with DIN 41 591. For final assembly, a cover made of PA 6 (UL94) is mounted on the basic body. The knobs are available in the standard colours nero and volcano, with either 36 mm or 46 mm diameters.
Both sizes are available with/without a pointer line on the side for fine scaling. The tuning knobs can be fitted with energy-saving SMD LED technology to provide individual lighting customisation. In this version, the basic body of the knob is not traffic white, but is made of translucent material. This provides illumination options with a translucent optical ring on the top surface, or a translucent optical ring on the top surface with a pointer line on the side.
To illuminate the ring, the base available in the range of accessories is required, together with the LED lighting kit (RGB backlight). Applications include measuring and control engineering, medical field and laboratory technology, smart factories, communication and many more. To adapt the knobs to special customer requirements, they can be modified by means of printing or laser marking on the top surface/cover.
Credit(s)
Further reading:
Miniature rotary switch series
Electrocomp Switches, Relays & Keypads
The high-quality miniature rotary switch series (MRSS) by TE Connectivity has a compact design which offers 50% lower profile than standard DIP switches.
Read more...
---
'Excellently average' PhotoMOS relays
Avnet Abacus Switches, Relays & Keypads
With the new AQY215S 100 V load voltage type, Panasonic Industry complements its GU series of MOSFET relays in the middle of the feature scale.
Read more...
---
Avnet Abacus congratulates Bourns on 75 years of innovation
Avnet Abacus News
This year also marks a milestone with the 21st anniversary of the distribution alliance between these two companies.
Read more...
---
Automotive solid-state relays
Switches, Relays & Keypads
The TPSI3050-Q1 isolated switch driver and the TPSI2140-Q1 isolated switch both integrate power and signal isolation across a single barrier.
Read more...
---
Heavy-duty incremental and absolute encoders
Vepac Electronics Switches, Relays & Keypads
Wachendorff Automation now offers a heavy-duty variant, in a very compact 36 mm design, as part of its range of incremental encoders in the WDGP series, as well as absolute encoders in the WDGA series. 
...
Read more...
---
Avnet Abacus celebrates fiftieth anniversary
Avnet Abacus News
In March 2022, Avnet Abacus, one of Europe's leading distributors of interconnect, passive, electromechanical, power supply, energy storage, wireless and sensor products and a regional business unit of 
...
Read more...
---
Waterproof rocker switch with coloured backlighting
Brabek Switches, Relays & Keypads
APEM's FNR series rocker switch is completely watertight and specially designed for easy forward and reverse control. This rocker switch was developed to maximise user comfort without compromising on 
...
Read more...
---
Dual concentric rotary encoder
Electrocomp Switches, Relays & Keypads
Bourns Sensors and Controls announced the release of the PEC11D Series dual concentric rotary encoder with momentary push switch. The parts are designed to meet the specifications of professional audio 
...
Read more...
---
High-reliability power connector with 8,5 mm pitch
Avnet Abacus Interconnection
Allowing designers to specify high current and high quality for maximum power in extreme conditions, the Kona connector from Harwin features tough, resilient housings to protect connections from physical 
...
Read more...
---
High-voltage chip divider in moulded package
Avnet Abacus Passive Components
Vishay has introduced the industry's first high-voltage chip divider to be offered in a ribbed, moulded package with compliant surface-mount leads. Designed to reduce component counts and improve TC tracking 
...
Read more...
---